Cincy's Wright one steal away from school record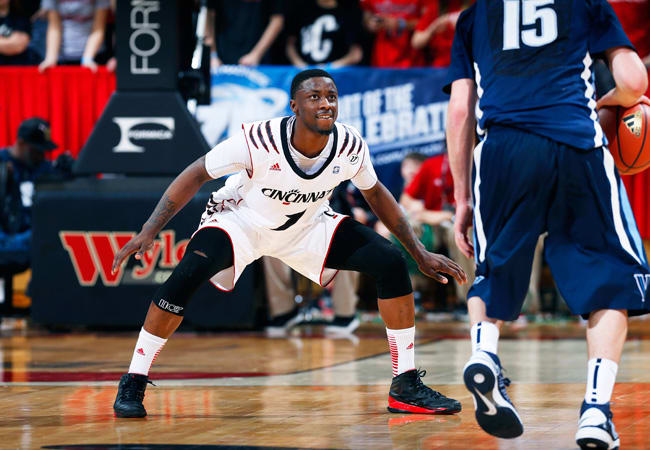 Cashmere Wright had his sights on a steals record right from the start of the season.
The senior point guard values steals as a reflection of individual defensive play. His next one will set a Cincinnati record, capping a career that's been all about revitalizing a storied program. Wright will break David Kennedy's career record of 189, which has stood for 32 years.
He'll get a chance to do it Friday night at home against No. 15 Georgetown.
"That means a lot," Wright said on Thursday before practice. "It means you came here and actually accomplished a goal. You did something that everybody is going to remember for maybe five or 10 years down the line.
"You've put yourself in the talk with (Nick) Van Exel and the other point guards that were here."
Van Exel came to Cincinnati in the early 1990s, when the Bearcats were emerging as a national power under coach Bob Huggins. Wright arrived in totally different circumstances - trying to rebuild a program in ruin after Huggins' messy ouster.
The Bearcats have returned to prominence, with Wright emerging as one of the leaders in spite of a series of significant injuries.
"Since he's been our starting point guard for the last three years, we're an NCAA tournament team," coach Mick Cronin said. "So that really speaks for itself. When he's healthy and playing well, you look at how good we are. He's done it through battling a lot of injuries."
The injuries started before his freshman season. Wright, a prep star in Georgia, tore the anterior cruciate ligament in his right knee during preseason drills in 2008. The knee took a long time to heal - he was limited to three starts the following season, when he averaged 5.4 points.
His statistics improved each season. He set the school's single-season record for steals with 74 in 2011-12 and ranked 35th nationally with an average of 2 per game. He was having his finest season until injuries got in the way again.
He sprained his right knee during a win at DePaul on Jan. 15. He missed only one game, returning even though the knee was still bothering him. He aggravated his sore left shoulder during a win at Seton Hall on Feb. 2.
The injuries have affected his shooting. Wright scored 23 and 20 points in the two games before his injury. He has been held to six or fewer points in four of his six games since returning, shooting only 8 of 41 (19.5 percent) from behind the arc.
Wright had 11 points and got his hand on the ball 14 times during a 68-50 win over Villanova on Tuesday night. The knee no longer hurts when he runs, but the shoulder is still a problem.
"He's doing it with one arm, basically," Cronin said. "He can't extend his left arm. He's been playing with it all year. He's going to have to have it fixed after the season."
The Bearcats (19-6, 7-5) fell out of the Top 25 after losing a pair of games last week. They're tied for eighth in the Big East after those two losses.
Cincinnati is hoping that its offense improves as Wright gets a little healthier in February.
"I want nothing more than for him to be able to stay healthy and play his best down the stretch - for him," Cronin said. "Obviously he's going to help us win games. The kid's battled through a multitude of injuries and been a tremendous leader for our team. I've watched him grow up a lot in the last five years."
Wright has decided to keep playing hard rather than take time off to let the injuries get better.
"You can't change it," he said. "All I do is try to keep moving and work with what you've got. It seems to be working, so I keep playing."
His next steal will be a record-setting moment worth the pain.
"Hopefully it can stand as long as the previous record was - 32 years," he said. "Hopefully it can stand up there, and maybe double that - 64 years. It'll always stick with me."