Maine women's basketball team bus crashes north of Boston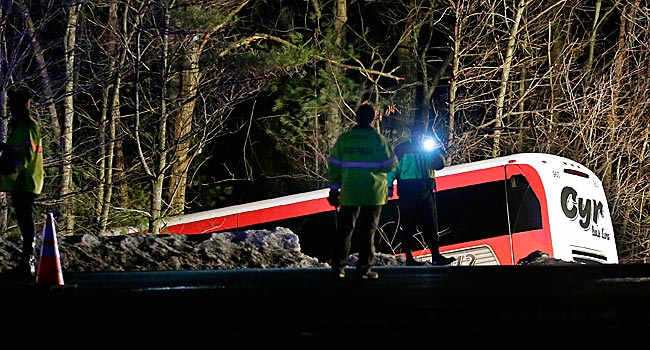 GEORGETOWN, Mass. (AP) -- The driver of a bus carrying the University of Maine women's basketball team that ran off a highway north of Boston, leaving a player with a broken hand, was hospitalized in serious condition Wednesday.
Jeffrey Hamlin, 55, of Charleston, Maine, was flown to Boston Medical Center with undisclosed injuries after the crash at about 8:30 p.m. Tuesday on Interstate 95 in Georgetown, according to Massachusetts State Police.
Hamlin is believed to have had a medical episode, police said. The crash remains under investigation.
Freshman guard Milica Mitrovic, of Belgrade, Serbia, broke her hand and head coach Richard Barron was treated for facial cuts, university spokeswoman Margaret Nagle said. Police say the bus crossed a median, veered across the northbound lanes, went down an embankment and ended up in the woods.
All the players and staff were taken to three hospitals for observation and released early Wednesday, Nagle said.
Georgetown Fire Chief Al Beardsley said it was a miracle no other cars were struck when the bus crossed oncoming lanes.
"This is a very heavily traveled road, day and night, and for a bus that size to basically catapult across the road, I couldn't imagine being northbound and seeing that thing coming at me," Beardsley said at the scene.
Beardsley said authorities were still investigating what caused the driver to veer off the highway, which has four lanes in each direction and a broad median in Georgetown, a small town 30 miles north of Boston.
The bus remained upright and appeared to have plowed through a roadside snowbank, knocked down a mile marker, and crashed into woods along the road before coming to rest pointing down an embankment.
"He hit pretty high up on the tree, you can see marks," Beardsley said.
The team was en route to play Boston University on Wednesday night. The game has been canceled.
The bus was owned by the John T. Cyr & Sons Inc. bus line of Old Town, Maine. A man who answered the phone at the company's office late Tuesday said company officials were gathering information and had notified their insurance carrier.
University of Maine athletic director Steve Abbott told reporters that people on the bus were thrown around in the crash, but that nobody was seriously hurt. He said the university has used the bus company extensively and found it to be a "terrific carrier."
Mitrovic is averaging 2 points in nine minutes a game for the Black Bears, who are struggling with a 4-23 record.
A state police car that stopped at the scene was struck by another car. The trooper who had been driving it was taken to a hospital with what appeared to be minor injuries, police said. Police said the driver of the car was not hurt.
Earlier this month, a bus crash in Boston injured 35 people, including high school students and chaperones, from Pennsylvania. The vehicle slammed into a 10-foot-high overpass on Feb. 2 while returning to the Philadelphia area from a trip to Harvard University.