Duke's Coach K discusses rivalry with UNC's Dean Smith and NC State's Jimmy Valvano
Sitting in the tower that had been built for him, Mike Krzyzewski had a spectacular view of his kingdom.
It was a late spring day and, from the sixth floor of the corner of Cameron Indoor Stadium that houses the Duke basketball offices, Krzyzewski could look out his window at the patch of the Duke campus that is called Krzyzewskiville. The sign that tells visitors they have arrived in the township named for the coach sat six floors down and about a hundred yards away from Krzyzewski.
If he wanted to, Krzyzewski could close his eyes and picture what Krzyzewskiville looks like in winter, jammed with tents and students, all waiting for the chance to get inside to watch Duke play North Carolina in what is annually one of the games on the college basketball schedule.
Or, if he didn't want to use his imagination at that moment, he could turn to one of the photos on the wall of his office that depicted Krzyzewskiville in winter, every inch of it packed with supplicants.
At this moment, however, Krzyzewski wasn't looking out the window and he wasn't gazing at a photo. He was leaning forward in his chair, his voice soft but filled with emotion.
"I miss them," he said quietly. "I miss them both for different reasons and for the same reason. They were completely different people and they were different as coaches too. But competing against them was always the same—really hard. If you beat them, you knew you'd truly done something, because it was never easy. And when they beat you"—he paused to smile for a moment—"which they did often, it made you really, really want to find a way to beat them the next time.
"They both made me better. If I hadn't had to compete against them, I probably wouldn't be where I am today. That's not me trying to say something nice or say the right thing. It's just a fact." When Krzyzewski talked about where he was, he wasn't talking about his palatial office, the one jammed with trophies and plaques and magazine covers and photos. He wasn't even talking about preparing for his 35th season as the basketball coach at Duke University. He was talking about being the winningest coach in college basketball history, about the then four national championships and the two Olympic gold medals.
Doubleday
Now he's simply Coach K to almost everyone in the sport of basketball. But once upon a time he was Mike Krzyzewski, the coach who was greeted on March 19, 1980, the morning after he was hired at Duke, by a headline in the student newspaper that said "Krzyzewski: This Is Not a Typo."
No one knew the name. No one knew how to spell the name. And no one knew how to pronounce the name. Lefty Driesell, then the coach at Maryland, gave up early. "I just call him Mike," he said. Even Bob Knight, who coached Krzyzewski for four years in college and hired him as an assistant coach when he got out of the army, got the name wrong. Knight called his former point guard "Kre-shefski." Once, when it was pointed out to him that the correct pronunciation was actually "Je-jevski," Knight shook his head and said, "It's not my fault if he pronounces his name wrong."
Back then, during his early years at Duke, Krzyzewski could only wish that his biggest problem was having his name mispronounced. Every single day he found himself competing against an icon and a rock star. The icon was Dean Smith, who had already coached the U.S. Olympic team by the time Krzyzewski arrived at Duke and had taken the University of North Carolina to five Final Fours even though he was not yet fifty.
Carmichael Auditorium, where North Carolina played home games, was exactly 10.1 miles from Cameron Indoor Stadium. That alone made it hard to find room to breathe for a young coach moving into the rarefied air of the Atlantic Coast Conference.
There was also the rock star: Jim Valvano, who arrived to coach at North Carolina State nine days after Krzyzewski was hired at Duke. Krzyzewski and Valvano had coached against each other during the previous five years when Krzyzewski had been the coach at Army and Valvano had been the coach at Iona. Krzyzewski's last Army team had gone 9–17, one of the reasons why his hiring stunned almost everyone at Duke and in the basketball world. Iona had been 29–5 during Valvano's final season there and had been the last team to beat Louisville—which would go on to win the national championship. The Gaels, led by Jeff Ruland, a 6'11" brute of a center, beat the Cardinals in Madison Square Garden—by 17 points.
Valvano, who had always dreamed of coaching, as he called it, "the nine o'clock game in the Garden" (the second game of a college doubleheader), had his players cut down the nets after they won the game. Valvano was funny—fall-down funny. At one of his first press conferences after taking the N.C. State job he told a story about his early days at Iona.
"I was at a party," he said. "I'm so excited about my new job that I'm running around the room shaking hands with everyone saying, 'Hi, I'm Jim Valvano, Iona College.' I was on a roll. Finally, this woman looks at me and says, 'Young man, aren't you awfully young to own your own college?' "
That sort of story was only a tiny piece of Valvano's humor. "Never, and I mean never, have I met someone who took over every single room he ever walked into like Jim Valvano," Linnea Smith, Dean's wife, said, smiling at the memory. "He didn't own the room, he became the room."
Which might explain why, when Mickie Krzyzewski, the wife of the new Duke coach, heard the news that Valvano had been hired at N.C. State, she rolled her eyes and said, "Oh sh--. Here we go again."
Her response had nothing to do with her husband's 1–4 record against Valvano and Iona. It had everything to do with the fact that he owned a college. And every room he walked into.
*****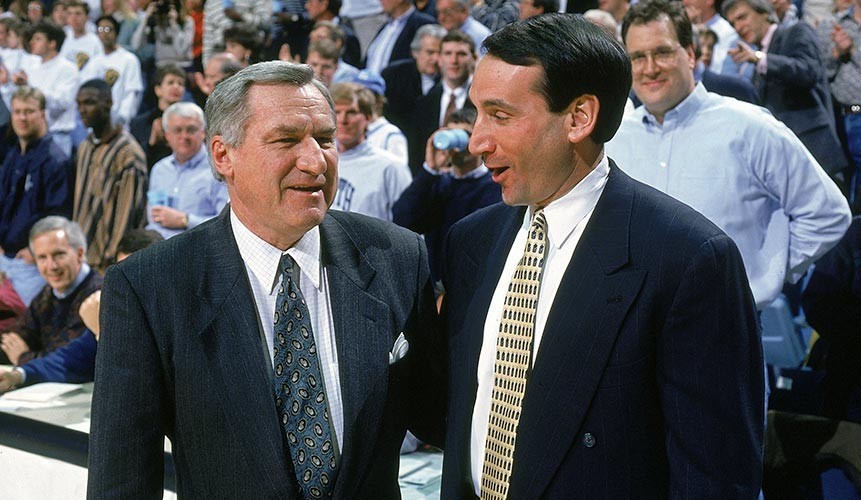 Bob Donnan for Sports Illustrated
Thirty-four years later, Mike Krzyzewski, like everyone who ever knew him, can't help but laugh when he thinks about Valvano.
"He loved to gig Dean," he said, his eyes a little misty but with a huge smile on his face. "And he could do it in a way that no one else could. He actually made Dean laugh—which wasn't easy."
Each spring, the Atlantic Coast Conference holds meetings for everyone associated with the league to discuss ongoing business and its past and future. In the 1980s, there were eight schools in the ACC. On the first morning of the meetings, the basketball coaches would get together.
"Dean was always late," remembered Bobby Cremins, who arrived at Georgia Tech one year after Krzyzewski and Valvano were hired at Duke and N.C. State. "I don't know if it was a seniority thing or a control thing, but he'd always come in a few minutes late.
"One year, as usual, everyone is in the room except Dean. Jim says to Mike and me, 'Come on, we're leaving.' We go into the hallway and Jim finds a bellboy. He gives him twenty bucks and tells him to come find us in the bathroom once Dean walks into the meeting. We go and wait in the bathroom.
"A few minutes later, the bellboy comes in and says, 'Coach Smith' "— Cremins actually says "Smit" with his Bronx accent—" 'just walked in.' Mike and I are ready to go, but Jimmy says, 'No, no, wait.' So we wait five more minutes—maybe more than that. Then we walk in and Jimmy says, 'Dean, you're here already? You're early!' Dean just cracked up. Couldn't stop laughing."
Valvano made everyone laugh. Smith made opponents cry. It wasn't just the trips to the Final Four or the parade of great players who showed up in Chapel Hill every year. It was the way he won games, his teams often digging holes impossible to crawl out of, then somehow finding a way to do it. Around the ACC, games like that were attributed to the Carolina piss factor: you were winning, you were winning, you were about to win, you knew you were going to win, and then something insane—a miracle shot, a ball ticking the bottom of a scoreboard, an impossibly bad call—would happen and you would somehow lose and you went home pissed.
Even though he had not yet won a national championship, Smith was an iconic figure in the state of North Carolina. He coached at the school most kids in the state grew up rooting for and wanting to play for and the one that had, by far, the most fans. N.C. State had a lot of fans, but not the way Carolina—as it was called by everyone in the ACC—did. Duke had very few fans. It was a private school and drew most of its student body from out of state.
Valvano got his first lesson about Smith's iconic status early. Soon after arriving in Raleigh, he went to get a haircut. The story Valvano told, which he always swore was completely true, went like this:
Barber: "You the fella who replaced ole Norman Sloan?"
Valvano: "Yes I am. Jim Valvano. Nice to meet you."
Barber (ignoring Valvano's introduction but sighing deeply):
"Well, I sure hope you have more luck around here than ole Norman did."
Valvano: "Hang on a second. Didn't Norman Sloan win the national championship a few years ago? Didn't he go 27 and zero one year and 57 and one for two years?"
Barber (chuckling at Valvano's lack of understanding): "Oh sure, he did that. But just imagine what ole Dean Smith would have done with those teams."
Everyone put Smith on a pedestal so high that he often found it embarrassing. He was, by nature, shy and private. If he had never been interviewed during his 36 years as Carolina's coach, he would have been thrilled. When the university trustees came to him in 1985 and told him they were planning to name the new 21,000 seat basketball palace that was about to open the "Dean E. Smith Center," he balked.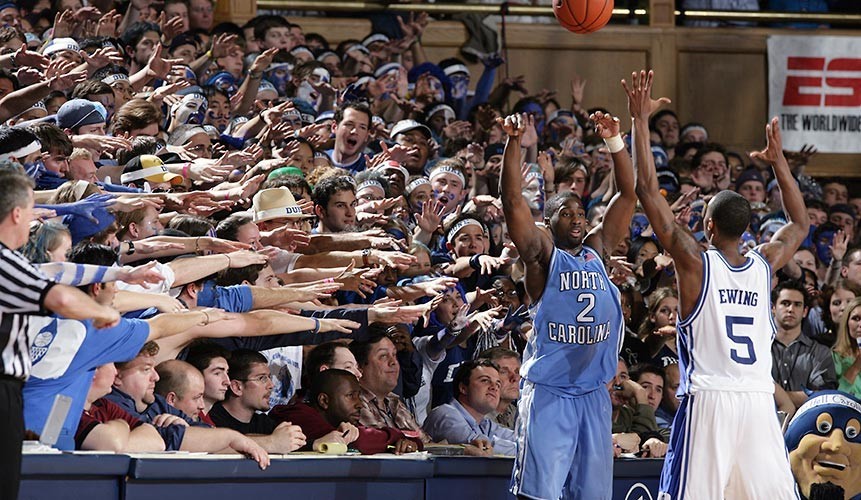 Bob Rosato for Sports Illustrated

"You should name it for the players," he said. That name would have been a bit unwieldy.
"They really had to sit down and explain to him why this was the right thing to do," Linnea Smith said. "He was embarrassed by it."
It didn't take long for both Valvano and Krzyzewski to understand what they had walked into when they had moved south. On an early recruiting visit to the home of a player in California named Mark Acres, Krzyzewski had the sense not long after arriving that this was a player he wasn't going to convince to come to Duke.
Still, he had to go through the ritual of trying to sell his school, his program, and himself to the family. Finally, as the evening was winding down, Krzyzewski turned to Acres's mother, who had said nothing all night, and asked her if she had any questions at all about Duke or the basketball program.
She shook her head. "The only thing that matters," she said, "is that Mark goes to college someplace where he can be close to God." Krzyzewski figured he had nothing to lose. "Well," he said, "if Mark comes to Duke, God will be coaching ten miles down the road in Chapel Hill, so you might want to think about it."
Mark Acres went to Oral Roberts. Most people in North Carolina would tell you that he was a lot farther from God there than he would have been in Durham.
Jim Valvano died in April 1993. He was 47—11 months older than Krzyzewski—when he died in Duke Hospital on a beautiful spring morning after fighting cancer for 11 months.
Krzyzewski was in the room when Valvano died. He still shudders slightly at the memory. "The doctors had told us it wouldn't be long," he said. "I still remember Jimmy kind of shaking just a little bit, enough that we noticed. And then he was gone."

Gone, but certainly not forgotten. Valvano lives on in video, in memory, and in legend. Every March, during the NCAA Tournament, he can be seen again and again sprinting around the court in Albuquerque, seconds after North Carolina State had stunned Houston in the 1983 NCAA championship game.
"I was looking for someone to hug," he said whenever he retold the story. "Dereck [Whittenburg] was my designated hugger. I couldn't find him."
The designated hugger is 54 now, seven years older than Valvano was when he died. With the score tied at 52–52 and time about to run out, Whittenburg had thrown a desperation shot in the direction of the basket. It came up well short. But, as it started to drop, 6'7" Lorenzo Charles leaped above everyone, clasped the ball in his huge hands, and dunked it as the clock went to zero.
"I will never—ever—say that was anything but a pass," the designated hugger said one rainy night, sitting in a Raleigh restaurant named for Valvano, directly under a photo of the coach. "If V was here now, he'd tell you we ran the play just like he drew it up."
The designated hugger laughed at the memory.
On Jim Valvano's tombstone are the words he spoke on March 3, 1993—eight weeks before he died—in a speech that has been replayed millions of times through the years: "Take time everyday to laugh, to think, to cry." Valvano said his father, Rocco, had taught him that. "If you do that," he added, "that's a pretty full day."
Fittingly, 22 years after Valvano's death, when those who knew him best talk about him, they always laugh, they always cry, and, somewhere along the way, they think too.
"It's been very difficult for the men who have coached basketball at N.C. State since Jim left," said Pam Valvano Strasser, who was Valvano's childhood sweetheart and his wife for 26 years. "Because Jim is still alive to so many people. Those are very big shoes to walk in, especially when it feels as if he's still here."
The same can be said—in an entirely different way—for those who have coached basketball at North Carolina since Dean Smith retired in 1997. Roy Williams, who sits now in Smith's chair—but won't park his car in the ex-coach's parking space outside the building named for him— has won two national championships in 12 seasons. Smith won two in 36 seasons. But the thought that his name belongs in the same sentence or paragraph, or even on the same page with Smith's, not only wouldn't cross Williams's mind, it would horrify him.
"Everything I've ever done, any success I've ever had, is because of Coach Smith," Williams said one hot summer day. Williams would sooner cut off his arm than call his mentor anything but Coach Smith.
"He didn't just teach me how to coach basketball, he taught me right from wrong. North Carolina basketball is Coach Smith. The rest of us have just followed his lead and his lessons."
Manny Millan for Sports Illustrated
Smith died on February 7, 2015, after being disabled for several painful years by dementia. Toward the end, only on occasion did Linnea Smith see glimpses into her husband's mind. "Every so often, when there's some kind of positive reinforcement in some way, he might say something or smile or give us an indication that he understands something," she said. "It's a terminal illness. We all understand that. The hardest thing is that he can't tell me how he feels about what's going on around him. To be honest, it's excruciating."
Smith's long decline and death were most excruciating for those who loved him, but also painful for those who knew him—and competed against him. Krzyzewski had more than his share of shouting matches with Smith through the years. Now, though, after all the enmity between the two men, Krzyzewski understands that, in many ways, he became Smith. He became the target, the measuring stick for the younger coaches trying to compete with him. Gary Williams, the retired Maryland coach who—like Krzyzewski and Smith—is in the Naismith Memorial Basketball Hall of Fame, spent years trying to figure out how to beat Krzyzewski more often.
"In the end you realize, it wasn't the referees, it wasn't bad luck or anything else," Williams said. "It's really very simple: he's a great, great basketball coach."
That was the conclusion that Krzyzewski finally reached about Smith—though it took him years to get there.
"Whether we admitted it or not, he set the bar for all of us," Krzyzewski said. "I never looked for a bar, I wanted to just make our program as good as I possibly could. But we all learned from him. He set the standard.
When he retired and I became the target, I finally understood what it was like to be him when all of us were trying to beat him—trying, really, to be him."

Krzyzewski smiled again, his mind's eye clearly seeing those nights when he dueled with Smith and with Valvano.
"Boy were they good," he said. "No matter how much you prepared, no matter how much you believed in your players, you knew every game was going to be a fight to the finish—whether you won or lost.
"I miss those nights. I miss the battles. I miss the two of them." Once upon a time, that was not the case.
Adapted from THE LEGENDS CLUB: DEAN SMITH, MIKE KRZYZEWSKI, JIM VALVANO, AND AN EPIC COLLEGE BASKETBALL RIVALRY. Copyright © 2016 by John Feinstein. Published by Doubleday, an imprint of The Knopf Doubleday Publishing Group, a division of Penguin Random House LLC. Click here to purchase the book.