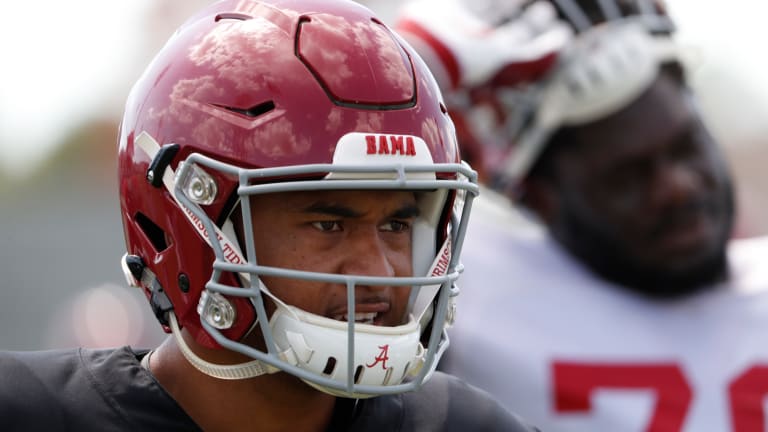 Alabama Quarterback Tua Tagovailoa Returns to Practice, but Status Unknown
Junior quarterback participates in first workout with Crimson Tide 10 days after having ankle surgery
TUSCALOOSA, Ala. — Ten days after having a surgical procedure designed to help him heal from a high-ankle sprain, Alabama quarterback Tua Tagovailoa returned to the practice field on Wednesday. 
How much he was able to do, though, was unclear. 
Tagovailoa wasn't on the practice field inside the Hank Crisp Indoor Facility when reporters were allowed to observe one period of individual drills (less than five minutes). 
However, a source confirmed to BamaCentral that the junior was in uniform at practice, but obviously limited.
Nick Saban is also scheduled to hold is regular Wednesday afternoon press conference after practice. 
Although Tagovailoa's return to practice happened much faster from a year ago, when he had the same procedure on his other ankle, Saban has been cautious when describing his recovery. 
"His rehab is progressing well," Saban said Wednesday morning during the weekly SEC coaches' teleconference with reporters. "He'll be on the practice field today for the first time and it'll be a gametime decision based on how he progresses."
Getting back on the field was a significant hurdle. How he continues to improve will determine his status for next week's game. 
"Oh, just positive," was how junior running back Brian Robinson Jr. described Tagovailoa's attitude this week. "Tua's always positive. You know, he never questions why anything like bad happens. He just moves forward and continues to work on whatever he needs to work on and control what he can control at the time. And I feel like he's doing a good job with that mentally."
Alabama is poised to face LSU in a potential No. 1 vs. No. 2 showdown at Bryant-Denny Stadium on Nov. 9. Both teams are on a bye this week. 
Linebacker Ale Kaho (hand) again practiced in a black non-contact jersey, and with a cast.
Wide receiver DeVonta Smith (shoulder), running back Najee Harris (ankle), center Landon Dickerson (knee) and left guard Evan Neal (groin) were all at practice, but somewhat limited after suffering injuries against Arkansas.
Emil Ekiyor Jr. was working next to Dickerson as the first-team left guard. 
Senior safety Jared Mayden (groin) and senior defensive back Shyheim Carter (knee) have been practicing this week. 
The Crimson Tide won't start installing the game plan until Thursday.
Tagovailoa suffered a high-ankle sprain during the second quarter of Alabama's 35-13 victory over Tennessee on Oct. 19. 
He had surgery the next day. The "tightrope" procedure designed to accelerate recovery and promote long-term stability in the ankle.
Going into the Tennessee game, Tagovailoa was considered by oddsmakers to be the favorite for the Heisman Trophy. He's completed 74.7 percent of his passes for 2,166 yards and 27 touchdowns, with two interceptions this season.