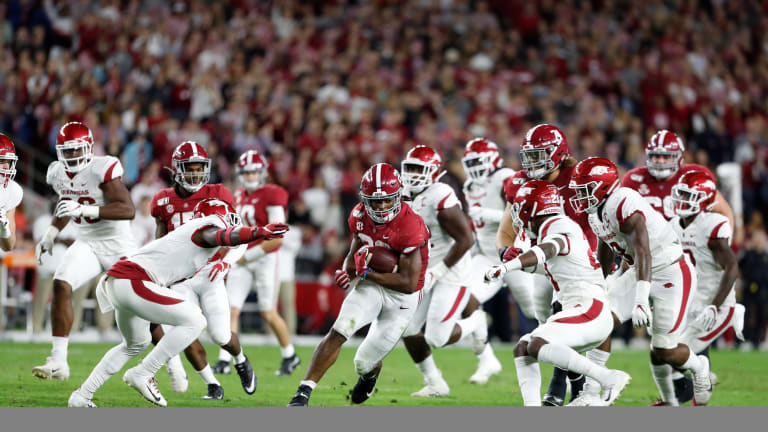 Alabama Stable Successful Against Arkansas
The Crimson Tide backs provided much-needed support in quarterback Mac Jones' debut
TUSCALOOSA, Ala. — Heading into Alabama's homecoming matchup against Arkansas, all anyone could talk about was the passing game.
The Crimson Tide's stable of running backs evidently wasn't too keen on being left out of the conversation. The collective effort of the Alabama backfield combined for 179 yards on 38 carries and two rushing touchdowns.
"We were pleased with the way our players stayed focused on what they had to do in this game, so we could flow as a team," Alabama coach Nick Saban said. "I'm sure there are things that we will see in film that we can do better, but I think our guys competed hard in the game."
"They played hard in the game and took care of business the way that we wanted them to."
Junior running back Najee Harris led the charge with 13 carries for 86 yards and both Crimson Tide touchdowns on the ground. Harris had the majority of the carries for the Alabama offense in the first half, but was sidelined with an injury on the very first play from scrimmage to begin the second half of play.
Harris limped to the sideline after an 11-yard run and briefly visited the medical tent. He emerged moments later, seemingly fine, but did not step foot on the field for the remainder of the contest.
Saban later confirmed that Harris had a twisted ankle.
"Najee [Harris] just barely twisted his ankle, he's fine," Saban said. "Could've went back and played in the game, we just didn't put him back in."
After Harris' departure, junior running back Brian Robinson Jr. took over the reigns. On the day, Robinson had 13 carries for 67 yards, with his longest being a 37-yard scramble.
Redshirt-sophomore Mac Jones also had a single rush for one yard in the game.
On a night that Alabama honored its 2009 BCS National Championship team, it was fitting that the Alabama offense almost mirrored that team's style of play. 
With Heisman Trophy winner Mark Ingram II and Trent Richardson, the 2009 team was known for its run-first, pass-second style. 
While Jones had plenty of success in the air, the running backs kept the Razorbacks' defensive backs on their toes, opening up room for the pass.
"I thought the guys played hard and competed hard in the game," Saban said. "We could've finished the game a little better in the second half but had the opportunity to play a lot of players. Got a lot of experience with some of those players. I think that's probably the most important thing for our team right now."