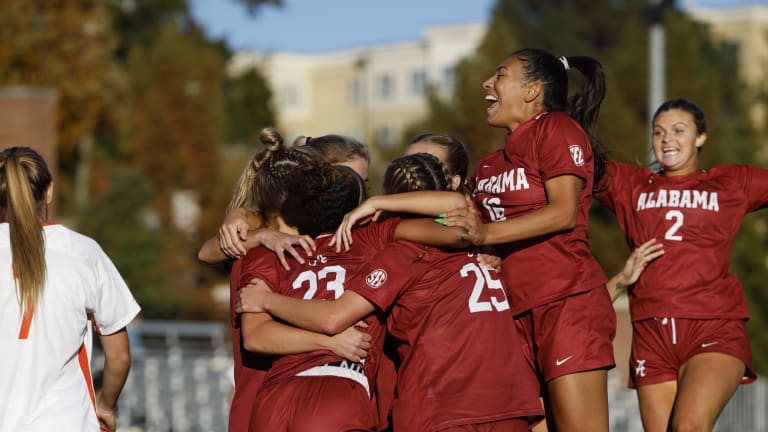 Alabama Soccer Stuns Clemson, Advances in NCAA Tournament
Early goal by Allie Berk propels Crimson Tide to first NCAA postseason win in fourth tournament appearance.
The University of Alabama soccer team pulled off a stunning upset while notching its first-ever win in the NCAA Tournament on Friday, defeating host Clemson 1-0 to advance to the second round. 
Allie Berk scored the lone goal just 3 minutes and 13 seconds into the match, on an assist from Riley Tanner. After streaking down the left side of the field, the senior forward  turned the corner to cross the ball into the box.
The junior midfielder Berk, who was making a run near post, redirected the ball towards net and past a diving Clemson keeper.
McKinley Crone notched the shutout, her sixth of the season. 
The graduate student  recorded a big save after a shot off the crossbar bounced back towards net and hit a Clemson forward, before leaping to keep a shot out of the upper right corner of the net minutes later.
Crone and the Alabama defense held off eight corner kicks and 14 shots by the Tigers in the second half of play as Alabama shutout Clemson for the win.
"So proud of our team and so incredibly happy for them," Crimson Tide coach Wes Hart said in a statement. "We had a great start to the game. We were aggressive and confident from the start and were rewarded with a great goal. 
"Second half, we hung on for dear life. Clemson threw everything at us. But credit to our players, we made huge plays when we needed them."
Alabama (11-9-1, 5-4-1 SEC) will face the winner of No. 4 BYU vs. New Mexico, on Nov. 19. Second- and third-round games will be played at the highest remaining seed in the region.
This is the Crimson Tide's fourth appearance in the NCAA Tournament, and second under Hart.
Clemson's season ended at 12-7-1, 6-3-1 ACC.
Berk scored Alabama's fifth all-time goal in NCAA Tournament play. It was also the third goal of her career and second game-winner after also netting the winning goal against No. 19 Auburn.
Tanner recorded her second assist of the season. 
Alabama advanced to the second round of the NCAA Tournament for the first time in program history.
The win was also the first for the Tide against the Tigers as the programs met for the third time in series.
The Crimson Tide also received a berth to the tournament in 1998 and 2011, where it faced Texas A&M and Miami, respectively.
The team set a program record for most home wins in a single season with 10 as it finished the regular season on a seven-game winning streak at the Alabama Soccer Stadium.
Alabama 1, Clemson 0