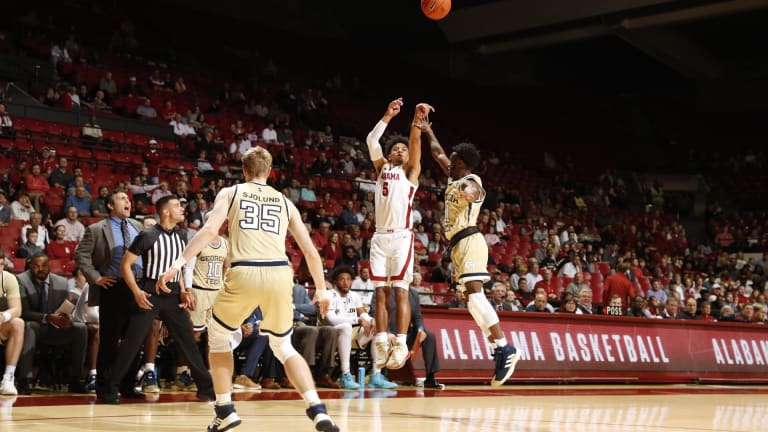 Alabama Basketball Tops Georgia Tech in Charity Game, 93-65
Freshman Jaden Shackelford scores 21 off bench during Nate Oats' debut at Coleman Coliseum
 TUSCALOOSA, Ala. – There were struggles, but the Nate Oats era at Alabama has dawned. 
Alabama beat Georgia Tech 93-65 in a charity exhibition game Sunday before a sparse crowd announced at 9,293.
"I thought our effort was great. We played hard and the pace was what we want," Oats said. "The biggest thing we were looking for today was making sure our effort was there."
Added sophomore point guard Kira Lewis Jr.: "It was just playing in the flow of the game and finding open teammates. When we can get out and run, that's when we're at our best."
Alabama was led in scoring by freshman Jaden Shackelford with 21 points while Lewis added 20. Joining them in double digits was junior John Petty Jr. with 15. 
Junior Alex Reese scored all nine of his points in the second half on a trio of 3-pointers. Reese and Lewis each had seven rebounds.
"My teammates made me feel comfortable," said Shackelford, "and Kira made great passes.
"I felt confident from the jump; straight out of the gate."
The battle of the backboards was won by Alabama 44-32. 
"We try to win the rebounding game by 10 and today we got them by 12," Oats said. 
Georgia Tech's leadng scorer was junior Evan Cole who came off the bench to score 18 points.
"Coach Oats does a great job and he's going to have a great career here at Alabama with a lot of wins. They're going to be really good this year. They're long and athletic," said Yellow Jackets coach Josh Pastner. "That Shackelford kid can really shoot the ball.
"Their athleticism and quickness got our guys off kilter. With 17 three's, they shot the daylights out of it. If they shoot the ball like that, they're going to be a hard out."
Pastner added that his team's 24 turnovers leading to 21 Crimson Tide points were a key difference along with six 3s from Shackelford. 
For the game Alabama was 17-for-37 behind the arc, a 46 per cent mark. During the final 20 minutes the Tide canned 11 of 18 from 3-point land at 61.1 per cent.
Alabama held a 40-32 edge at the half despite nine turnovers leading to nine Tech points. 
For the game the Crimson Tide gave the ball up 16 times resulting in 17 points for the Yellow Jackets. The biggest lead of the opening half was ten points and for the game Alabama led by as many as 28 points with 5:05 to go.
Alabama opened the final 20 minutes on a 7-0 run keyed by a Petty trey. A corner 3-ball by Lewis put the Tide up 50-34 at the 17:10 mark.
Reese left the game briefly in the first half with a slight hip injury but returned for the final 20 minutes and showed no ill effects. He started along with Lewis, Petty, junior Galin Smith and junior Herbert Jones. 
The first sub was Shackelford, though he was joined quickly by redshirt freshman Javian Davis and grad transfer Beetle Bolden. Every member of the team who was in uniform played at least a minute, including all four walk-ons and freshmen Jaylen Forbes and Raymond Hawkins.
Is sixth man Shackelford's job this year? 
"It may be a great role for him," Oats said. "We've debated whether we want to start him. We may not settle on a lineup for weeks."
As for the turnovers, Oats said, "Hopefully the sloppiness and turnovers we can clean up," Oats said. "We're blue collar but we play fast."
Oats added that the team still has hope that sophomore transfer Jahvon Quinerly will be cleared on appeal, possible in time for the regular season opener.
"We plan on winning the appeal," he said. "We've thought all along that's how we were going to win it."
Next up for the Crimson Tide is the season opener against Penn at 7 p.m. CT on Nov. 5. The game will be televised on SEC Network Plus with Eli Gold and former Alabama coach Wimp Sanderson on the call.