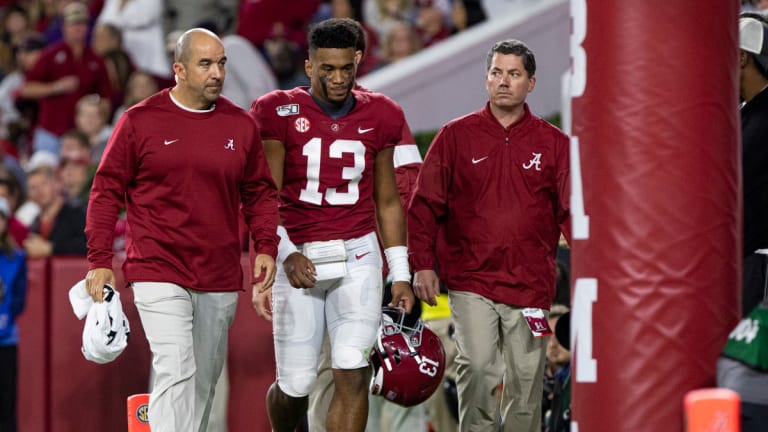 Nick Saban Updates Injury Status of Tua Tagovailoa, Other Alabama Players
Crimson Tide coach spent most of his Wednesday press conference talking about the quarterback's return to practice and other injuries
TUSCALOOSA, Ala. — Alabama starting quarterback Tua Tagovailoa returned to practice with the team Wednesday, albeit in a limited fashion.
Nick Saban disclosed during his final press conference of Alabama's bye week that the quarterback had worked for the first time with teammates since his surgery to help the recovery process from a high-ankle sprain.
"Tua was able — took some snaps today in practice, did a few things on air, was not involved in any team situations. And again, this is going to be a day-by-day, game-day decision," Saban said. "There's nothing really else that I can say about it. 
"I can tell you that his mentality has been really good in terms of how he's working, the things that he's doing and how he's progressing and his attitude toward trying to get back on the field and trying to progress. So, that's always a good sign."
After suffering the injury during the second quarter against Tennessee on Oct. 19, Tagovailoa underwent surgery the following day. 
He stood on the sideline watching redshirt sophomore Mac Jones take the start against Arkansas. 
Tagovailoa has been undergoing rehab since the surgery. Wednesday marked his first appearance on the field since the game against the Volunteers.
A high ankle sprain involves the ligaments that connect the tibia and fibula. Recovery time can typically last around six weeks.
Tagovailoa had the surgery 10 days ago. 
Saban briefly explained the procedure to reporters:
"The two bones, where they come together in their ankle, there's a ligament that holds them together, and that stretches," Saban said. "When you tie it together, the ligament actually has a chance to heal because one of the biggest issues is it's a rotation injury. 
"Every time you turn a little bit on your foot, aight, those bones move so it affects healing. So, if you hold the bones together, the healing process is much quicker. So, that's the way I understand it, and I'm no doctor."
Saban said that no matter the the status of the player, the player's health is something that he and the coaching staff always take seriously.
"I wouldn't care whether a guy was a first-round pick or had no future as a player," Saban said. "I would never put a player at risk if the medical staff and the player himself and everybody involved in the organization didn't think the guy was capable of going out there and doing his job at a high level. It wouldn't be creating any value for him and it certainly wouldn't help us. And we certainly don't want to put anybody at risk. 
"This won't be any different with how we decide whether this guy is capable enough to go out there and play at a high level, and do his job well for his team."
The road to recovery is far from complete as Tagovailoa only has nine more days to rehabilitate his ankle enough to play in Alabama's showdown with No. 1 LSU in Tuscaloosa on Nov. 9. That includes a couple of off days Saban is giving the team this weekend in conjunction with the university's fall break, which begins Thursday.
Jones remains Plan B should Tagovailoa be unable to recover enough to play. 
Saban said that Tagovailoa acknowledges that he doesn't want to put himself in a position that could affect his future with Alabama or the NFL.
"Tua has always done everything around here that he can actually do to help the team and he's always made great choices and decisions," Saban said. "He's smart. He's bright. And I don't think that he would put himself in a position, nor would we want to put him in a position, where what he does moving forward would have any effect on his future."
In addition to updating the status of Tagovailoa, Saban also briefly addressed the injuries of other Crimson Tide players. 
Regarding Miller Forristall, who suffered a throat injury in Saturday's matchup with Arkansas, Saban said that while the injury was unexpected the junior tight end was doing well.
Concerning freshman place kicker Will Reichard, Saban wasn't as optimistic. Reichard suffered a pulled hip flexor all the way back on Sept. 21 against Southern Miss. He returned to the field for the first time against Tennessee, but left the game after only one punt.
"I can't tell you that this has been a very frustrating injury for him and for us," Saban said. "He had two or three weeks where we thought he was ready to come back, and then he had a setback. So, we're going to be really cautious with how we bring him back this time around."