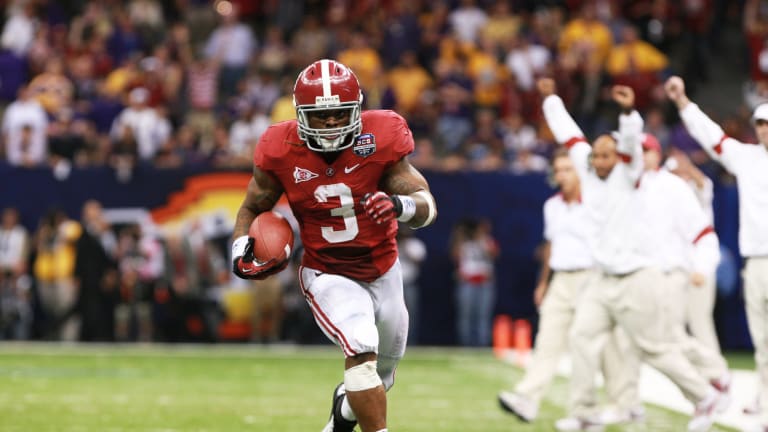 Let the hype begin for No. 1 vs. No. 2, LSU at Alabama
No. 1 vs. No. 2 is always special because it doesn't happen very often during the regular season
TUSCALOOSA, Ala. — It feels like we've been here before, but that's not the emotion that college football fans should be focused upon over these next two weeks.
Barring something extreme, when Alabama hosts LSU at Bryant-Denny Stadium on Nov. 9, it'll be a No. 1 vs. No. 2 matchup.
This will be the third time the two schools will square off with those rankings, the first two famously occurring in 2011. LSU won the "Game of the Century" in Tuscaloosa, 9-6 in overtime, but Alabama took advantage of the rematch in New Orleans, manhandling the Tigers for a 21-0 victory in the BCS Championship Game.
So it's sort of old hat, right?
Alabama's been averaging a No. 1 vs. No. 2 game every other year since Nick Saban arrived in 2007, beginning with the 2008 SEC Championship Game. It lost to Florida, 31-20, but came back and won the rematch the following year en route to the 2009 national title – which was another No. 1 vs. No. 2 game, against Texas in the Rose Bowl.
But No. 1 vs. No. 2 during the regular season doesn't happen very often.
There hasn't been one since that LSU at Alabama showdown in 2011.
This won't be another Game of the Century, and figures to be the exact opposite in terms of scoring and style of play. Both teams are led by their quarterbacks and passing attacks, with Joe Burrow and Tua Tagovailoa lighting up defenses, although the latter has yet to practice after having surgery to help his recovery from a high ankle sprain last week.
Consequently, not only might the SEC West title be up for grabs, but the Heisman Trophy.
The real twist, though, is that the two sides can argue right up until kickoff about which team is more deserving of the top ranking.
Although Alabama received the most first-place votes for this week's AP Top 25 with 21. LSU got 17 and managed to edge the Crimson Tide in the overall voting.
However, the coaches have Alabama first. They also just moved LSU up to No. 2 after its home win against Auburn.
Both teams are 8-0. The Crimson Tide has one more win in league play (5-0), while the Tigers' toughest game remaining is its regular-season finale against visiting Texas A&M.
LSU already has two victories against teams ranked in the top 11, plus a win at Texas, on its resume.
Its average winning margin is 23.3 points which is fifth in the Football Bowl Subdivision.
Meanwhile, Alabama's margin is 33.4, which is second. However, the Crimson Tide's best victory was at then No. 23 Texas A&M. Only two victories have been against teams that currently hold a winning record.
Ohio State and Clemson also have great arguments about why they should be No. 1 as well, which only adds to the debate.
A big difference between this and the 2011 meeting, also at Bryant-Denny Stadium, is that game was perceived to be an elimination game for the national championship, even though it didn't work out to be.
With four teams making the College Football Playoff, the loser will still be very much alive heading into the final weeks.
No. 1 vs. No. 2 Regular Season Matchups
Oct. 9, 1943: No. 1 Notre Dame 35, No. 2 Michigan 12, at Michigan
Nov. 20, 1943: No. 1 Notre Dame 14, No. 2 Iowa Pre-Flight 13, at Notre Dame
Dec. 2, 1944: No. 1 Army West Point 23, No. 2 Navy 7, at Baltimore
Nov. 10, 45: No. 1 Army West Point 48, No. 2 Notre Dame 0, at New York
Dec. 1, 1945: No. 1 Army West Point 32, No. 2 Navy 13, at Philadelphia
Nov. 9 1946: No. 1 Army West Point 0, No. 2 Notre Dame 0 (tie), at New York
Oct. 12, 1963: No. 2 Texas 28, No. 1 Oklahoma 7, at Dallas
Nov. 19, 1966: No. 1 Notre Dame 10, No. 2 Michigan St. 10 (tie), at Michigan State
Sept. 28, 1968: No. 1 Purdue 37, No. 2 Notre Dame 22, at Notre Dame
Dec. 6, 1969: No. 1 Texas 15, No. 2 Arkansas 14, at Arkansas
Nov. 25, 1971: No. 1 Nebraska 35, No. 2 Oklahoma 31, at Oklahoma
Sept. 26, 1981: No. 1 Southern California 28, No. 2 Oklahoma 24, at Los Angeles
Oct. 19, 1985: No. 1 Iowa 12, No. 2 Michigan 10, at Iowa
Sept. 27, 1986: No. 2 Miami (FL) 28, No. 1 Oklahoma 16, at Miami
Nov. 21, 1987: No. 2 Oklahoma 17, No. 1 Nebraska 7, at Nebraska
Nov. 26, 1988: No. 1 Notre Dame 27, No. 2 Southern California 10, at Los Angeles
Sept. 16, 1989: No. 1 Notre Dame 24, No. 2 Michigan 19, at Michigan
Nov. 16, 1991: No. 2 Miami (FL) 17, No. 1 Florida St. 16, at Florida State
Nov. 13, 1993: No. 2 Notre Dame 31, No. 1 Florida St. 24, at Notre Dame
Nov. 30, 1996: No. 2 Florida St. 24, No. 1 Florida 21, at Florida State
Sept. 9, 2006: No. 1 Ohio St. 24, No. 2 Texas 7, at Texas
Nov. 18, 2006: No. 1 Ohio St. 42, No. 2 Michigan 39, at Ohio State
Nov. 5, 2011: No. 1 LSU 9, No. 2 Alabama 6 (OT), at Alabama