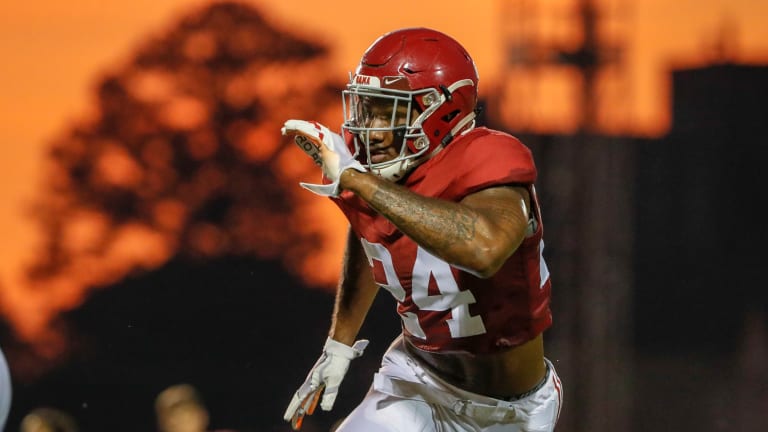 Who will lead the 2019 Crimson Tide in sacks?
With players like Terrell Lewis, Anfernee Jennings and Raekwon Davis, opposing quarterbacks have good reasons to be concerned about the 2019 Crimson Tide pass rush
Ask any coach if the number of sacks recorded translates to defensive success or wins and he'll probably say "maybe," or flat-out "no."
Most, including the University of Alabama's Nick Saban, consider it an overrated statistic.
However, he's not going to turn one down, either.
Consider the top 10 teams in the statistical category this past season, along with their final records:
Team, Average sacks average, Record
1] Miami, 3.38 per game, 7-6
2] New Mexico State 3.31, 3-9
3] Texas A&M 3.31, 9-4
4] Northern Illinois 3.31, 8-6
5] USC 3.29, 5-7
6] Clemson 3.29, 15-0
7] Troy 10-3, 3.23
8] Penn State, 9-4 3.23
9] Michigan 3.23, 10-3
10] Ohio State 3.23, 13-1
There's not much of a common theme there. Most of the teams were good, and Clemson obviously rode its defensive line to the national championship. But take a second look and see how many won their conferences. 
Oklahoma, a playoff team, was 82nd. Notre Dame was tied for 83th.
The Crimson Tide was 20th, averaging 2.96 sacks per game. The surprise team leader was defensive lineman Isaiah Buggs with 9.5. The year before it was the defensive end on the other side, Raekwon Davis, with 8.5.
To give an idea of how Alabama views sacks and their importance relative to everything else, the statistical category isn't included in the year-by-year leaders section of the Crimson Tide record book. Instead, it lists tackles for a loss.
Nose tackle Quinnen Williams, who may have been the most disruptive defensive player in college football last season, topped the team with 18.5. The year before it was linebacker Rashaan Evans with 13, despite suffering a painful groin tear in the season opener.
"Sacks have nothing to do with winning, nothing at all," Saban said in 2009. "There's no stat in the NFL that says how many sacks you're getting contributes to winning. It's good to affect the quarterback. We affected the guy because he was throwing it so fast, we couldn't sack him. To me, that's affecting the quarterback, is it not? You can't hold it to throw down the field. "It's about affecting the quarterback. You don't have to sack him to affect him."
Nevertheless, one of the reasons why Saban brought outside linebacker coach San Suneri back was to make sure that the Crimson Tide had an attacking pass rush.
Alabama sacks (2007-18)
Year, Number
2007 24
2008 26
2009 32
2010 27
2011 30
2012 35
2013 22
2014 32
2015 53
2016 54
2017 40
2018 45
When Saban was at LSU, the Tigers went from just 11 in 2000 (while giving up nine), to 20, 27, 44 during the national championship season, and 37 in 2004.
The most sacks by a Saban-coached team was his last year at Michigan State, 1999, when the Spartans notched 60 to go with 119 tackles for a loss.
The 2011 Crimson Tide defense, which is widely regarded to be one of the best in college football history, had just 30. Meanwhile, former defensive end Jonathan Allen notched 28 during his career, the most of any player coached by Saban at the collegiate level.
If those statistics don't surprise you enough, consider this regarding the current roster: Terrell Lewis, who many believe will lead the 2019 Crimson Tide in the statistical category, has two career sacks. One just happened to be in overtime of the National Championship Game.
Chris Allen, who will be a big part of the rabbits, pass-rushing package, has zero.
The other top candidates to top the Crimson Tide this season are senior linebacker Anfernee Jennings, who had 6.5 last season, and new defensive line starter LaBryan Ray.
Overall, there are a lot of possibilities, but the guess here is that it'll be Lewis. Just don't count out a motivated Davis. Every sack can only help build up his resume for the 2020 NFL Draft, when first-round money is a real possibility.
"I feel like it wasn't me last year," said Davis, who only had 1.5 sacks in 2018 while playing alongside Williams. "I feel like this is my chance to prove myself to everybody like my team that I can do it and I can be that role model, that leader I was supposed to have been."
The following are the season and career sacks leaders for those playing when Saban was the head coach at Toledo in 1990, Michigan State from 1995-99, LSU from 2000-04, and Alabama after 2007.
Season
Name, School, Season, Sacks
Julian Peterson, Michigan State, 1999, 15
Jonathan Allen, Alabama, 2015, 12
Robaire Smith, Michigan State, 1997, 12
Jonathan Allen, Alabama, 2016, 10.5
Tim Williams, Alabama, 2015, 10.5
Wallace Gilberry, Alabama, 2007, 10
Julian Peterson, Michigan State, 1998, 10
Dan Williams, Toledo, 1990, 10
Isaiah Buggs, 2018, 9.5
Courtney Upshaw, Alabama, 2011, 9.5
Career
Name, School, Seasons, Sacks
Jonathan Allen, Alabama, 2013-16, 28
Julian Peterson, Michigan State, 1998-99, 25
Robaire Smith, Michigan State, 1997-99, 22
Tim Williams, Alabama, 2013-16, 20
Ryan Anderson, Alabama, 2013-16, 19
Marcus Spears, LSU, 2002-04, 19
Jonathan Allen, Alabama, 2013-15, 18
Courtney Upshaw, Alabama, 2008-11, 17.5
Rashaan Evans, Alabama, 2014-17, 15
Xzavier Dickson, Alabama, 2011-14, 13
Dimitrius Underwood, Michigan State, 1995-97, 13