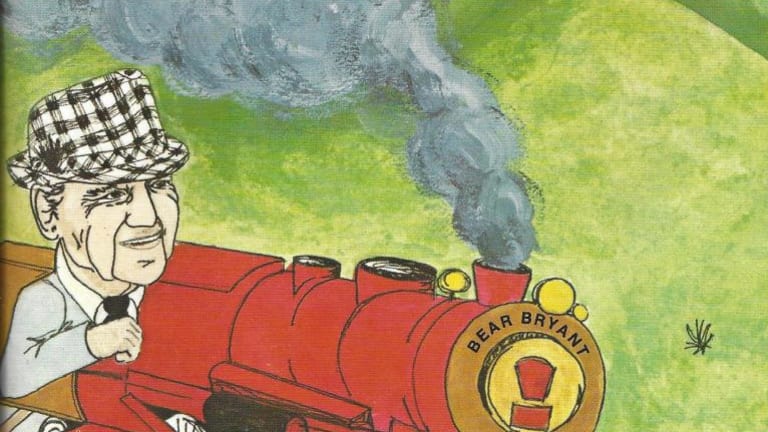 Throwback Thursday: Alabama Football 1977, Almost Another Title
How close did Alabama football come to another national championship in 1977? Very, very close
Alabama coach Paul W. "Bear" Bryant is known for his six national championships, but he also had some very close near-misses including the 1977 season. Alabama went 11-1 and captured the SEC title. 
The only loss was a 31-24 upset at Nebraska during the second game of the season.
Alabama, which was No. 6 in the preseason Associated Press Poll, had climbed up to No. 4, only to drop to No. 10 with the narrow loss (it went from No. 3 to 12 in the coaches poll). Over the next five weeks, during which Alabama won at No. 1 Southern California 21-20, it reached No. 2 in both rankings.   
Alabama was picked to play Ohio State in the Sugar Bowl which was coached by Woody Hayes, setting up a coaching showdown. 
However, the Crimson Tide had little trouble with the No. 9 Buckeyes, and blew them out 35-6.
Alabama quarterback Jeff Rutledge and the Crimson Tide offense wasted no time in getting the game under their control. On the Tide's second possession, a 10-play, 76-yard march, running back Tony Nathan scored from a 1-yard out.
Rutledge and the Crimson Tide then pushed Ohio State around on an 11-play, 76-yard touchdown drive. The scoring play came when fullback Johnny Davis moved to his right on a fake at the Buckeye 27 while split end Bolton, who had lined up as a right halfback, rolled out of the backfield and raced down the sideline. Rutledge dropped back and handed the ball to Bolton, who was barely inbounds.
Up 13-0, the Alabama defense again stopped the Buckeyes at the Crimson Tide 28, Rutledge took the Tide 72 yards for a touchdown. He hit Richard Neal with a 3-yard scoring pass and added another pass to Neal on a two-point conversion for a 21-0 lead late in the third quarter. 

Ohio State finally managed to score on the ensuing possession, marching 85 yards in seven plays, capped by a 38-yard touchdown pass from Gerald to Jim Harrell with 13:34 remaining.
Sophomore Steadman Shealy assumed control of the Alabama offense in the final quarter and engineered two touchdown drives. The first was an 84-yard march in 14 plays that ended with a 1-yard run by Major Ogilvie with 6:30 left.
Davis capped a 24-yard drive in four plays following a Buckeyes turnover by scoring on a 7-yard run with 5:09 left.
Rutledge finished as the game's most valuable player, hitting on 8 of 11 passes for 109 yards and a pair of touchdowns. Davis had 95 rushing yards on 24 carries.
Alabama knew it would need a little help to finish No. 1, and thought it might get it as No. 5 Notre Dame upset No. 1 Texas in the Cotton Bowl. 
But in a controversial and tight vote, the Fighting Irish vaulted from fifth to first, with Alabama a close second in both polls.