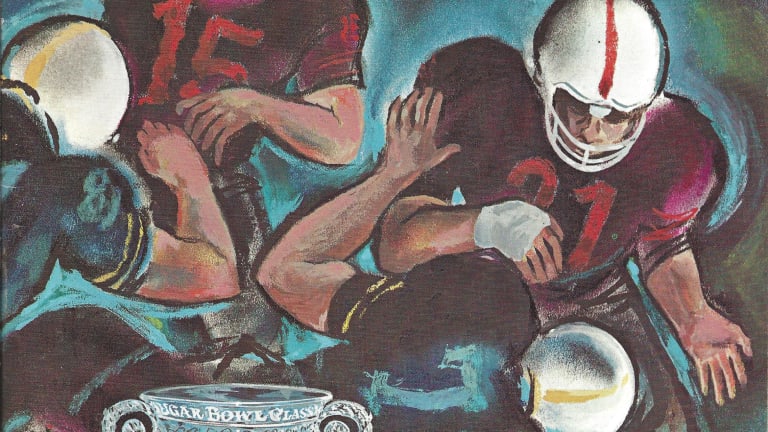 Throwback Thursday: 1964 Sugar Bowl, Alabama vs. Ole Miss
Despite being considered a decided underdog on New Year's Day, Alabama pulled out a 12-7 victory in snowy New Orleans
To give you an idea of how unusual the 1964 Sugar Bowl was between Alabama and Ole Miss, the teams combined for 17 fumbles, 11 by the Rebels, both all-time bowl records. 
Yet that wasn't the story of the game.
You see, this was no ordinary team, and no ordinary Sugar Bowl.
Having lost quarterback Joe Namath to a suspension, Alabama was not even supposed to be on the same field as Ole Miss. 
Ole Miss also had the best rushing defense in the nation coming into the game. 
Alabama's offense was stifled throughout, but the Crimson Tide defense rose to the occasion causing nine Ole Miss turnovers. 
An added and unexpected element was that a substantial snowstorm hit New Orleans the day before kickoff. 
In 1964, the Sugar Bowl was played outdoors in Tulane Stadium which one day a year was named the Sugar Bowl. The field was ringed with snow for the game.
Alabama relied on field goal kicker Tim Davis who had four field goals, of 31, 46, 22 and 48 yards, as Alabama won 12-7. 
Davis was named MVP of the game.
His four field goals were a bowl record and his 48-yarder was the longest in bowl history at the time.
"I think being off the day before the game was the answer," Davis said per "Sugar Bowl Classic: A History" by Marty Mulé. "I just had more zip in my kicks. I could see when I was warming up before the game. If the snow hadn't forced us indoors Tuesday, I would not have been so strong and accurate."
Sophomore Steve Sloan may not have had the best afternoon, but he showed poise and avoided costly mistakes as Alabama slowly built on an early lead it would never relinquish.  
It was 3-0 after the first quarter, 9-0 at halftime and 12-0 going into the final quarter. 
The Rebels finally got on the scoreboard when Larry Smith took a 5-yard pass from Perry Lee Dunn. 
Thanks to six lost fumbles and three interceptions, Ole Miss ended up with more turnovers than points. The Rebels may have had more yards, but the Crimson Tide controlled the game by running 69 plays to only 48 for the losing side.
In the final quarter the Tide defense stopped the Rebels on Alabama's 2, 9 and 28-yard lines to seal the victory. 
"I'm not taking anything away from Alabama," Ole Miss end Joe Wilkins said. "We played under the same conditions. Our game, though, I feel, was much more affected by the weather than theirs. We had a much more open offense, handled the ball more than Alabama, which ran basically a simple quick-hitting offense. The main thing was the snow put more moisture in the air. The field was slick as glass … With our roll-out offense; it just seemed a little more difficult for us."
When Ole Miss fumbled for the eighth time, early in the second half, it brought Mississippi Governor Ross Barnett to his feet, saying, "Why is it the boys can't hold onto the football?"