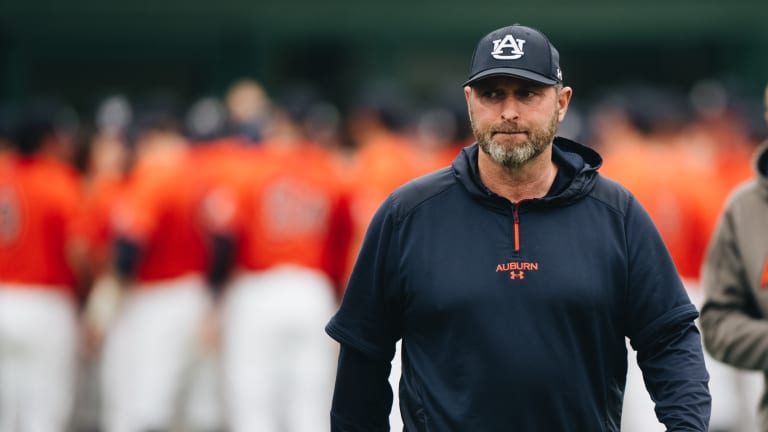 Auburn baseball vs Kentucky: Game one postponed
Auburn baseball's first game against Kentucky has been postponed.
Auburn baseball's first game against the Kentucky Wildcats has been postponed. The new plan is two play two games on Friday and one on Saturday.
First pitch for Game one on Friday is set for 1 pm CT. Game two will follow 45 minutes after the conclusion of Game one.
Auburn sent out the following in a release:
Due to lingering storms surrounding the Lexington area, Thursday's game between No. 18 Auburn and Kentucky has been postponed.

The two teams will play a doubleheader Friday beginning at 1 p.m. CT at Kentucky Proud Park. Game two will begin approximately 40 minutes after game one. Both games will be nine innings. 
Here were the updates from Thursday night in the Auburn Daily live blog. 
While we're waiting....
Sony DiChiara was selected to be a Dick Howser Trophy semifinalist. 
Here's some of the release. 
DALLAS – The Dick Howser Trophy Committee, in conjunction with the National Collegiate Baseball Writers Association and the St. Petersburg Chamber of Commerce has released the list of semifinalists for the 2022 Dick Howser Trophy. The most prestigious award in college baseball is given to the top player based on two rounds of national voting.
Balloting was done by the National Collegiate Baseball Writers Association, in conjunction with the Dick Howser Trophy Committee and the St. Petersburg Area Chamber of Commerce.
This is the 35th year of the Dick Howser Trophy. The finalists will be announced on Thursday, June 9. After not announcing the winner in Omaha the past two years due to the COVID-19 pandemic, the 2022 award will be presented at Charles Schwab Field in downtown Omaha, the home of the College World Series for the 10th year. The winner will be unveiled on MLB Network on Friday, June 17, in the 9 a.m. (CDT) hour, before a press conference with the winner will be held at 10 a.m., the opening day just prior to the first game of the 75th NCAA College World Series.
Pregame
5:32 CT - Auburn baseball announces official lineups. 
Nate LaRue's impact
4:17 PM (Lindsay): Interesting thing we briefly touched on in our series preview this morning: This Kentucky team LOVES to run – they've stolen 36 bases in 39 attempts this season, both tops in the SEC. Kentucky has an all-turf playing surface, both grass, and clay, inside Kentucky Proud Park. The AstroTurf brand Rootzone Diamond Blend is designed to replicate clay, but with a consistent surface to provide traction and extended sliding distance – Runners have firmer footing on it, and it doesn't cling to turf shoes the same way a runner's cleats would to clay, allowing attempted base stealers better footing and a quicker release into their stride. Nate LaRue, who leads the SEC with eight caught stealing in SEC play, is aware of the challenge: "It's probably one of the best things I'm looking forward to when I'm catching. They've got a lot of really good guys - a lot of really fast guys – so it'll be interesting to see how it goes this weekend." - LLC
Injury update
Auburn Daily's Lindsay Crosby reported the following injury report. 
Second baseman Cole Foster, suffering a strained oblique after a collision at home plate in game one of the Alabama series, is questionable for this weekend's matchup. He traveled with the team and will test the back in pregame warmups, but true freshman Brody Moss is traveling to Lexington and will be activated to the 27-man roster if Foster is unable to go. Senior Garrett Farquhar is expected to get the start at 2B if Foster is not available.
Probable Lineup
SS Brody Moore
1B Sonny DiChiara
3B Blake Rambusch
RF Bobby Pierce
DH Brooks Carlson
CF Kason Howell
LF Mason Land
C Nate LaRue
2B Cole Foster OR Garrett Farquhar 
Mason Barnett will start on the mound for the Auburn Tigers. 
Follow Auburn Daily on Twitter