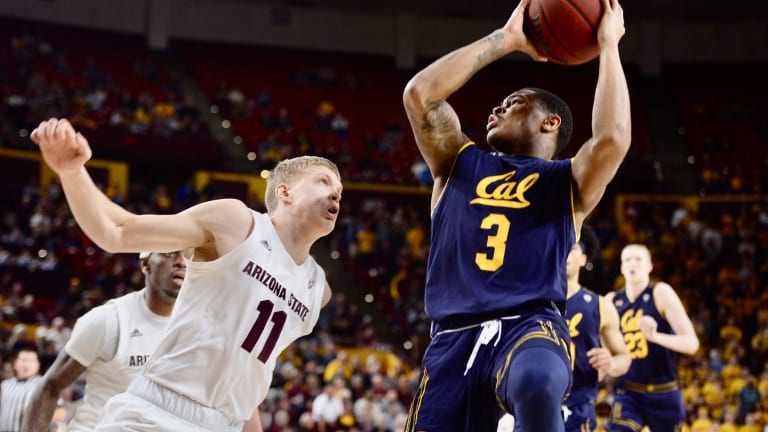 Cal Basketball: Ten Things We Want to See When the Bears Tip Off Their Season
Cal faces a Division II opponent in its exhibition opener Wednesday night at Haas
It's important to acknowledge we're not going to get a complete look at the potential of Cal basketball under new coach Mark Fox during tonight's exhibition game at Haas Pavilion. Tipoff is 7 p.m.
First of all, this is just one game, the first, and the Bears are a work in progress, sure to evolve as the season unfolds. There are a lot of new parts — all of the players are new to Fox and his system, he likes to say — so this will be nowhere close to a finished product.
Secondly, there is only so much to be gleaned from watching Cal against St. Martin's College, which is not to be confused with 20th-ranked Saint Mary's College (the Gaels visit Haas Pavilion on Dec. 14).
The Saints, a Division II program, probably would have been a better measuring stick the past two seasons, when they were a combined 51-14. In 2017-18, they competed with Washington in an exhibition before losing just 91-87.
But the visitors from Lacey, Washington, lost most of their players and their coach from the team that won the Great Northwest Athletic Conference last season. St. Martin's was picked to finish last in the conference this season.
Still, after going 8-23 and 8-24 under Wyking Jones the past two seasons, the Bears should be noticeably different. So tonight will be informative for Fox and his staff, and for us.
Here are 10 things we are eager to see:
— Defense . . . how effectively will the Bears incorporate the concept into their game plan? Cal allowed 77 points per game each of the past two seasons to rank near the bottom of the Pac-12. The Bears allowed opponents to convert nearly 49 percent from the field a year ago — a figure that ranked 348th nationally out of 351 Division I teams. The Bears also must rebound better. Basic defense doesn't require elite players, but depends on toughness, effort and organization, factors any team can control.
— Speaking of organization, the Bears were generally a mess on offense the past two seasons. They failed to average even 70 points each year and ranked last in the Pac-12 both times. It will be interesting to see what structure Fox has put in for his half-court offense and how effectively the Bears can execute it.
— Offense, at its core, requires putting the ball in the basket and shooting has been a woeful weakness. Cal was the Pac-12's poorest-shooting team, making less than 43 percent of its shots. How much can the Bears' new players impact that and can a more efficient offensive approach create better shots?
— Point guard Paris Austin was at his best last season when he was more facilitator than scorer. He will remain one of Cal's point producers but the offense will function better if his mindset is to get others involved.
— Matt Bradley was the Pac-12's most accurate 3-point shooter as a freshman a year ago. He and everyone else in college basketball must adapt to the new international 3-point distance, but we also expect to see a more assertive offensive player. Bradley needs to show a willingness to attack the basket and he needs to shoot the 3 without hesitation when it opens up in the flow of the offense.
— How will grad transfer Kareem South impact the Bears after making the leap from Texas A&M-Corpus Christi to the Pac-12?
— Will junior forward Grant Anticevich and sophomore forward Andre Kelly demonstrate they are ready for larger roles? Anticevich has shown glimpses over the past two seasons, but lacked consistency. Kelly began last season as the starting center before losing the job to the since-departed Connor Vanover. Both will be key to the Bears making improvement.
— Will Juhwan Harris-Dyson make a 3-pointer after going 0-for-21 from beyond the arc his first two seasons? In fact, Harris-Dyson is a good enough athlete to contribute in other ways, and probably won't be asked to shoot from the perimeter. Can the Bears find a way to take advantage of his undeniable athletic ability?
— Is sophomore small forward Jacobi Gordon ready to provide a boost? He was used cautiously last season after missing his high school senior season with a difficult Achilles injury, but Gordon was a 4-star prospect out of Houston so the Bears hope he can become healthy and begin to show that potential.
— Which of the five freshmen will make the earliest contributions? We're expecting 7-foot center Lars Thiemann of Germany and point guard Joel Brown of Canada to find roles, but Fox says everyone on the roster will have the chance to make an impact. So we'll also keep an eye on forward D.J. Thorpe, guard Dimitrios Klonaras and forward Kuany Kuany.