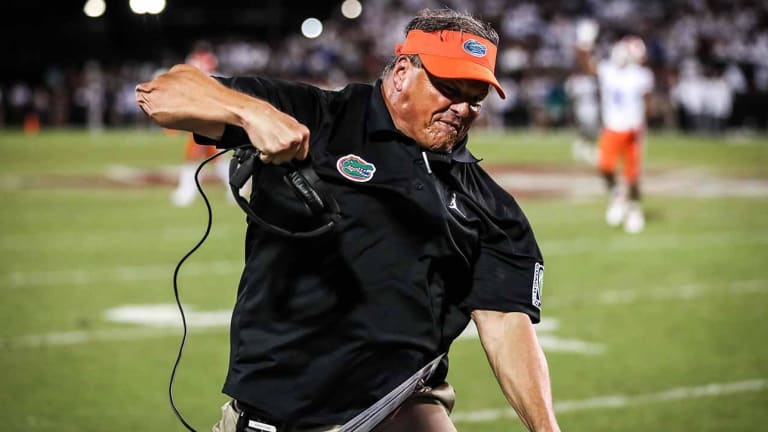 12/18: The Number That Defines the Florida Gators' 2019 Season
Florida has found plenty of success during their 2019 season, but the defining statistic comes from their most disappointing loss.
My favorite quote of all time comes from former U.S. Men's Hockey coach Herb Brooks, who said "Great moments are born from great opportunity" in his pregame speech before the Miracle on Ice. 
This legendary quote usually applies in an optimistic situation, but it can be applied negatively as well. You could even change it around a little and say something like "tough moments are born from a missed opportunity." 
This is the feeling that lingered as I walked out of TIAA Bank Field on Saturday night after the Florida Gators lost their third straight game to the Georgia Bulldogs.
This is the third year in a row that I've left that stadium with my head hung, and the second in a row where it's felt like the Gators really missed a huge opportunity. It's also the third year in a row that the Florida-Georgia game has been a defining moment for the program.
In 2017, as the Gators went down 21-0 halfway through the first quarter, it was rock bottom and a sign that change was needed. In 2018, the Florida-Georgia game showed a Gators team on the rise, but not quite ready to run with and conquer the country's elite.
As I sat on what felt like an endless bus ride back from Jacksonville I tried to find the answer to what from this year's game would define this year's Gators season and only one thing came to mind: 12/18.
That was Georgia's third down conversion rate last Saturday and will go down as the number that defined the Gators' season: 12/18. I kept repeating it to myself over and over again and I haven't stopped since Georgia put the Gators to bed on that final third down conversion.
It was ultimately the difference in the game. The Gators did their job on first and second down, they kept D'Andre Swift in check which defensive coordinator Todd Grantham said was their main focus coming into the game. The Gators held Swift to 86 yards, his lowest output of the season, and held the Bulldogs to just 3.2 yards per attempt on the ground.
I mean, they forced Georgia into 18 third downs. That's a lot of third downs! And because of the good work they did on first and second down, a lot of those third downs were tough ones. On the first drive alone Georgia faced five third downs and converted four before settling for a field goal. Three of those four were longer than six yards and two of them were longer than 10 (11 and 14). In fact, half of Georgia's third down conversions were six yards or longer.
The other thing that 18 third downs suggest is that Georgia had the ball A LOT. And they did. The Bulldogs had the ball for nearly 11 and a half more minutes than the Gators did and their only drive shorter than seven plays was their last one, which was six. That drive included a 3rd and 7 conversion that sent me to the concourse.
So how does that happen? How is an elite defense that leads the country in sacks and turnovers unable to get either of those or find a way off the field on 3rd down?
It starts with playcalling. Last week I wrote about how important it was going to be for the Gators to get pressure on Jake Fromm and not give him enough time to sit back in the pocket and pick them apart, especially on 3rd down. The Gators never brought Fromm down and only got two hurries on him the entire game.
Why? They never brought any pressure! Todd Grantham called the exact same game that he did against LSU and expected a different result. Against LSU, the Gators did not bring pressure against Joe Burrow and he was able to sit back in the pocket and move the ball effectively against soft zone coverage. 
It was the same exact story last Saturday. The Gators did not bring pressure against Jake Fromm and he was able to sit back in the pocket and move the ball effectively against soft zone coverage.
I can't really fathom an explanation Grantham could provide for why he didn't bring any pressure on Saturday, especially considering it's what he's known for. If I had to guess what his thought process was it would be Florida's main focus was containing DeAndre Swift and they wanted to try and make Jake Fromm beat them. 
The Gators did that, but the only problem was Jake Fromm crushed them. He was comfortable in the pocket all game and was able to find open receivers in between the soft zone the Gators were running. At some point, there were no more excuses for Grantham not trying to make Fromm uncomfortable and throwing something funky at him on third and long.
I sat there waiting to see the Gators send five or six guys at Fromm on third down and it didn't happen until the last, and biggest, third down of the game when the Gators brought six and forced Fromm to throw one up off his back foot. 
The ball floated and felt like it was in the air for an eternity, but it was a good throw nonetheless. It's also a throw that could've been intercepted or broken up with a better play by Brad Stewart. The Gators finally brought the pressure, had their chance to make a play, and didn't take it. 
The final missed opportunity in an evening full of them for Florida.
That play also reflects on another aspect of the Gators' poor defensive performance. Sure, the play calling was pretty awful, but you still have to execute within those plays. Just cause you're only rushing four doesn't mean you can't get pressure on the QB, the defensive linemen should still win their battles and get to the QB. That didn't happen on Saturday and the Gators knew it. Jonathan Greenard was very honest in saying that he didn't play his best game against the Bulldogs and needed to be better moving forward.
There were also a lot of coverage breakdowns by the Gators secondary. It seemed like every time Fromm found a guy on third down, there wasn't a defender within five yards. Not to mention, the biggest coverage breakdown of the day on the touchdown that turned out to be the one that put the game out of reach - the Gators bit hard on a play action run fake that left the secondary in shambles with at least two guys running free, and Fromm hit Lawrence Cager down the sideline for a score. 
Cager should give his first NFL game check to Grantham because of this game.
That TD was a brutal blow to the Gators, who had just gone down the field themselves to get back in the game. The Bulldogs scored and got the two-point conversion to make it a 14 point game and it was all but curtains after that. Oh, and Georgia had converted a third and one prior to the score.
At the end of the day, 12/18 exposed a lot of problems with this Gators team. It showed their inability to put pressure on QBs in big games, how they struggled with the two best QBs on their schedule, and their inability to be great defensively without putting together a good pass-rushing performance. 
It was the problem against Georgia, and it was also a problem against LSU who went 9/17 on third down.
The Gators still have three games left to make this a successful season and to leave a better taste in the mouths of their fans than the one that sits with them right now. However, their season has already been defined. 
It will be tough to shake this loss from the national perception of this program moving forward, but a good finish and another New Year's 6 Bowl win will fix that a little. It is important that the Gators finish strong and don't let 12/18 lose them more games than it already has.
There's still a lot of work to do and a lot to play for, but there's one reason the Gators will not be playing for it all this year.
That reason is 12/18. The number that defined a season.