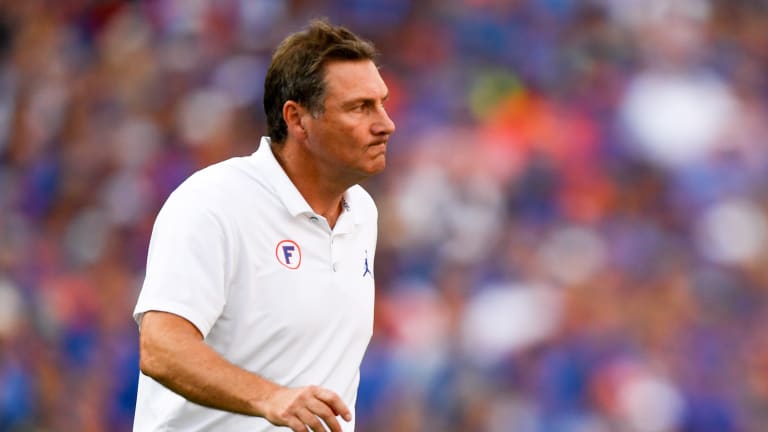 Florida vs. South Carolina: LIVE BLOG and Updates for Week 8!
Keep up with the Gators vs. Gamecocks game by sticking around the GatorMaven live blog!
Keep up with the Gators vs. Gamecocks game by sticking around the GatorMaven live blog!
Another one of Florida's several "most important games" of the 2019 season is here, as the Gators (6-1, 3-1 SEC) are in Columbia to face the South Carolina Gamecocks (3-3, 2-2 SEC).
The Gamecocks are fresh off of an upset victory over the former No. 3 Georgia Bulldogs last weekend in Athens, and quarterback Ryan Hilinski appears healthy and ready to play. Meanwhile, the Gators are looking to bounce back from their first loss of the season against the now-No. 2 LSU Tigers with a road victory in Williams-Brice Stadium.
Stay tuned to the GatorMaven LIVE BLOG for updates, commentary, and highlights during the game.
LIVE BLOG
3:26 P.M.: And that's the game - Florida beats South Carolina on the road, 38-27. Florida advances to 7-1, with a 4-1 record in the SEC.
3:13 P.M.: WR Trevon Grimes was injured on the kickoff, and stayed on the ground for a while until finally being helped off.
3:10 P.M.: South Carolina mimicks Florida and runs a screen play near the endzone, which WR Ortre Smith scored on to make it a 38-27 game with 1:53 left in the game.
3:09 P.M.: C.J. Henderson has now been injured. However, he quickly stood up and walked off the field with the trainers.
3:05 P.M.: Kyle Trask finds WR Trevon Grimes on a screen that he takes to the endzone for another Gators touchdown - Trask's fourth touchdown on the day despite struggles throwing in the rain.
Florida 38, South Carolina 20. 4:02 left in the game.
2:54 P.M.: DE Jeremiah Moon has returned to the game.
2:48 P.M.: Florida is starting to put this game away. After an interception was called back due to defensive holding, Trask finds TE Kyle Pitts who walks into the endzone for six!
The Gators lead the Gamecocks, 31-20, with 7:53 left in the fourth quarter.
2:38 P.M.: Touchdown Gators!
Freddie Swain adjusts well to a rainbow-ball from Kyle Trask and dives into the endzone, and Florida takes a 24-20 lead! 9:54 left in the fourth quarter.
2:27 P.M.: Defensive end Jeremiah Moon is injured and being helped off the field. Considering Jonathan Greenard and Jabari Zuniga are already out of today's game, losing Moon really stings. We'll see true freshman Khris Bogle step in at BUCK. 
2:14 P.M.: South Carolina nails a 30 yard field goal to make the score 20-17.
Over the past six and a half quarters, Florida has allowed 387 rushing yards - they allowed only 558 rushing yards in their first five games. The Gators need Greenard/Zuniga at full health, and LBs need more gap discipline.
1:52 P.M.: Florida responds with a 75-yard rushing touchdown from Dameon Pierce! With 13:43 left in the third quarter, the game is tied 17-17. WR Tyrie Cleveland played a crucial role on the play, blocking his defender for at least 30 yards down the field.
1:50 P.M.: Touchdown, South Carolina. RB Tavien Feaster scampered 21 yards with a ton of open field for the Gamecocks' third score, taking a 17-10 lead over Florida after Trask's interception. 13:57 left in the 3Q.
1:47 P.M.: Kyle Trask just threw a terrible interception under pressure, with no juice on the ball as he's thrown it all day. The pass floated right to defensive back Jammie Robinson, which he returned to the Gators' 20 yard line. Awful start to the second half.
1:30 P.M.: This was one of Florida's best running plays this year, in my opinion.
1:27 P.M.: It's halftime at Williams-Brice Stadium, and the Gators are tied with the Gamecocks at 10. They get the ball to start the second half.
1:16 P.M.: Kyle Trask is still really struggling with accuracy today. His stat line isn't terrible at 9-16 for 113 yards and a touchdown, but 69 of those have coke on big plays from Jacob Copeland. Mullen has pulled Trask aside several times with a look of frustration.
1:03 P.M.: Here's another angle of Copeland's touchdown. Superb route, great adjustment and he comes down with a contested catch. Plus, YARDS AFTER THE CATCH!

12:56 P.M.: Trask finds Copeland once again, and Copeland maneuvers his way to the endzone for a game-tying score!
It's tied 10-10 with 10:08 left until halftime.
12:47 P.M.: South Carolina extends its lead to a score of 10-3 on a 49 yard field goal from kicker Parker White.
14:06 left in 2Q.
12:41 P.M.: At the end of the first quarter, South Carolina leads Florida by a score of 7-3, and is driving with the ball at the UF 37 to start the second quarter.
12:39 P.M.: Kyle Trask is really struggling, with poor accuracy and no grip on the ball in the rain. His throws have been wobbly and lack juice, and he has completed only 4-of-9 passes for 47 yards.
12:36 P.M.: The rust appears to have been shaken off for Florida's defense - they have allowed only 18 yards on the last nine plays following the touchdown they allowed on the first drive. 
12:33 P.M.: Florida puts points on the board, with a 48 yard field goal from Evan McPherson. However, other than a 32-yard pass to Jacob Copeland (clipped below), Kyle Trask has had a poor start - he's been relatively inaccurate in the rain and has completed only 3-of-7 passes.
South Carolina 7, Florida 3. 4:06 left in 1Q.
12:29 P.M.: Hey, a Jacob Copeland sighting!
The redshirt freshman wide receiver made a nice catch-and-run on an RPO on Florida's second drive, their first big play of the game. 
12:24 P.M.: South Carolina RB Rico Dowdle, who leads the team with 449 yards and four touchdowns this season, has exited the field and gone to the locker room after suffering a leg injury. 
12:18 P.M.: Wow, Florida does not look good to start today.
After a poor defensive showing, Florida's offense one-upped the defense as to who could have a worse start. Going three and out, WR Van Jefferson ran the wrong route on a screen on third down, and the previous to plays were poorly thrown passes from QB Kyle Trask.
12:15 P.M.: Not the start that Florida was looking for.
South Carolina just drove down the field, thanks in part to a flea-flicker that found WR Bryan Edwards for a 42 yard gain and two foolish offsides penalties in the redzone by defensive lineman Luke Ancrum - one that offset a fumbled pitch to a running back on third down. The Gamecocks took advantage and Mon Denson scored on a one yard rush. 
South Carolina 7, Florida 0. 9:59 left in the first quarter.
12:00 P.M.: According to reports, South Carolina QB Ryan Hilinski is ready to go. He suffered a knee injury last weekend against Georgia, and was questionable during the week. But he will play vs. Florida.
12:00 P.M.: Vegas appears worried about the Gators' ability to win without Greenard and Zuniga...
12:00 P.M.: Gators defensive ends Jonathan Greenard and Jabari Zuniga are OUT vs. the Gamecocks.
https://www.si.com/college/florida/football/florida-des-jonathan-greenard-jabari-zuniga-out-vs-south-carolina/