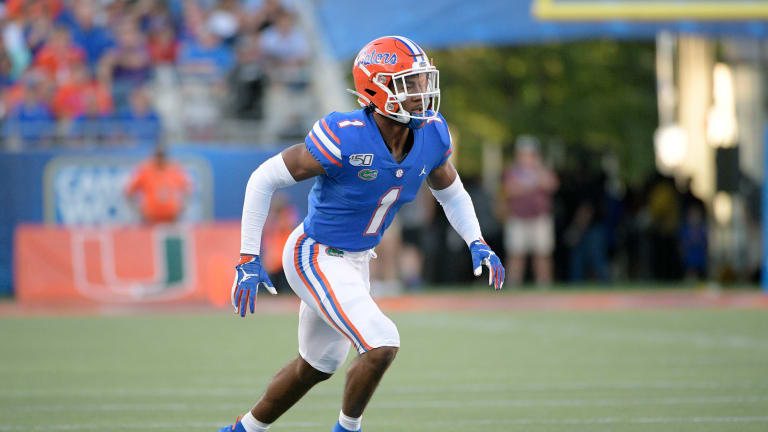 Gators 2020 NFL Draft Stock Entering the Late Stretch of the Season
Which Florida Gators have a shot of getting selected in the 2020 NFL Draft as of now?
Entering the late stretch of the 2019 college football season, and the second half for the NFL, prospect rankings are starting to take shape for the 2020 NFL Draft.
And much like previous years, the Florida Gators are on pace to see several players walk across the stage in Las Vegas this upcoming April. Florida has seen at least five prospects get selected in the previous five drafts, and that number should be matched for the sixth year in a row.
But who, and when, will current Florida stars hear their names get called? Here at GatorMaven, we will provide draft prospect updates at the end of each month and when news breaks, as well as cover all NFL Draft events that involve Florida entering next year.
Here's where each legitimate Florida Gators; NFL Draft prospect ranks as of now. This list is not put together based on any other draft rankings, but where I see each player's stock standing in comparison to the rest of the draft class. 
Juniors such as Trevon Grimes and Marco Wilson (and honestly, if he continues to play this well down the stretch, Kyle Trask) would receive NFL attention as well, but are not expected to declare for the draft as things stand, so they were left out.
Note: Previously to covering the Florida Gators, I extensively covered the NFL Draft for the Jacksonville Jaguars. My experience scouting the draft led to the creation of this list, and it is not put together based on any third party draft rankings.
Cornerback C.J. Henderson: Late first round pick
In a top-heavy cornerback class (and pass-game skill position class in general), there will be plenty of nit-picking when it comes to the top prospects in order to separate their skill-sets for ranking purposes.
Given a couple of injuries throughout his career and some questions regarding his run defense and tackling at the NFL level, Henderson is a candidate among the top cornerbacks to fall a bit despite his coverage skills being, arguably, the best in the class.
Standing at 6-1, 202 lbs., with lengthy arms and a 4.35 40 yard dash on record from high school, Henderson has first round cornerback intangibles paired with excellent coverage technique that makes him so dominant as an off-man and zone field defensive back - and even though Marco Wilson is the more physical cornerback of the Gators' tandem, Henderson is capable of jamming and remaining hip-to-hip in press. Relatively, Henderson is a scheme-universal coverage corner, which makes him even more valuable. 
He has allowed only 44.4% of his 27 targets to be caught this year, posting a team-leading nine defended passes in only five games. In 2018, Henderson allowed a completion rate of 50% on 36 targets in coverage, and did not give up a touchdown.
Given each team's need and preferences at the position, paired with their projected draft slot as of this article, Henderson would be a great first round selection for the Jacksonville Jaguars, Dallas Cowboys, Kansas City Chiefs, or San Francisco 49ers.
Jonathan Greenard: Third round pick
Assuming Greenard returns to form prior to his ankle injury, as he claims he'd have to be dead to not play in the upcoming Florida-Georgia game (you can tell he's super motivated - that's something NFL scouts will love), Greenard could find himself his draft stock skyrocketing beyond the later part of Day 2.
The Senior Bowl has shown Greenard some love throughout the season, sending their scouting staff to two games at Ben Hill Griffin Stadium to watch Greenard, among other players. However, as Florida enters the biggest game of their season - and possibly and SEC Championship/College Football Playoff run - all eyes will be on Greenard as Florida's primary pass rusher.
Greenard has bounced back from injury before, which made his story as a graduate transfer from Louisville to Florida unique, and I'm expecting him to do well down the home stretch and cement himself as one of the better edge rushers in this draft class. 
He's posted some serious production across 296 snaps, with four sacks, 6.5 tackles for loss, an interception, a forced fumble, and 27 quarterback pressures (per Pro Football Focus). His burst off of the line is impressive and well-timed, and he has shown plenty of different moves with bend, power, and agility to get to the QB. 
I could see the Buffalo Bills, Chicago Bears (imagine Greenard paired with Khalil Mack), and Tampa Bay Buccaneers being interested in Greenard, as he is comfortable playing flexibly with his hand in the dirt or as a standing edge rusher.
Running back Lamical Perine: Fourth round pick
Lamical Perine hasn't had the stellar year that typically pushes running backs up the board, mainly due to run blocking issues that, despite showing improvement recently, have been a killer for his production this year.
Last season, Perine tallied 6.2 yards per carry on a near-50/50 carry split with Jordan Scarlett, and an excellent offensive line ahead of him. This year, Perine is at 4.7, but that average hung in the three-yard range for some time earlier in the year.
With elusive traits and great gap recognition, plus sturdy involvement in the passing game as a receiver and blocker, Perine is the type of back that shoots up boards after scouting events like the Senior Bowl and NFL Combine. Teams may not see him as a three-down back right out of the gate in the NFL, but he will have a defined later-down role as a rookie that could quickly expand with good zone blocking ahead of him.
The Arizona Cardinals (and their spread system not too far off from Florida's current offense), Green Bay Packers, and Miami Dolphins could certainly use a back like Perine in their system.
Jabari Zuniga: Fifth round pick
I'm not calling Zuniga a fifth round pick from a talent perspective, just so we're clear.
Florida's strong-side defensive end has been an extremely effective pass rusher, when he's been on the field. Granted, it was against opponents such as Miami - who had two freshmen starting offensive tackles - UT-Martin plus some playing time against Kentucky and LSU, but Zuniga has posted 12 pressures on 72 pass-rushing snaps this season.
That's one every six pass-rushing snaps. That's on par with Greenard's average of every 6.1 on 164 pass-rushing snaps.
Hopefully Zuniga can remain healthy this time around, as he's set to return against Georgia as well. After a three-game hiatus after going down with an ankle sprain against Kentucky, Zuniga returned against LSU - only to reaggravate the injury 22 snaps into the game. We've seen impressive speed from a 6-4, 246 lb. edge rusher, and he converts it to power well enough to catch the eyes of NFL teams as long as he can stay healthy.
Given his lack of bulk yet being a stouter, power-based defensive end, I see Zuniga translating into a pure weakside six-technique in a 4-3 under front. I know that limits his ceiling, unless he can successfully add weight while maintaining impressive speed and agility, but team's such as the Jaguars, Philadephia Eagles, and Atlanta Falcons would be perfect fits for that role.
The Arizona Cardinals (and their spread system not too far off from Florida's current offense), Green Bay Packers, and Miami Dolphins could certainly use a back like Perine in their system.
Wide receiver Van Jefferson: Fifth round pick
With the NFL in his bloodstream, Van Jefferson is poised to be an NFL wide receiver. 
What hurts him is that the 2020 wide receiver class is stacked from top to bottom. It takes special traits to separate yourself in the top of this class, but teams will find themselves stealing some value in the later rounds. That's where Jefferson's sweet-spot is.
Jefferson isn't the most athletic receiver in this class by any means, but he is agile and possesses polished footwork through his releases and route breaks to separate in coverage. His 6-2, 200 lb. frame also makes him a wide boundary target.
A nimble route runner with superb understanding of the receiver position, Jefferson is the student of the game - and of his father Shawn Jefferson, a former NFL  wide receiver who now coaches the position for the New York Jets.
New York would be a great location for Jefferson to end up, as they desperately need more passing game weapons and Jefferson would be paired with his father. The Los Angeles Chargers and Detroit Lions could also be options.
Possible late round picks or undrafted free agents
WRs Josh Hammond and Freddie Swain: Without ideal long speed to separate for playing slot receiver, Hammond and Swain could unfortunately fall down draft boards. However, like Jefferson and as expected under wide receivers coach Billy Gonzales, Hammond and Swain are students of the game who understand the importance of technique and run nice underneath routes. Both players are also team captains, and NFL teams look for good character guys with high floors with late picks and in undrafted free agency.
LB David Reese II: Like every other prospect listed so far, Reese is a high-character leader of the Gators' 2019 squad, and is the well-respected man in the middle for Florida. His communication skills keep the defense in check and it's rare that he will miss a tackle. But as the NFL transcends to being such a pass-heavy league, thumpers aren't as much the norm at linebacker. Reese would specifically be an early-down linebacker in to defend the run, which limits his draft stock.