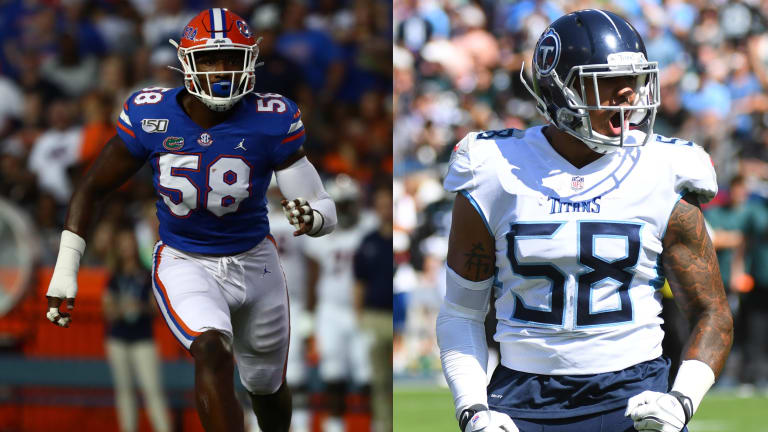 NFL Comparisons for Three 2019 Florida Gators Standouts
It's the bye week. Let's have some fun.
In the midst of a competitive season that could end in the College Football Playoff, the Florida Gators have enjoyed plenty of key breakout performances from members of their squad.
Defensive end Jonathan Greenard, quarterback Kyle Trask, and wide receiver Jacob Copeland have all emerged as cornerstones for this team, both currently and foreshadowing the future. 
Greenard, a graduate transfer from Louisville, has taken the reigns of Florida's BUCK pass rushing position and not once looked back. He leads the Gators with four sacks, 6.5 tackles for loss, and 27 quarterback pressures. 
Trask is the darling underdog story that has gripped college football. After replacing the injured Feleipe Franks against Kentucky in Week 3, Trask has led the Gators to a 5-1 record, throwing for 1391 yards, 14 touchdowns, and four interceptions with a 67.5% completion rate.
Copeland has given the Gators both modest production as a rotating receiver and a good look towards the future of the position. With 12 receptions for 181 yards and two touchdowns this season, things are looking up for the redshirt freshman pass-catcher.
As a fun bye week discussion, let's compare these three emerging forces for Florida to NFL players. These comparisons are based on physical intangibles, skill sets, and contextual information and are not meant as predictions for Greenard, Trask, or Copeland's football careers.
But it's the bye week. Let's have some fun conversation.
DE Jonathan Greenard: Harold Landry, Tennessee Titans
Greenard: 6-3, 262 lbs.
Landry: 6-2 3/8, 252 lbs.
If you stood Jonathan Greenard and Harold Landry next to each other, you'd have two compactly-built defensive ends ready to utilize eye-catching athleticism for their build to disrupt the passer.
That, also, both wear No. 58.
Size comparison? That's an easy check. But Greenard and Landry are also similar athletes and pass rushers. Both rely on burst out of their stance - both can line up with their hand in the dirt or as a standing rusher - and bend to beat offensive tackles outside.
At the NFL Combine, Landry posted a 6.88-second 3 cone drill, which ranks in the 95th percentile among NFL edge rushers. A test that measures a player's ability to bend, Greenard has a really good shot at breaking seven seconds in the drill next February.
Landry, like Greenard, is Tennessee's leading pass rusher with four sacks and 19 QB pressures in seven games this season. Packaging athleticism, burst, and disciplined body movements into a compactly built defensive end typically leads to dominant pass-rushing ability, and both Greenard and Landry meet that bill.
QB Kyle Trask: Nick Foles, Jacksonville Jaguars
Trask: 6-5, 239, lbs.
Foles: 6-6, 243 lbs.
This comparison was ridiculously easy, for the background story of course.
Foles was leading a journeyman NFL backup career up until the 2017 season, when he filled in at quarterback given Carson Wentz' season-ending torn ACL. He went on to lead the Philadelphia Eagles to a 2-1 regular-season record, a perfect postseason record, a Super Bowl, and for himself - a Super Bowl MVP Award.
Trask is on a similar career path. Prior to leading Florida out of losing Franks, Trask had not started a football game since his freshman season of high school.
And here we are.
But beyond their stories, both quarterbacks are similar within their playing styles and intangibles. They stand tall in the pocket, yet are sneakily mobile, and are vastly accurate within the short-to-intermediate levels of the field. Over the past two seasons, Foles has completed 78.5% of his 172 passes within 20 yards of the line of scrimmage. This season, Trask is at 74.6% on 142 throws in the same area.
Again, this comparison was pretty easy on the surface. And as you look more in-depth, you realize it's just about perfect.
WR Jacob Copeland: Stefon Diggs, Minnesota Vikings
Copeland: 6-0, 192, 4.44 40 yard dash, 4.23 20 yard shuttle, 37.4" vertical jump
Diggs: 6-0, 195, 4.46 40 yard dash, 4.32 20 yard shuttle, 35" vertical jump
Everyone wanted to see what Jacob Copeland could do for the Gators this season, and last weekend against South Carolina, we got a glimpse of it. 
Copeland hauled in all three of his targets for 89 yards and his first SEC touchdown. On his first reception as well as his touchdown, Copeland displayed serious growth in the route running department.
Not to pat myself on the back or anything, but I saw this same ability from Copeland this past summer at Florida's training camp. With natural hip fluidity and active feet as such a young player, there's tremendous upside being tapped into to develop Copeland into an elite route runner.
Much like his comparison, Stefon Diggs.
Diggs is one of the NFL's most polished route runners, thanks to traits incredibly similar to Copeland's being groomed over time. His releases against press coverage are as good as it gets, and he can separate from just about any defender.
Copeland might not be college football's best route runner - yet - but his traits suggest that he can develop into that. And under the direction of Florida wide receivers' coach Billy Gonzales and the route runners that surround Copeland in the WR room - such as Van Jefferson and Josh Hammond - Copeland could hit this level of potential.