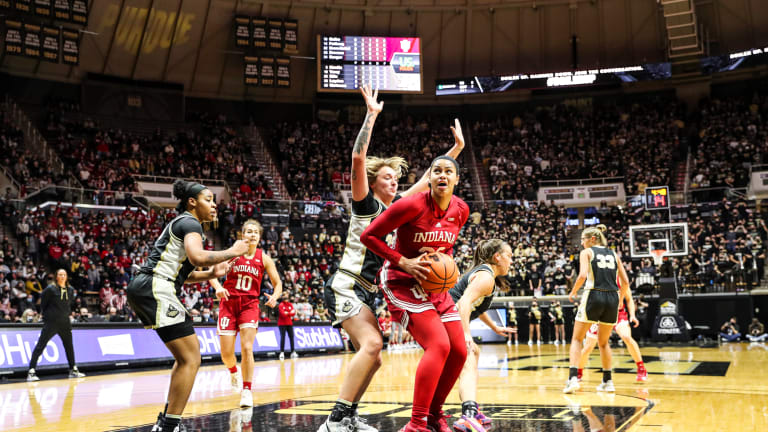 The Indiana Women's Basketball Game Versus Michigan State Wednesday is Postponed
This is the third game affected by COVID-19 for the Indiana program. Both Michigan State and Indiana will work with the Big Ten Conference to reschedule the game.
BLOOMINGTON, Ind. — Indiana women's basketball released a statement Monday announcing the Indiana versus Michigan State game at Simon Skjodt Assembly Hall is postponed due to COVID-19 cases within the Indiana program.
Both programs will work with the Big Ten conference for a rescheduled date, but if it's not possible, the game will count as a "no contest" for both teams per Big Ten Conference 2021-22 Forfeiture Guidelines.
This is now the third Indiana game affected by COVID-19. First, the Wright State game was canceled in late December, and then the Rutgers game was postponed nine days later.
Related stories on Indiana women's basketball
HOOSIERS STAY AT NO. 6 IN AP POLL: For the third week in a row, the Hoosiers stay consistent at No. 6 after a fresh win over the Purdue Boilermakers on Sunday improving their conference record to its best start in history at 5-0. CLICK HERE.
INDIANA DEFEATS PURDUE ON THE ROAD: Even without the presence of starters Mackenzie Holmes and Nicole Cardaño-Hillary, the Hoosiers pulled out a 73-68 win over rival Purdue for the sixth consecutive Barn Burner Trophy game and twelfth straight win on the road. CLICK HERE.
HOOSIERS PLAY FOR BARN BURNER TROPHY AT PURDUE: An 11-0 road-game winning streak is on the line as the Hoosiers look to defeat Coach Teri Moren's alma mater, Purdue, for the sixth consecutive time for the Barn Burner Trophy. CLICK HERE.