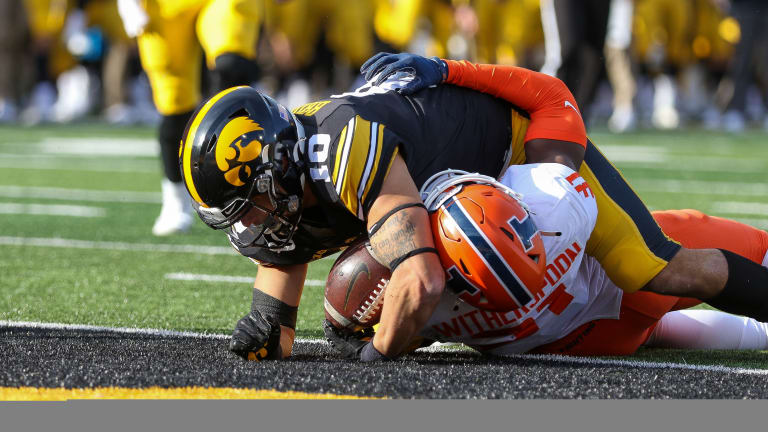 Game Story: Iowa Winning, Watching Scoreboard
Hawkeyes Stay in Big Ten West Race with Win Against Illinois
IOWA CITY, Iowa - When you're chasing a title in the final days of the season, you're watching the scoreboard and hoping for help.
Iowa's 33-23 win over Illinois on Saturday at Kinnick Stadium kept the Hawkeyes in the Big Ten West Division title chase.
Wisconsin's 35-28 win over Nebraska put the Hawkeyes a step behind.
Iowa and Wisconsin are tied for the West lead at 6-2, but the Badgers own the tiebreaker over the Hawkeyes because of their 27-7 win on October 30.
So the Hawkeyes watched, and waited.
"We know what's going on," running back Tyler Goodson said. "We want to play in the Big Ten championship game."
The situation for Iowa is simple — the Hawkeyes have to win at Nebraska on Friday, then hope Wisconsin loses to Minnesota on Saturday.
It's why Iowa coach Kirk Ferentz just shrugged off the news of Wisconsin's win.
"We have to worry about a tough opponent Friday. That's as simple as that," Ferentz said. "I know this, Nebraska must have played a heck of a game today because Wisconsin is playing well. They're a tough out and we've had nothing but tough games with them. All we can worry about is trying to win Saturday -- or Friday, excuse me — and then watching everybody else work on Saturday."
It was another one of those wins for the Hawkeyes (9-2 overall, 6-2 Big Ten) that they have dealt with all season — nothing fancy, just complementary football that seems to work.
There was a special teams touchdown — Charlie Jones had a 100-yard kickoff return for a touchdown for Iowa's first points of the day.
There was a defensive touchdown — linebacker Jack Campbell had a 32-yard interception return for the Hawkeyes' final points.
Goodson rushed for 132 yards. Quarterback Alex Padilla completed six passes for 83 yards, but controlled the offense.
The Iowa machine doesn't always purr, but it does the job.
"The real common bond there is we find a way to win," Ferentz said. "And that's still what the game is about. You can talk about style points, and that's important at some point maybe. But to me, it's about trying to find a way to be successful whatever the given situations are. And in football, it's hard to predict what that's going to be."
"We know it's going to be a fistfight every time we go out," Padilla said.
The quarterback, making his second start of his career, then pondered the Hawkeyes' record.
"Nine wins, that's awesome," he said. "Because that's the biggest thing, you know."
Illinois (4-7, 3-5) outgained the Hawkeyes 312-255. The Illini built a 10-0 lead, and then after Iowa rallied kept pace until the fourth quarter.
Jones' return got the Hawkeyes going. His run from the right front corner of the south end zone to the left back corner of the north end zone was a special teams masterpiece crafted during the week.
"That was a designed play," he said. "It was great blocking, just like we drew it up, just like we saw on film. I knew I had a great block to the left, so I just cut inside. Then I saw guys blocking downfield. So it was just me and some grass. Guys were just working along the way."
Jones got to the end zone and kept running all of the way to the wall below the grandstands.
"Yeah, I was too excited," Jones said. "I didn't want to stop."
From there, it was that Hawkeye methodical way of building a win that left you wondering in the end how they keep doing it.
Freshman wide receiver Arland Bruce had a 2-yard touchdown run in the second quarter where he plowed over an Illinois defender to get into the end zone.
Caleb Shudak, the sixth-year kicker who has been nearly perfect this season, had four field goals and almost had a 58-yarder for a fifth — a greedy campaign of his, he said, built from the excitement of making a 51-yarder earlier.
Dane Belton had his Big Ten-leading fifth interception of the season, then after Campbell got his, it meant 11 different Hawkeyes had at least one pick this season.
The Hawkeyes have been nearly at the top of the national rankings — getting to No. 2 before back-to-back losses to Purdue and Wisconsin sent them careening down the polls.
Now they're almost to the finish.
"We overcome the adversity that comes our way," Goodson said. "That's what I love about this team."