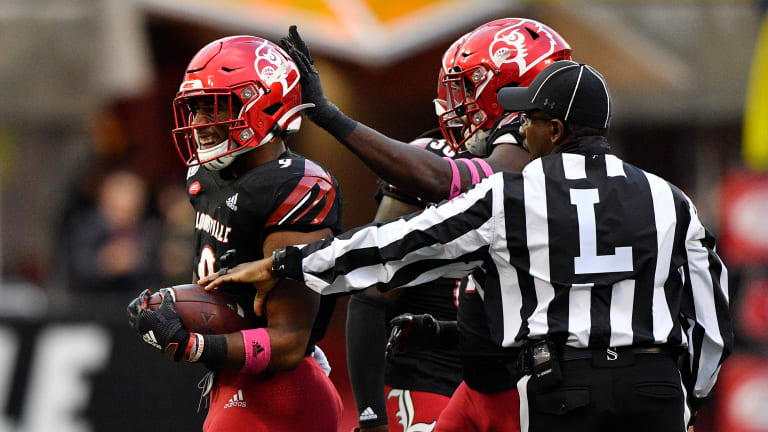 Louisville defense limits Virginia in complete performance
Louisville holds Virginia to 311 yards of offense, forces two turnovers
After weeks of struggling, Louisville's defense put together its best performance of the season in a 28-21 victory over Virginia Oct. 26. The Cardinals held Virginia to 311 yards and forced two turnovers in Louisville's fifth win of the year.
Virginia was held scoreless in the second half until a touchdown with 21 seconds left and limited the Cavaliers to 78 rushing yards.
"I thought our defense played their best game they've played this year," Louisville head coach Scott Satterfield said. "Guys were flying all over the place."
The Cardinal defense has struggled in the past month.
Florida State and Boston College finished with over 500 yards of offense against Louisville while Wake Forest posted 668 yards two weeks ago. Clemson had 551 yards of offense in its 45-10 victory over Louisville last week.
The struggles didn't continue against Virginia, an offense averaging 350 yards per game. Chandler Jones had an interception late in the first half in a scenario that was similar to a Clemson touchdown last week.
Satterfield said the interception was huge for momentum going into halftime.
"Think about last week when Clemson hit that touchdown, it was a one-touchdown game going into halftime and they throw it up to the back of the endzone," Satterfield said. "The same scenario could have unfolded today and Chandler [Jones] with the huge pick."
Boosie Whitlow forced a fumble in the third quarter that was recovered by linebacker C.J. Avery.
The Cardinals sacked Bryce Perkins four times as the Cavalier quarterback completed 24 of 41 throws for 233 yards and touchdown. Perkins had just 22 rushing yards.
"We had to contain the quarterback and make sure he didn't get out and make plays, that's what we did," Avery said.
Avery and Jones finished with a team-high eight tackles. Marlon Character, who made his first start, had seven tackles including a sack.