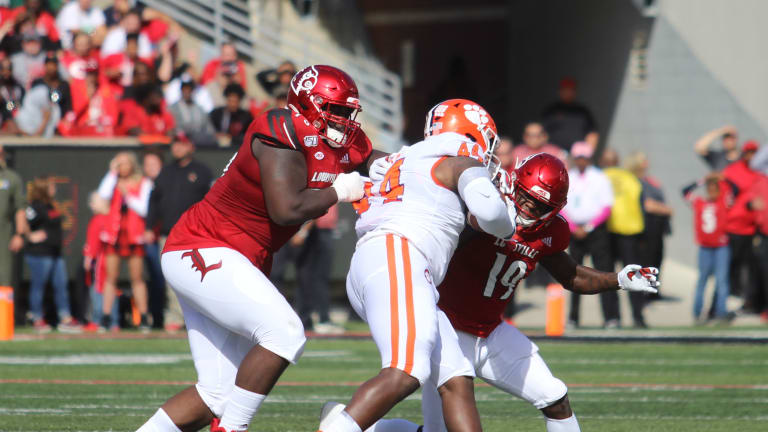 Recap: Louisville uses strong second half to top Virginia
Cardinals outscored Virginia by 14 points in the second half
Louisville football defeated Virginia 28-21 at Cardinal Stadium Oct. 26. After trailing 14-7 at halftime, Louisville scored 21 unanswered points in the second half to improve to 5-3.
Javian Hawkins rushed for 136 yards and two touchdowns for Louisville. Malik Cunningham passed for 126 yards and rushed for 97 yards and a score.
After Louisville's opening drive moved inside the Virginia 29-yard-line before ending with consecutive sacks, Virginia went 60 yards in seven plays to take a touchdown lead.
Bryce Perkins completed a 39-yard throw to Hassie Dubois while Wayne Taulapapa capped the drive with a run from six yards.
The Cardinals answered on their second play on the ensuing drive, a 77-yard touchdown by Tutu Atwell on a shuffle toss from Malik Cunnigham.
A 77-yard punt from Cavalier punter Nash Griffin helped flip the field early in the second quarter and helped set up an eventual touchdown.
Following a Cardinal three-and-out in the second quarter, Virginia retook the lead on a five-play, 53-yard drive. Taulapapa had a 12-yard carry and scored from 19 yards with 10:13 left before halftime to give Virginia a 14-7 advantage.
Virginia threatened late in the first half with a four-minute offense, moving the ball to the 20-yard-line. Chandler Jones intercepted a pass on the 8-yard-line with 50 seconds left in the second quarter.
Louisville's offense looked different on its opening drive of the second half. After the Cardinal defense forced a stop on their own 35-yard-line to force a Virginia punt, Louisville manufactured a game-tying drive.
Cunningham had a 15-yard carry and later found Dez Fitzpatrick for a 10-yard reception on third-and-9 from the 26-yard-line. The Cardinal drive continued on a roughing the passer penalty on a third-and-3 pass that fell incomplete.
Atwell caught a 26-yard pass from Cunningham to bring the ball to the 2-yard-line. One play later, Javian Hawkins scored from two yards to tie the game 14-14.
Louisville's defense forced another stop on Virginia's ensuing possession, but the Cardinals couldn't capitalize on good field position. Rodjay Burns returned a punt 34 yards to put Louisville on the Cavalier 31-yard-line, but the drive couldn't gain a first down and Louisville elected to punt.
The offense capitalized on good field position the next time around. Boosie Whitlow forced a fumble on a Virginia completion and C.J. Avery recovered, returning the ball to Louisville on the Cavalier 34-yard-line.
Cunningham scored on a 25-yard quarterback-keeper to give Louisville a 21-14 with 14:22 left in the fourth quarter.
The Cardinals defense forced its fourth straight stop in the second half as Whitlow and G.G. Robinson had tackles for a loss on consecutive plays to end the Cavalier drive that started on the Louisville 49-yard-line following a 39-yard return by Joe Reed.
The Cardinals had the game-sealing drive that started with five minutes left. Hawkins followed a 19-yard carry with a touchdown run from 17 yards to give Louisville a 28-14 lead.
Virginia made things interesting in the final minute. The Cavaliers scored a touchdown with 21 seconds left and recovered the ensuing onside kick. Several members of Louisville's secondary batted down a pass from Perkins as time expired.