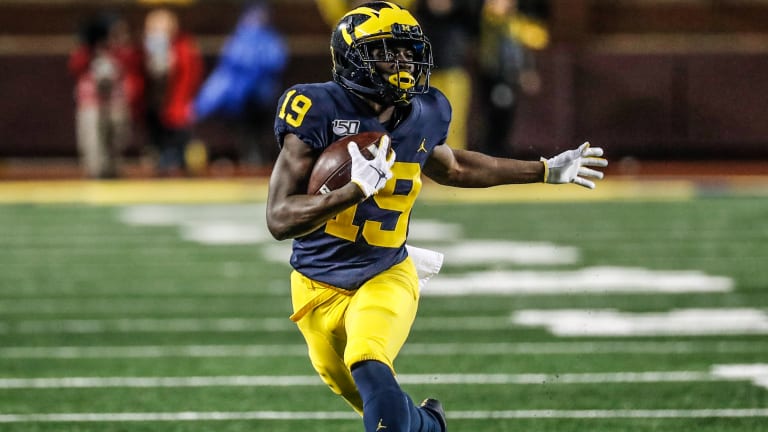 Five Quick Hits: Michigan Routs Notre Dame, 45-14
Michigan had several standouts in a near-perfect performance against the Irish.
Michigan absolutely handled Notre Dame by a score of 45-14 in Ann Arbor on Saturday giving U-M a ton of confidence moving forward. The Wolverines were firing on all cylinders from kickoff and finally put together four strong quarters of football. Here's a look back at five quick hitters outlining the action.
Player Of The Game
Quite a few players are worth discussing for Player of the Game but I'm going to go with redshirt freshman running back Hassan Haskins. The young back carried the ball 20 times for 149 yards. He didn't find the end zone but averaging 7.5 yards per carry is almost as valuable as points are in a game in the rain.
Play Of The Game
Michigan had quite a few plays that brought fans to their feet but I absolutely loved the 50/50 jump ball to junior receiver Nico Collins from Patterson with 11:32 left in the fourth quarter. Michigan was up 24-7 and inside the 20. That's normally a formula for a few hand offs and a field goal attempt. Instead, Jim Harbaugh, Josh Gattis and Shea Patterson trusted their biggest mismatch at wide receiver and gave Collins a chance to make a play, which he did. It wasn't the most exciting play of the game but it was a sign of what the offense is doing and that's much more important.
Best Freshman
In a game where quarterback Shea Patterson only completed six passes, two of them went to freshman Mike Sainristil. The speedy rookie led the team with three grabs for 73 yards and a score. He finally got a chance to open it up and show what he can do in the open field and he made at least two Irish defenders look silly while trying to deal with him in space.
Pleasant Surprise
The biggest surprise in the game was some of the aggressive play calling down the stretch. Late in the third quarter Michigan was still throwing the ball and trying to score despite being up by a good amount and the running game working. The Wolverines really were clicking on offense and that had Jim Harbaugh and Josh Gattis feeling very confident about what their guys could accomplish.
The Bummer
In a 31-point blowout of Notre Dame there aren't many bummers but one unfortunate development that we'll keep an eye on is the health of sophomore wide receiver Ronnie Bell. In the second half, the springy pass catcher went up high for a ball and came down awkwardly on his right knee with the defender's additional weight coming down on him. He limped off and did not return. We haven't heard anything alarming but after a tough week in Happy Valley for Bell, he's now added injury to insult.
What do you think? Would you swap anybody or anything out for any of these awards? Comment below!!!