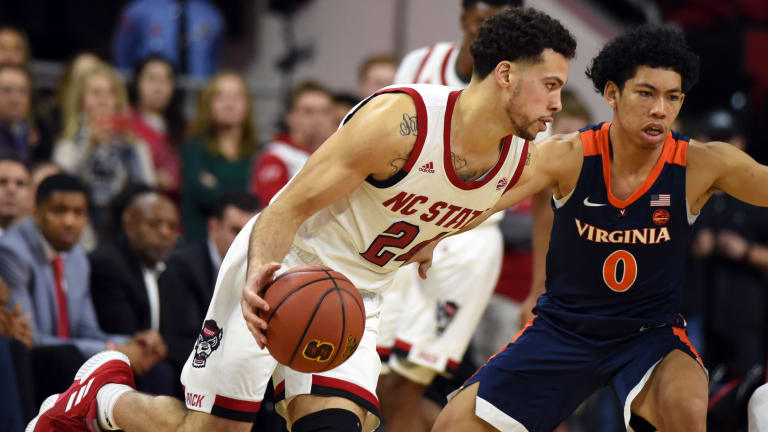 Secret or public, Wolfpack makes the most of preseason tuneups
Scrimmages against ECU and Mount Olive help State prepare for regular season opener against Georgia Tech
NCAA rules allow college basketball teams to play to two exhibition games in preparation for their regular season schedules. They can either be the traditional type, open to the public and the media, or closed-door "secret" scrimmages that allow for more controlled conditions.
NC State coach Kevin Keatts opted for one of each this season.
The Wolfpack played a secret scrimmage at East Carolina on Oct. 20 before taking on Mount Olive in an exhibition game at PNC Arena on Sunday.
As far as senior guard Markell Johnson is concerned, there's no contest as to which style of preseason contest he prefers.
"It's definitely easier playing in games like this," he said after scoring a team-high 26 points in the Wolfpack's 113-73 victory, played before an estimated crowd of 2,500. "It's a home game. The crowd is into the game. It was definitely easier."
Johnson's teammate Devon Daniels, who also had a big game against Mount Olive with 20 points and six rebounds, said it didn't matter to him which format was used. 
He said that anytime he's on the court in a competitive situation, it's "kind of a tuneup for me to make sure I can be consistent every night."
No disrespect to Mount Olive," Daniels added. "They came out and gave all they had, but this is just a tuneup to get ready for our season.
"We see what we've got to work on. We're going to watch the film, see what we can do better and work on it this week."
Although State took the "secret" part of the secret scrimmage literally and chose not to make any details of the game against ECU available, Keatts and his veteran players all agreed that the Wolfpack's performance against Mount Olive was an improvement over the way it played against the Pirates.
"We were more locked in this game than the private scrimmage," Johnson said. We got out (in transition) a lot this game. We didn't foul a lot … just locked in from beginning to end."
According to player comments on Sunday and second-hand accounts of the ECU scrimmage, State scored in the mid-80s and won by more than 20 points. The Wolfpack gave the Pirates fits the entire game with its pressure defense, but still showed it had work to do in keeping the opposition off the offensive glass.
Against Mount Olive, State surrendered seven offensive rebounds and 10 second chance points while recording 15 steals and forcing the Trojans into 24 turnovers.
"When you look at the stats sheet from our two scrimmages - you may not have them - we forced 26 turnovers (against ECU), and that's important for us to be really good," Keatts said of his team's defensive effort. "We play up-tempo and try to get in the passing lanes. I thought our guys did a great job in the scrimmage. We had 47 deflections and I didn't get the total in the end, but at halftime we had 23 so that's good."
Keatts said that despite some bumps and bruises that sidelined four key players during the second half Sunday, his team is on track to be ready for next Tuesday's regular-season opener against Georgia Tech.
"I'm excited about what I've seen in the scrimmage and the exhibition and now obviously we have to go to work," Keatts said. "I think we got like seven or eight practices where we have to get ready for Georgia Tech."