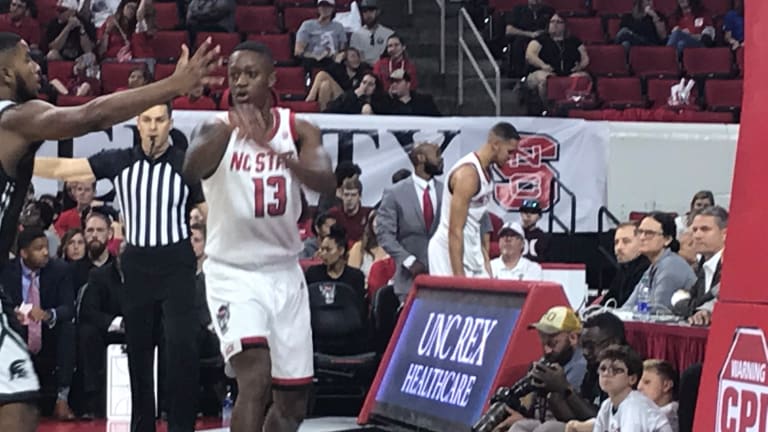 Wolfpack bench shortening as season approaches
Injuries, a suspension and a depature has eaten into State's basketball depth even before the season starts
Depth figured to be a strength for the NC State basketball team this season. Now, just over a week away from the regular season opener against Georgia Tech, it's suddenly becoming a concern.
Even though coach Kevin Keatts insists he's not concerned.
The attrition began just after the start of preseason camp with the indefinite suspension of junior big man D.J. Funderburk. Earlier this week, reserve guard Blake Harris decided to leave the team for personal reasons.
Then in rapid succession, freshman wing Dereon Seabron turned his ankle and wound up in a walking boot while junior guard Braxon Beverly and graduate transfer big man Danny Dixon both suffered a variety of bumps and bruises.
All of them spent the entire second half of Sunday's exhibition victory against Mount Olive on the bench. They were joined there by sophomore wing Jericole Hellems, who left the game as midway through the first half with a shoulder injury.
According to Keatts, they were all held out as a precaution.
"If anybody would have sneezed wrong, I wasn't going to let them play in the game," he said.
"Nobody's seriously injured," Keatts said after the 113-73 win at PNC Arena. "We had some guys that were a little banged up, a little sore. Obviously I need them all on Nov. 5 (against Georgia Tech) oppoosed to tonight and we took a little break and got some guys out.
"Braxton's knee, there's nothing wrong with his knee. It's just got a little bruise on it. So he played a couple minutes because I wanted to get him in the game. Same thing with Danny, he's got a little bruise on his foot."
Beverly saw just under nine minutes of action, going 1 for 3 from the floor while scoring two points. Dixon also had two points, to go along with five rebounds in seven minutes on the floor.
Their absence provided more playing time for junior college transfer A.J. Taylor and freshmen Chase Graham and Max Farthing on Sunday. It also allowed senior wing C.J. Bryce the opportunity to get an extended audition as an emergency point guard.
That, Bryce said, could work to the Wolfpack's advantage -- as long as all hands are healthy and available once the season begins and the games start to count.
"We have guys that are ready to go," Bryce said. "We're a little short right now, but we're picking up the slack real well.
"It's all part of the game. I know there are a lot of teams going through the same thing right now. Once we get healthy, I feel like we''ll be very good. Once we do get healthy, teams better look out."