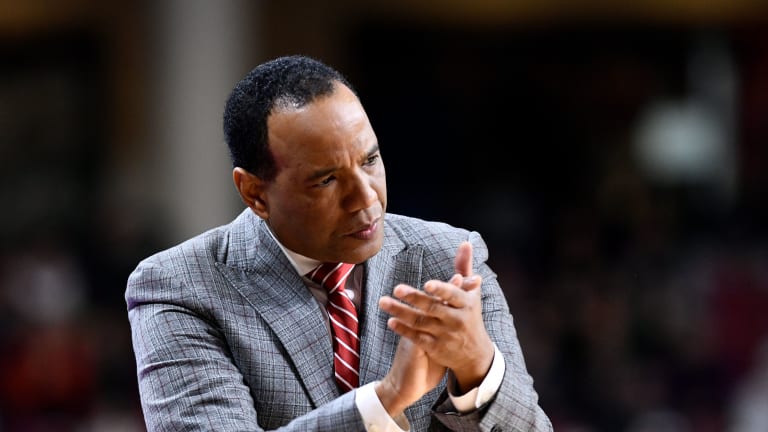 State 113, Mount Olive 73: What Did We Learn?
The Wolfpack got double-figure scoring from five players in its final tuneup for the 2019-20 regular season
The NC State basketball team got up early and coasted to a 113-73 win against overmatched Mount Olive in a preseason exhibition game at PNC Arena on Sunday.
While the outcome was never in doubt after the Wolfpack scored the game's first 13 points and had extended its lead to 34 by halftime, there was still plenty to be learned from the its first and only public performance before opening the 2019-20 season against ACC rival Georgia Tech on Nov. 5.
So what did we learn from the blowout victory?
Here are a few observations, both good and bad. First, the good:
◼ As advertised, State's backcourt is one of the best -- if not the best -- in the ACC. Between them, Markell Johnson, C.J. Bryce and Devon Daniels combined for 66 points, 19 rebounds, 15 assists and 13 steals while going a collective 20 of 32 from the floor (4 of 8 from 3-point range. 
Johnson was particularly effective in balancing his role as a scorer and playmaker while going for 26 points, nine rebounds and six steals while displaying a much more vocal style of leadership. The group also showed its versatility, with Bryce playing the point for a long stretch in the second half.
With Braxton Beverly also in the mix -- he was limited to just under nine minutes because of bruised knee -- it is clear that the Wolfpack will go as far as its talented stable of gurads will take it this season.
"When you look at our veteran guards, all three of those guys played a tremendous game," Keatts said. "They controlled the game, they got to the free throw line, they made shots. If I can get three of the four of those guys, Braxton being the other one, playing well every night, then we have a chance to win every game."
◼ Big man Manny Bates is a game-changer on the low post and can give the Wolfpack an element it hasn't had in a long time because of his energy and shot blocking ability. The 6-foot-11 redshirt freshman -- wearing a harness to protect his twice-surgically repaired shoulders -- started the game and made his presence felt immediately by scoring on a nice lob from Johnson. He then showed off his defensive prowess when an emphatic swat of a shot by Mount Olive's Cameron Robinson.
Bates finished with 10 points on 5 of 6 shooting, adding four rebounds and two official blocks (although he appeared that he had at least two others that didn't make it onto the score sheet). The big questions surrounding him are how many minutes he can play after being sidelined for the better part of the last two years -- he was on the floor for 20 Sunday -- and can he stay healthy for an entire season.
Though it's still early, so far so good.
"Man, I'm just happy. That kid has gone through so much. For him to be able to get on the floor for the first time at PNC and I thought the crowd was tremendous. You don't respect Manny Bates until he's in the game with you, he's behind you, you make a mistake and he kind of wipes out your mistake. I couldn't be happier for the kid. He deserves to play. I'm excited about him. If he can stay healthy he'll be one of the better players that played here at his position."
◼ Pat Andree is going make a major impact this season. Though the 6-8 grad transfer from Lehigh didn't shoot lights out while going 6 of 15 overall and 3 of 8 from 3-point range in his 26 minutes, he showed the potential to score in bunches by hitting his first two long-range attempts on consecutive possessions to start the second half. He finished with 17 points and four rebounds and looked as though he'll fit right in at either the small forward or power forward positions.
Now on to the not-so-good.
◼ First and foremost is the manpower situation. The Wolfpack was already playing shorthanded with reserve guard Blake Harris having left the team last week and junior big man D.J. Funderburk still under an indefinite suspension. But things got worse Sunday. Freshman wing Dereon Seabron -- who won the team's slam dunk contest at last week's Primetime with the Pack event -- wasn't in uniform because of an ankle injury suffered in practice. His right foot in a boot, Keatts said there's no timetable for his return. Adding to the problem, sophomore forward Jericole Hellems left the game midway through the first half with a shoulder injury and didn't return while Beverly, grad transfer big man Danny Dixon played sparingly because of minor bumps and bruises. For the Wolfpack to be successful and play the uptempo pressing style Keatts prefers, it's going to need depth and at least for now, that depth is rapidly dwindling -- though according to Bryce, the situation is only temporary.
Finally, the Wolfpack went through about a 4 1/2-minute lull during the second half in which Mount Olive outscored it 19-6. Keatts wasn't too worried about the letdown, attributing it primarily to the unusual lineup combinations he was using at the time. He also said it was hard to complain when his team scored 113 points -- though it is something to keep an eye on as the season unfolds. Besides, Keatts said, it will give him something to hold over his players' heads at practice for the next few days.