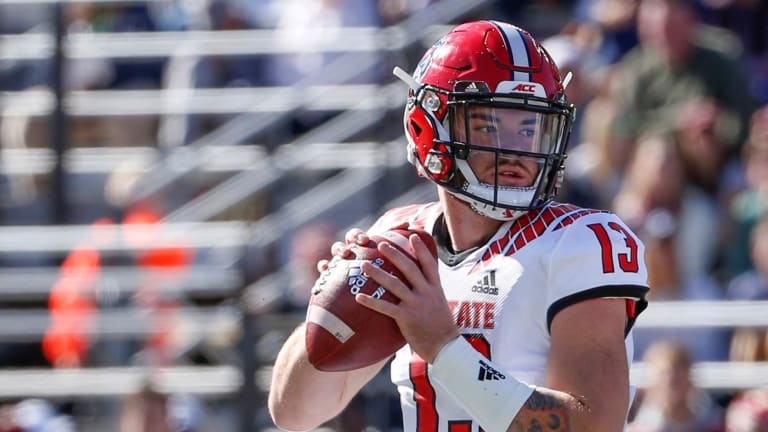 Doeren Makes it Official, Leary Will Start at QB on Saturday
The redshirt freshman becomes the third different starting quarterback for the Wolfpack this season
Devin Leary will become NC State's third starting quarterback this season when he leads the Wolfpack against ACC Atlantic rival Wake Forest in Winston-Salem on Saturday.
Coach Dave Doeren confirmed what most already assumed on Monday, basing his decision on Leary's performance in relief role two weeks ago in a 45-24 loss at Boston College.
The redshirt freshman replaced then-starter Bailey Hockman early in the second quarter and threw three touchdown passes, going 15 of 33 for 259 yards.
Hockman started two games, against Syracuse and BC, taking over from sophomore Matthew McKay, who had the first chance at the job while starting the first five games.
Doeren addressed his fluid quarterback situation and the progression that led to Leary's opportunity at his regular weekly press conference Monday. Here's what the coach had to  say:
"I've said it from the start, I like all three of these guys and I think they've all had an opportunity. How it played out this way, only the guys in the building and at practice know what happens on a daily basis. But Devin's ready."
"I don't think we forced him into the position before he was ready, which I think for any quarterback is a bad thing. He's taken advantage of, when he was a three, the things he wasn't doing well. He's studied, to his credit, and he improved those things. When he got his opportunity, he was poised. In the last game he threw three touchdowns and they were all on fourth down, which shows a lot of clutch. So he's earned this opportunity. I'm excited for him.
"I'll continue to work hard and support Matt and Bailey because they need to get better and they will if they continue to do what each of them have had to do now in a supportive role and improve on the things they need to improve on."
Doeren said that Leary got a lot of extra work during the Wolfpack's open week and has been spending a lot of time trying to get on the same page as co-offensive coordinators Des Kitchings and George McDonald ...
"He took all the reps with the ones and got a lot of work. It was a good opportunity for him to run it and keep looking at it. The conversations you have with your offensive coordinators and quarterbacks, it's just 'what do you see well? What do you think of this play? (Then) you go out and rep it. 'Coach I see that really well or Coach, I don't see it' -- just trying to make it fit him so that he can play fast. We got him a lot of work and he's done a nice job. He's excited about the opportunity."