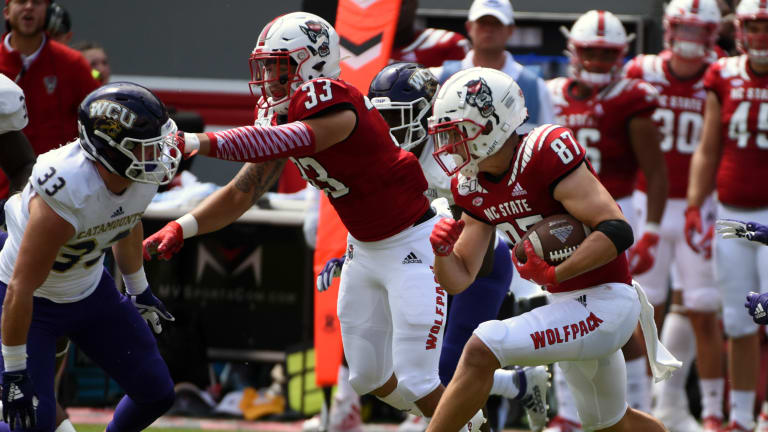 Thayer Thomas named Burlsworth Trophy candidate
The sophomore receiver is up for the award honoring the best player in college football who started his career as a walkon
The sophomore receiver is up for the award honoring the best player in college football who started his career as a walkon
NC State wide receiver Thayer Thomas is one of 89 players nationwide 
named by the Burlsworth Trophy as a candidate for the ward honoring the top player in college football who began his career as a walkon.
Thomas ranks second on the Wolfpack with 26 catches this season fo 283 yards and three touchdowns. He has also thrown for two touchdowns while completing three of the four passes he's thrown.
In addition, Thomas leads the ACC in punt returns with a 14.9 yard average that is also the fourth-best mark in the FBS.
Among the other names on the list are Wolfpack nemesis Jack Freudenthal of Wake Forest and East Carolina wide receiver Tyler Snead.
The list of Burlsworth candidates will be trimmed to 10 semifinalists next Tuesday with the final three announced a week later. The winner of the award -- Named in honor of Brandon Burlsworth, a former University of Arkansas walk-on and All-American offensive lineman -- will be announced at a ceremony in Burlsworth's hometown of Springdale, Ari., on Dec. 9.