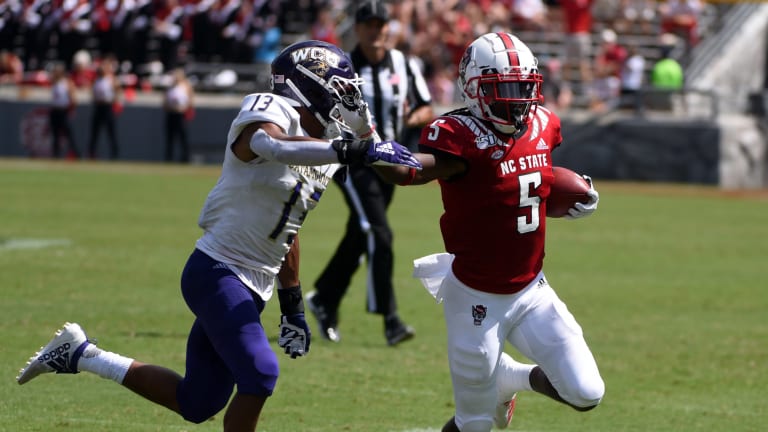 Wake Forest Game Homecoming for Hines
The graduate transfer receiver played three seasons for the Deacons, terrorizing the Wolfpack in 2017
NC State and Wake Forest have both had their homecoming celebrations already this season. For Tabari Hines, homecoming will be Saturday when the Wolfpack travels to Winston-Salem to take on the 20th-ranked Deacons.
Only time will tell if it turns out to be a celebration.
The graduate receiver played his first three college seasons at Wake before transferring to Oregon last year. 
Because he played only four games there before suffering an injury, he was able to redshirt and finish his career at State -- knowing full well that it would mean eventually having to return to BB&T Field for one last encore performance.
Wearing another team's colors.
"It's going to be real bittersweet," Hines said. "I've still got a lot of the people that came into me there, so it's going to be a great experience, a great time on the field with those guys again. And hopefully get the win."
Among the current Wake players Hines said he still considers close friends are starting cornerbacks Amari Henderson and Essang Bassey, along with defensive end Carlos Basham Jr. -- players he'll spend a lot of time Saturday going head-to-head against.
The 5-foot-10, 175-pound South Carolina native said he expects to have a target on his back for most of the game. But he's looking forward to both the challenge.
"I've talked to some of them. Some of them have already started talking," Hines said. "It's friendly talk, though, nothing personal because we're all still friends. I worked hard, blood, sweat and tears with those guys so it's going to be fun. But obviously between the lines we're going to be enemies."
Hines said that the subject of playing against his old team was something he considered before deciding to transfer to State, but that he wasn't given it much thought until it became the next game on the schedule.
Now that it's here, he said the most important thing on his mind is winning for his current team -- along with all the rights and privleges that come with such a victory.
"Obviously we shared some great moments there, I had a good time there as well," Hines said of his experience at Wake. "Just being back there to play against those guys and have those bragging rights if we win the game. I can't wait until we get that win."
Hines is used to winning games involving the Wolfpack at BB&T Field. In 2017, while playing against State, he caught eight passes for 139 yards and a career-high three touchdowns to lead the Deacons to a 30-24 win.
Situations such as the one involving Hines are becoming increasingly more common in this era of graduate transfers. It's still an unfamiliar occurrence for State and Wake.
The closest the Wolfpack has come to a player going up against his former team came in 2015 when center Joe Scelfo played for South Alabama against State. Scelfo eventually transferred to State, but never played against his old team.
Wake Forest coach Dave Clawson said that he had a player -- Levi Brown -- who he coached at Richmond and later faced with Troy after he'd taken the job at Bowling Green. Then as now, he said that he only wished the best for the youngster involved.
"I have done this before and once the game starts its a game," Clawson said on Tuesday. "With Tabari, we know his skill set and we know he is a very gifted player. We certainly don't root against him, but in this game we aren't exactly rooting for him. Tabari had a good career here and was very productive for us. He graduated and wanted a different role and he has had a chance to find that."
Hines currently ranks third on the Wolfpack with 21 catches for 192 yards and a touchdown. He's also run the ball twice for 47 yards and returned a punt.
He's also well-versed on the history of State's rivalry with Wake and the reason why the Wolfpack has lost seven of the last eight times it has played the Deacons in Winston-Salem. 
It's a streak he's doing his part to end. And not just with his pass-catching skills.
"I believe they just get up for this game. They take it seriously," Hines said of the 6-1 Deacons. "I don't know if NC State considers Wake Forest a rival, but I know being in that locker room, they consider it a rivalry. I can only imagine they'll definitely get up for this game because I'm on the other side. We've just got to bring the juice, match their energy and come out with the win.
"I think (State's players) know we've got a guy on the team that came from that school, so they're going to bring that extra little 'it' factor. I think the guys are preparing and we'll have a good game plan going in."