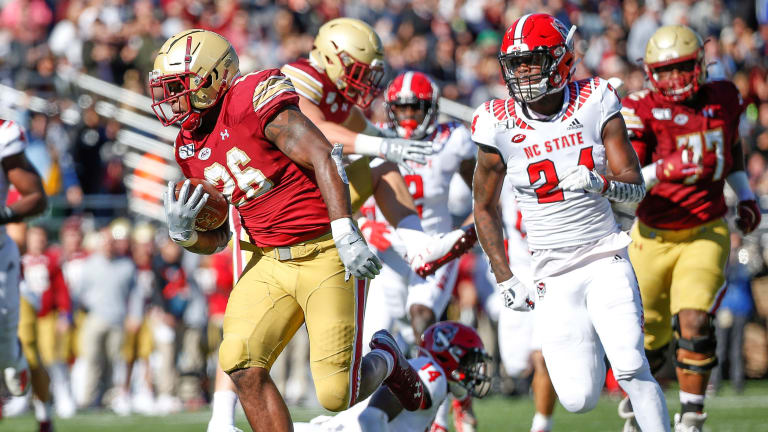 Young corners expect to be tested by Wake
Converted safety De'Von Graves and redshirt freshman Malik Dunlap are filling in for injured starters lost for the season
Boston College didn't exploit an injury-depleted NC State secondary whose starting cornerbacks in its most recent game two weeks ago were converted safety and a redshirt freshman playing in his just his fourth career game from scrimmage.
But then, the Eagles didn't really have to on a day in which they rushed for 429 yards in a 45-24 victory.
De'Von Graves and Malik Dunlap won't get off so easily this week.
In Wake Forest, they're about to face an offense that leads the ACC in passing and a trio of receivers in Sage Surratt, Kendall Hinton and Scotty Washington that rank first, third and sixth in the league in receiving yards per game. 
It's a challenge that promises to make Saturday a very long day for both fill-in corners, regardless of how well they play. But it's one they said on Tuesday that they're ready to accept.
"They're going to test us, most definitely," Graves said Wednesday. "But if you just do what you're coached, we got it."
Graves, a 6-foot-1, 197-pound sophomore, is a natural cornerback who saw significant action as a backup safety before being shifted back to his original position for his first career start in the BC game.
Dunlap, at 6-3, 216, had been limited almost exclusively to special teams while playing just 19 snaps from scrimmage in the first six games before being called upon to play a more expansive role.
The two have been called into service because of an injury epideimic that has claimed starters Chris Ingram and Taiyon Palmer for the remainder of the season. A third cornerback, senior captain Nick McCloud, hasn't played since getting hurt in the season opener against East Carolina and it's looking less likely with each passing week that he's going to be back.
Beyond Graves and Dunlap, the other corners listed on this week's depth chart are undersized senior Kishawn Miller and true freshman Shyheim Battle, who has yet to play a down from scrimmage.
In an effort to bloster the position, freshman Cecil Powell has been moved back to defese after spending the past few weeks working as a wide receiver.
It's not exactly the kind of situation a coach would like going up against an opponent that averages 327 yards per game and has two talented quarterbacks in Jamie Newman and Sam Hartman who have combined to throw 20 touchdown passes in their seven games.

"Whoever's playing against their wideouts has a challange," Wolfpack coach Dave Doeren said. "They have an opportunity to play against a really good, confident football player and a quarterback that's accurate in getting them the all. I know they're excited about it. They're studying a ton of film on those guys."
The fact that they've had an extra week to study and prepare will certainly help the young cornerbacks' chances for success.
"I think the bye week helped us a lot," Dunlap said. ":It gave us time to study and see how many mistakes we made against Boston College and what not to do. Then we've studied the receivers to get better."
"I feel like I'm way better than when I first started," Dunlap added. "When I first came out I was just relying on God-given ability. Now I trust the technique, reading my keys and all that."