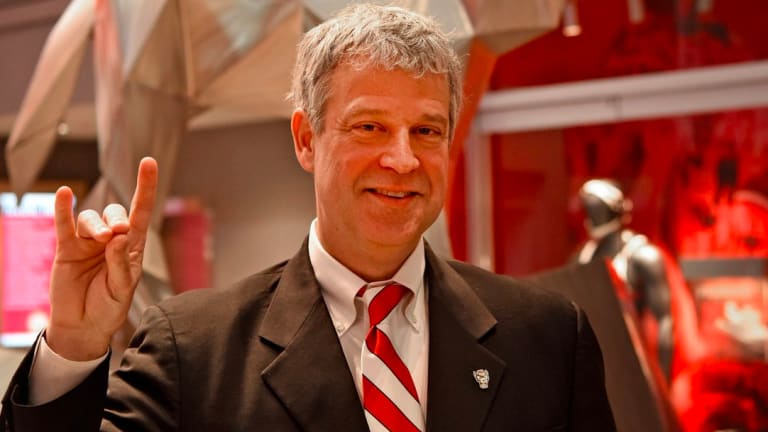 Corrigan: Dealing with an unprecedented crisis
In Part One of an exclusive interview with SI All Wolfpack, NC State Athletic Director Boo Corrigan discusses the decision-making process that led to the cancellation of all athletic events and the affect the coronavirus crisis has had on the athletes that represent the Wolfpack
In Part One of an exclusive interview with SI All Wolfpack, NC State Athletic Director Boo Corrigan discusses the decision-making process that led to the cancellation of all athletic events and the affect the coronavirus crisis has had on the athletes that represent the Wolfpack
In Part One of an exclusive interview with SI All Wolfpack, NC State Athletic Director Boo Corrigan discusses the decision-making process that led to the cancellation of all athletic events and the affect the coronavirus crisis has had on the athletes that represent the Wolfpack:
SI All Wolfpack: Are you still going into the office or are you working remotely from home?
Boo Corrigan: "I go in every morning. I don't know how much longer I'm going to do that or how much longer that's advisable. I'm just kind of trying to follow the rules. I go in for 3-5 hours, some days it's longer than I want it to be. Part of it is you want to make sure you model the behavior you're asking people to do. I don't want them to be like 'well, you tell me I can't go in and you're in the office all day.' That's not the right thing to do, so I want to make sure they see that my words and actions are the same."
AW: What does an athletic director do when there's no athletics going on?
BC: "Pretty much the same thing you do when there are athletics going on. You're making sure the students rae in a good place. You're talking with your coaches. I've got a list of every coach on a card to make sure that I'm calling four or five of them a day, just checking in with them and seeing how they're doing. 
"I meet with the executive staff to make sure everything we're doing from a compliance or business office, facility or whatever other standpoint we have is on track. And right now we're spending a lot of time with (communications director Fred Demarest) and (deputy AD) Steph Menio as it relates to our social media and keeping people connected with our athletic department and to NC State at large."
AW: What has it been like trying to manage this unprecidented crisis without having any kind of blueprint to go by?
BC: "The first thing that you're doing is making sure you're in lockstep with the institution and we're a part of what they're doing from overall decision tree and those type of things. We start of every day with a cabinet meeting Chancellor (Randy) Woodson hosts where you kind of get the update on the day before and the day to come. 
"The thing about this is that you think about it in terms of this isn't just happening to NC State or in the state of North Carolina or just in our country. It's a global pandemic that we're dealing with here. It's always all about people, whether this is a situation or not. So maybe it allows you to refocus more on making sure that the students have what they need, that your coaches and the other people you work with everyday are doing okay, and driving that home on a regular basis."
AW: How involved were you in the process of deciding whether or not to have fans in the stands at the ACC tournament and then ultimately, not playing the tournament at all?
BC: "We had made plans here, I guess it was Monday that we started looking at it and said 'all right, things are moving quick. What are we going to do? How many tickets have we sold for the NCAA tournament for the women? Let's suspend those right now and let's just hold. What else do we have going on right now where teams are planning to go someplace?' And we had teams with mostly regional travel. We did have one team that was planning to go out to Hawaii. We called the coach and said things are moving really fast. Let's just know that we're looking at everything and you may not be able to go to Hawaii.
"At the (ACC) tournament on Tuesday, we talked more about it. I remember talking to (women's coach Wes Moore) and saying hey, this thing is moving real fast. I was calling other ADs that were hosting (NCAA) first and second rounds and saying 'what are you guys thinking? Where are you on this' and making sure we were thinking about it the right way. 
"On Wednesday more things started happening. Then Thursday we got a phone call. The ACC had done a really good job of staying in contact with us on everything that was going on, but I think the tipping point was when the NBA postponed their season. I think that was kind of a realization to everyone that holy cow, this is really, really different. Everything's on the table."
AW: Wrestling coach Pat Popolizio said that you were in the building when the decision to cancel the NCAA tournament came down. What was it like when you broke the news to the wrestlers?
BC: "Things like that are never easy. Unfortunately I've been in the room when we lost someone, a teammate, and I was there when we addressed the team. I've been though that, so I guess life sets you up for different conversations you get to have. But walking into that room ... some of them had an idea of why I was there.
"Then when I started talking, seeing how emotional it was for them, reminding them that this wasn't something that was just an NC State decision, that this was a national decision, reminding them that it doesn't take away all that they accomplished this year. It certainly takes away the finish to it, but it doesn't take away the hard work, it's not a wasted year that they had. And at some point later in life, the decisions that were made March 10th through 14th are going to be something they can draw on as they deal with everything else that life brings at them.
"The last thing was, I didn't try to say I know what you're going through. Because I don't. I wasn't in the wrestling room every day. I wasn't there training every morning, evening, with the spotlight on them, with two people in the center of the mat. I wasn't there and I didn't try to act like I was, but to make them know that coach was there for them, I was there for them to help them get through it."
AW: At least the wrestling team doesn't have any seniors. How much more difficult was it telling upperclassmen like Markell Johnson, C.J. Bryce and Aislinn Konig that they wouldn't get one final shot at playing in the NCAA tournament?
BC: "Unfortunately I wasn't able to be with all the teams when they found out. But that's even that much harder. Particularly, you think about someone like Ais. All they're thinking about is how great it that we get to play in front of our fans hopefully a couple more times? And that was taken away as well.
"It's hard all the way around. Quite frankly, it's hard for everyone right now. It's hard for the general student body at NC State and we have great empathy for them as well."
AW: Are there any contingencies in place for the possibility that this crisis carries over into the next school year and affects fall events, including football?
BC: "Right now this thing is moving so fast that we're dealing with, as they say in the military, we're worried about the 50-meter target. I'm not worried about the 200-meter target right now. I think we've got to figure out the balance of this academic year, where we're going to be in summer school and just continue to look down the road as we continue to stretch out. But again, making sure we're taking care of everyone in the here and now.
AW: How much of a financial hit as the athletic department taken because of all the cancellations?
BC: "There's factors on both sides of the ledger. There's factors on the revenue side -- refunds for baseball and softball tickets that were sold, the ACC tournament, NCAA money on that side of it. But on the other side there's travel that we planned on doing that we're not doing now. There are some other things we had in the hopper that we were looking to do that we're not going to do because at the end of this, we really need to be really, really fiscally responsible."
AW: Has anyone at State that you know of tested positive for the coronavirus?
BC: "Not that I'm tracking."