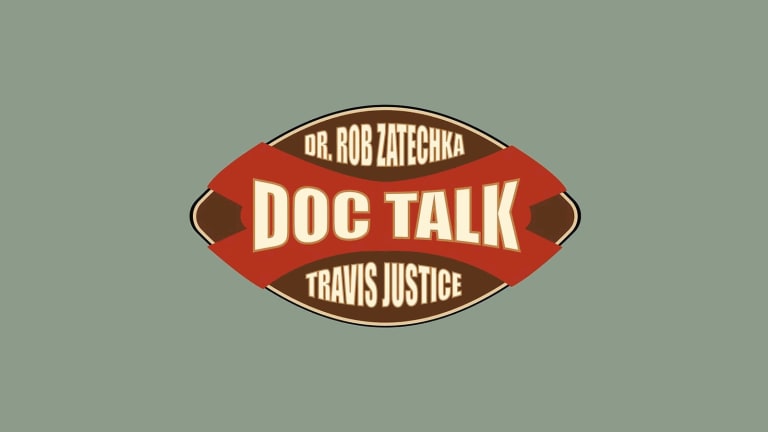 Husker Doc Talk: Lots of Good to Go With the Bad
After the loss at Oklahoma, Dr. Rob Zatechka says the biggest problem for the offensive line is the scheme
The emails started flooding into the Doc Talk Sports inbox almost as soon as the game started. Nebraska fans were watching the Huskers give #3 Oklahoma a run for its money, but time and time again, mental mistakes, turnovers and special teams stopped the Husker from pulling off the upset.
Overwhelmingly the criticism was directed at the offensive line. To be even more specific, o-line coach Greg Austin. It's not easy for Husker fans to criticize a former player, but fans expect results and improvement when you put the whistle around your neck. Unfortunately, right about now, they've seen enough from a unit that, to this point, has not earned the title of "pipeline."
In this edition of the Doc Talk Podcast presented by the Rimington Trophy Dr. Rob Zatechka goes into great detail about the o-line and why he thinks they are having problems. Talent is not the issue according to Dr. Rob. Coaching is a part of the problem, but not all of it. Remember that offensive scheme that Scott Frost bragged about? You know the one that EVERY Big Ten defense was going to have to adapt to? Well, Dr. Rob says the scheme is the biggest problem in the entire equation. Dr. Rob says he goes to bed at night dreaming about zone-blocking for the run game. Well, he's now dreaming about Nebraska, but he could be dreaming about almost every other team in the country!
The Huskers failed to rush for over 100 yards against the Sooners. Up next they will by playing a now-ranked Michigan State team that blew out Miami at Miami and held the Hurricanes to below 100 yards of rushing. Mel Tucker had success against Nebraska when he was in Colorado. Tucker has a boatload of transfers in his second year with the Spartans, and they are off to a 3-0 start.
Despite the poor play of the offensive line, a dreadful kicking game  and sloppy penalties, Nebraska does have a lot riding in its favor as it goes to East Lansing. The biggest asset they have right now is confidence. They know they can play talented teams and if they eliminate their mistakes, maybe pull off an upset. Also, Adrian Martinez is coming off what may be his best game since his freshman season. If Martinez is clicking on all cylinders, then the Nebraska offense is dangerous no matter what.
After you listen to the podcast, would you please give it a rating or a review? Why? Well, the more people that like this show, the more people will see it. Would you please support our local sponsors who help make this podcast happen? During this time of economic crisis, they need us now more than ever!
If you have questions for Dr. Rob, send them to doctalksports@gmail.com. Also, follow Dr. Rob on Twitter, @DocTalkSports.
Would you please take a moment to give this podcast a rating and review? Your feedback helps more people find us. You can find us on all the major podcast distribution networks.