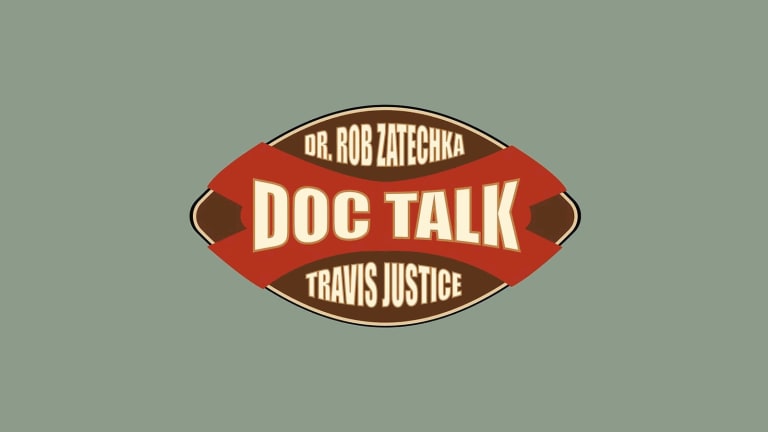 Husker Doc Talk: Iowa vs. Nebraska = Travis vs. Rob
Blown calls, statistics vs. the basics, and the Heroes Game
It's the yearly showdown we wait patiently for until the last game of the season: the Heroes Game as Nebraska takes on Iowa. Or for you regular listeners to this podcast, Rob (Nebraska) vs. Travis (Iowa).
The Huskers have lost five in a row and will not be going to a bowl game. However, Nebraska has been competitive in every one of the five losses and could have won the game in many cases. This includes the most recent loss, 35-28 at Wisconsin on Saturday. Bad special teams, interceptions, and horrendous officiating keep Nebraska fans infuriated.
On this edition of the Husker Doc Talk Podcast presented by the Rimington Trophy, Dr. Rob Zatechka and Travis Justice take friendly shots at each other about this week's game. The early line has Nebraska a 4-point favorite despite having a losing record and Iowa having nine wins.
How about this, a Husker fan who graduated from the University of Iowa. Centris Federal Credit Union President and CEO Steve Swanstrom stops by and tells us how he ended up in Iowa City despite wanting to go to school in Lincoln. Yet, his loyalty has never wavered. We also transition the conversation into the duties of a CEO and how running a large organization is very similar to running a Big Ten football program. There are similarities and as Steve explained, the more you do it, the better you get at it. The difference, coaches in many cases don't have the luxury of time to learn as they go.
After you listen to the podcast, would you please give it a rating or a review? Why? Well, the more people that like this show, the more people will see it. Would you please support our local sponsors who help make this podcast happen? During this time of economic crisis, they need us now more than ever!
If you have questions for Dr. Rob, send them to doctalksports@gmail.com. Also, follow Dr. Rob on Twitter, @DocTalkSports.