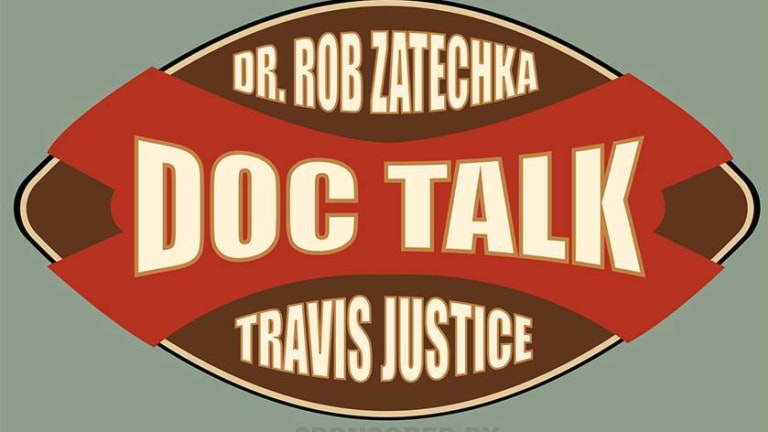 Five weeks! The countdown is on to the start of the college football season. Nebraska had its annual fan day, and practice has started. In this edition of the Doc Talk Podcast presented by the Rimington Trophy, Dr. Rob Zatechka says we can talk until we are red in the face about what "could" be this season for the Huskers. Still, the reality is nobody has a clue until that first game.
What continues to dominate the discussion of college football is conference realignment. Dr. Rob and Travis Justice pick up the conversation right where they left last week. As predicted, a lot has changed since our drunk-filled recording. Texas and Oklahoma accepted the invitation to join the SEC. The move is sure to set off a reaction of even more schools posturing for the massive amounts of money that are sure to be generated.
You may have noticed Nebraska and the Big Ten, for the matter, have been pretty quiet when it comes to realignment. However, one thing is clear, if the Big Ten is going to keep pace with the SEC, it will have to add more schools. Will they come from the Pac-12, leftovers from the Big 12, or somewhere else?
To get us primed for our conversation today, we are drinking "Serendipity" from New Glarus Brewing. A sour ale brewed with cherries, apples, and cranberries. We are always looking for great beers to drink and breweries to promote. If you have suggestions both locally and nationally, send them to us, doctalksports@gmail.com.
Nebraska center Cam Jurgens is on the recently released Rimington Award watch list. It's given annually to the best center in college football. Jurgens is one of six Big Ten Conference centers on the list. This year, the Trophy committee worked with Pro Football Focus (PFF) to narrow down its list to the top 40 centers.
The biggest ticket and most in-demand at Memorial Stadium this year is NOT for a football game. Garth Brooks is coming to Lincoln. The show was sold out in a matter of minutes. Chad Carr from Ticket Express stops by the show. You'll hear Chad all season long on this podcast with his weekly "Ticket Talk" segments.
Make sure to get your game-day gear at Husker Hounds! There are three locations in Omaha are, and you can also buy online. Nobody has a bigger or better Big Red selection than Husker Hounds.
When you are done listening to this episode, please give it a rating or a like on your podcast streaming service. If you feel so inclined, take the time to provide us with a review!
Twitter
Dr. Rob Zatechka-@doctalksports
Travis Justice-@traviscreates
Questions?
doctalksports@gmail.com