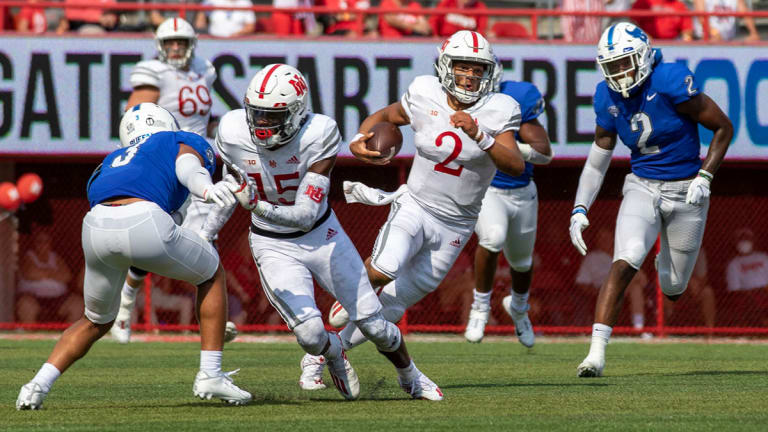 Nebraska Handles Buffalo, Honors First Responders on 9/11 Anniversary
Nebraska left plenty of points on the field but got out with a comfortable victory.
Saturday after was a victory with perspective for Nebraska football.
"I tell you that puts everything into perspective," coach Scott Frost said. "Everything I am doing, everything everybody is doing."
The Huskers (2-1) honored first responders with alternate uniforms, a Tunnel Walk similar to the 2001 Rice game the week after the 9/11 attacks, and multiple presentations before and during the game.
Frost presented a game jersey to Cpl. Daegan Page's family. Cpl. Page was killed last month in Afghanistan.
"Daegan was over there and did not come back and that is a lot more important than a first down a third down or a ballgame in general," Frost said. "And what a great family. His sister Emerson was so sweet and mom and dad and that was touching and it puts in perspective how important that is compared to what we are doing."
Former Navy SEAL Damian Jackson, who starred in the alternate uniform video, led the first responders down the red carpet and raised the flag as he sprinted onto the field.
As for the game itself, Nebraska was able to survive a number of mistakes and easily handle Buffalo (1-1) 28-3. That could have been as high as 58-3 but the Huskers had three touchdowns called back for penalties on top of three missed field goals.
Frost wasn't focused after the game on how many points were left on the field.
"I'm ready for next week," Frost said.
It was also the third consecutive game to start this season in which a punt return resulted in a turnover.
In the fourth quarter, Cam Taylor-Britt ran up on a short punt but his blockers had backed up far enough to get in the way. The ball bounced off a Husker's leg and Buffalo recovered.
Special teams mistakes. A weekly issue.
"I am scratching my head a little bit because two of our best players on our entire football team are Connor Culp and Cam Taylor-Britt," Frost said. 
"I am not sure what is going on with Connor, but he will get it fixed. I do not want it to turn into a mental thing for him, he is too talented."
"Punt return bit us again. "We have to scream and yell and get everybody away from that (punt)."
Culp wasn't the only placekicker with issues Saturday. Buffalo's Alex McNulty was an unimpressive 1-for-4, making the game's kickers 1-for-7 combined.
A giant bright spot in the contest was Adrian Martinez. The fourth-year starting quarterback went 13-for-19 for 242 yards and a pair of touchdowns, adding nine runs for 115 yards. That rushing output included a 71-yard scamper after he was nearly sacked.
"When I saw (the long run) on the jumbotron, it looked pretty hectic," Martinez said.
QB1 was clearly more comfortable and loose against Buffalo compared to how he has been much of the time so far this season.
"I had really good feel today," Martinez said.
Martinez's output put him over 2,000 yards in his career, which, when added to his more than 6,000 career passing yards, makes him just the fifth Big Ten Conference player ever to surpass those milestones together.
Both passing touchdowns were hookups with Samori Toure, who ended with two catches for 136 yards.
Also getting in on the receiving game was Chris Hickman, with three catches for 90 yards.
On the rushing side outside of Martinez, Gabe Ervin Jr. led all Husker running backs with 10 carries for 56 yards. Sevion Morrison notched 24 yards on eight carries while Markese Stepp added 17 yards on nine carries.
Defensively, Luke Reimer had a career-high 16 tackles to go with his first ever interception. The North Star product flew all over the field in a game that necessitated quick linebacker play.
"That's the stuff we've seen from Luke since his first day here," Frost said. "He's gonna make a lot of plays around here."
Buffalo was held to 135 yards rushing and 224 yards passing. This is the seventh consecutive game in which a Nebraska opponent fell short of 400 yards of total offense.
The health of this team is something to monitor going forward. Omar Manning and Oliver Martin were both out to start the game. Zavier Betts and Austin Allen both left injured during the game. Afterwards, Ben Stille and several others were limping as they left the field after the game.
The road for the Huskers to make their first bowl game under Frost doesn't get easier next week when they head to Norman. No. 4 Oklahoma (1-0) had no problem with Western Carolina after a closer-than-expected opener against Tulane.
Related
NU Athletics postgame notes
First responders taking part in today's Tunnel Walk included Terry Wagner, Lancaster County Sheriff (also participated in First Responder Tunnel walk on 9/20/2001); Dr. Alissa Clough, President, Inpatient Physician Associates; Vicki Barada, Firefighter/EMT; Alex Nobbe, Firefighter/Paramedic.
Kickoff temperature for this afternoon's game was 91 degrees. In games at Memorial Stadium since 1985, that ties for the 5th-warmest kickoff temperature. It is the warmest kickoff temperature since it was also 91 degrees at kickoff for a 2017 game between Nebraska and Rutgers.
Nebraska improved to 7-1 all-time against Mid-American Conference opponents.
Quarterback Adrian Martinez rushed nine times for 112 yards. With his 112 rushing yards, Martinez moved into fifth place among Nebraska quarterbacks with 2,032 career rushing yards, passing Tommie Frazier (1,955 yards).
With his 2,032 career rushing yards, Martinez became the 12th quarterback in Big Ten history to rush for 2,000 career yards. Martinez is the fifth player in Big Ten history with 6,000 passing yards and 2,000 rushing yards, joining Taylor Martinez (Nebraska), Antwaan Randle El (Indiana), Denard Robinson (Michigan), and JT Barrett (Ohio State).
Martinez's 71-yard run in the second quarter was the second-longest of his career, trailing only his 75-yard run in this year's season opener at Illinois.
Martinez's 100-yard rushing game was the sixth of his career and his second of 2021 (111 yards at Illinois).
Martinez accounted for 408 yards of total offense, marking his school-record 15th career 300-yard total offense game and his second of 2021 (Illinois). He has now topped 400 yards of total offense six times in his career.
With Martinez's 71-yard run and a 68-yard touchdown pass from Martinez to Samori Toure today's game marked the first time in seven seasons Nebraska has had two 60-yard plays in the same game. In Nebraska's win at Fresno State in 2014, Tommy Armstrong Jr. had a 70-yard touchdown pass to Jordan Westerkamp and Imani Cross had a 62-yard run.
Toure finished the game with two catches for 136 yards, both catches were touchdowns. Toure is the first Husker receiver to post consecutive 100-yard games since JD Spielman did it in 2018 against Purdue and Wisconsin.
Nebraska has had a 100-yard receiver in each of the first three games this season. The last time Nebraska had a 100-yard receiver in three straight games was in the 2017 season when Stanley Morgan (twice) and JD Spielman combined to accomplish the feat in consecutive games with Wisconsin, Ohio State and Purdue.
Before today's game, Buffalo had not allowed a 100-yard rusher in the past 16 games, and just one in the past 23 games.
Freshman running back Gabe Ervin Jr. opened the scoring with a 2-yard touchdown run in the second quarter, marking his first career touchdown. He added a 1-yard TD run in the fourth quarter.
Nebraska held Buffalo to three points after defeating Fordham 52-7 last week. This marks the first time Nebraska has allowed single-digit points in back-to-back games since 2010, when Nebraska defeated Kansas 20-3 and lost 9-6 at Texas A&M.
Nebraska limited Buffalo to 359 yards of total offense, marking the seventh straight game the Huskers have held opponents to fewer than 400 yards. This is the first time NU has held seven straight opponents to less than 400 yards of offense since an eight-game streak spanning the final two games of 2009 and the first six of 2010.
The Blackshirt defense held Buffalo scoreless in the first half, marking the Huskers' first shutout since holding a 34-0 lead at Maryland in 2019.
Nebraska did not allow a Buffalo point until 9:17 remained in the third quarter (FG), giving Nebraska a stretch of 79:57 of game action without allowing a point, including the final 44:14 of last week's game with Fordham.
Nebraska didn't allow a point in the fourth quarter, the fourth straight game the Huskers have held its opponent scoreless in the fourth.
The Husker defense has forced four turnovers the past two weeks, with all four takeaways leading to Nebraska touchdowns (28 points).
Linebacker Luke Reimer recorded a career-high 16 tackles in the game, including eight before halftime. His previous high was 12 tackles at Iowa last season. It was the third double-figure tackle game of Reimer's career. Reimer's 15-tackle game was the first by a Husker since Marquel Dismuke last season against Penn State.
Reimer's fourth-quarter interception and 22-yard return to the Buffalo 1 set up a TD for a 21-3 Nebraska lead. It was Reimer's first career interception.
Defensive end Garrett Nelson had two TFLs for four yards, marking the fifth time in the past six games he has had at least one TFL.
Tight end Chris Hickman set career highs with three receptions for 90 yards. Hickman had a then career-long 27-yard catch in the third quarter before he later hauled in a 54-yard pass in the fourth quarter.
Buffalo quarterback Kyle Vantrease had an 81-yard punt in the second quarter. It is the fourth-longest punt by a Nebraska opponent and the longest since 1995.