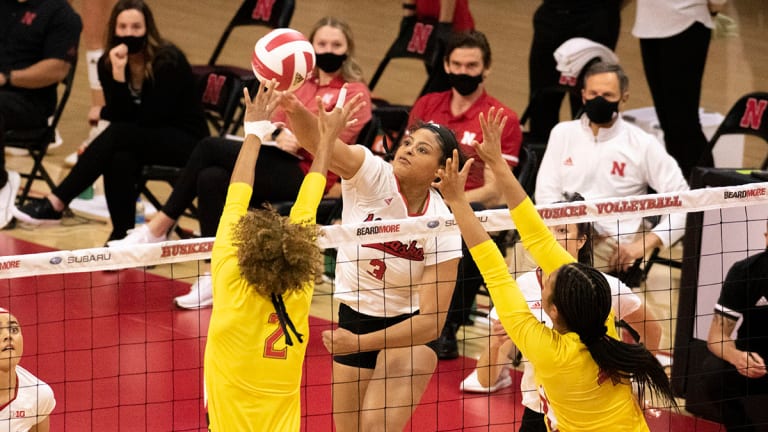 National Television Schedule Announced for Nebraska Volleyball
The Huskers will be on BTN and ESPNU 15 times
Nebraska volleyball is well represented with nationally televised games this fall.
The Huskers will see 15 games nationally televised, with the majority on the Big Ten Network. The lone scheduled game for ESPNU is Oct. 13 against Indiana
Nine of 18 home matches have been selected for air, along with six road matches.
Still in flux is Nov. 6 at Ohio State, which could air on either BTN or BTN+.
The first game set for television is Kansas State on Aug. 28. Others to see the airwaves are Georgia (Sept. 3), Louisville (Sept. 18), Penn State (Oct. 8 & Nov. 19), Wisconsin (Oct. 27 & Nov. 26), and Minnesota (Oct. 30).
The full television schedule is below.
| Date | Opponent | Time (CT) | TV |
| --- | --- | --- | --- |
| Saturday, Aug. 28  | Kansas State  | 4 p.m.  | BTN |
| Friday, Sept. 3  | Georgia | 6 p.m.  | BTN |
| Saturday, Sept. 18  | Louisville | 7 p.m.  | BTN |
| Wednesday. Sept. 22  | at Northwestern  | 8 p.m.  | BTN |
| Friday, Oct. 1  | Michigan | 6 p.m.  | BTN |
| Sunday, Oct. 3  | Michigan State | 3 p.m.  | BTN |
| Friday, Oct. 8  | at Penn State  | 6 p.m.  | BTN |
| Wednesday, Oct. 13  | Indiana  | 8 p.m.  | ESPNU |
| Saturday, Oct. 23  | Purdue  | TBD | BTN |
| Wednesday, Oct. 27  | Wisconsin  | 8 p.m.  | BTN |
| Saturday, Oct. 30  | at Minnesota  | 7 p.m.  | BTN |
| Thursday, Nov. 4  | at Illinois  | 8 p.m.  | BTN |
| Saturday, Nov. 6  | at Ohio State  | TBD | BTN or Big Ten Network+ |
| Friday, Nov. 19  | Penn State  | 8 p.m.  | BTN |
| Friday, Nov. 26  | at Wisconsin  | 4:30 p.m.  | BTN |