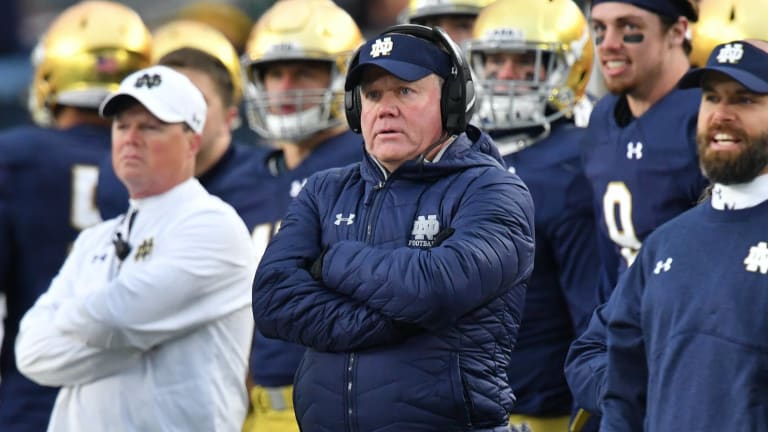 Notre Dame Football: Midweek Musings
Midweek thoughts on Notre Dame football, its recruiting efforts and college football.
Midweek thoughts on Notre Dame football, its recruiting efforts and college football.
CHANGE IS NEEDED
Brian Kelly is right, games like Saturday night tend to happen to a lot of teams from time to time. Ohio State was the example he pointed to, and the 13-1 Buckeyes lost 49-20 last season to 6-7 Purdue. The year prior the Urban Meyer-led Buckeyes went 12-2, but they had a 55-24 October loss to an 8-5 Iowa team.
But simply pointing to Ohio State, or Clemson (who lost to a 4-8 Syracuse team in 2017) misses the mark. When you have championships under your belt and you've proven you can win the big games more often than not you'll get far more benefit of the doubt than what Notre Dame has earned.
Beyond the reality Notre Dame has not proven itself nearly as much in recent seasons as Ohio State or Clemson, it also reeks trying to justify why a game like that happened instead of doing what former Irish star Brady Quinn said to do, and that is to reassess everything.
Clemson and Ohio State have proven they are willing to make major shakeups in personnel or approach - or both - when they didn't play championship caliber football, and Notre Dame must do the same.
During his ten seasons Kelly has done an amazing job rebuilding the Notre Dame program. The program we see now looks nothing like the program he inherited, and Kelly deserves a great deal of praise for that. Its on-field success is much better, it's more competitive on the recruiting trail, its facilities have been enhanced, all are part of the rebuild Kelly has done.
But Kelly has stated time and time again that being at Notre Dame means competing for and winning championships, and right now Notre Dame is not a championship caliber football team, but it should be.
Kelly's response to the loss to Michigan - which put the program's current failings on national display - sound very similar to his post-2015 statements. They just have to coach a little better, play a little better and everything will be fine. Everything wasn't fine 2015, and Notre Dame was able to overcome the flaws within the program with talent, but it couldn't beat the teams with equal or better talent.
Is that really any different than what we've seen the last two and a half seasons? During Notre Dame's 27-6 run - which is certainly impressive - the Irish are 6-6 against opponents that finished the season ranked (or are currently ranked in 2019). Four of those wins came in 2017, and Notre Dame is 2-3 against ranked opponents in the last two seasons. Those wins were against Syracuse an a 9-5 Northwestern team.
Notre Dame is just 4-5 against opponents that finished ranked in the Top 15. The Irish are just 2-4 away from home, and are just 1-3 in road games against those teams. Notre Dame has lost by at least 27 points in three of those road losses.
It should be noted that three of the wins against Top 15 opponents came with Brandon Wimbush at quarterback. In fact, the Irish were 3-2 in games against those teams with Wimbush at quarterback and are just 1-3 in games with Ian Book at quarterback.
What has changed since 2017 is Notre Dame is no longer losing to teams like Navy, South Florida, Pittsburgh, Tulsa and Northwestern. It is winning more games against top opponents, but not at the rate it should if it wants to be considered a truly elite program.
That is what makes this season's 5-2 record so frustrating. Notre Dame isn't 5-2 because it has 5-2 talent. The reality is Notre Dame has simply not played well at key positions in both road games, and it has continued a trend over the last decade, and that must be addressed and fixed.
Notre Dame isn't 5-2 because new starters or young players aren't getting the job done. Notre Dame is 5-2 because its veteran players - its leaders, its top returners from last season - aren't playing to the same level they did a season ago. I don't know why, but the fact is it is happening, on both sides of the ball, and that is exactly where Kelly needs to begin investigating as he looks to figure out what went wrong this season. If he's unwilling to do so then nothing will change, and the Irish will continue to be good, but not good enough.
It's soul searching time for Kelly and everyone else at Notre Dame. Are you okay being good? Are you okay being a 10-win team that occasionally has all the stars align, allowing a playoff run, or do you want to be a legitimate title contender? Right now Notre Dame is simply good, and that's not good enough.
If Kelly and Notre Dame are serious about wanting to be a championship caliber program then Saturday's win won't be brushed off and dismissed as just a "bad night."
It will be a moment that requires a long, hard reevaluation of the program, starting from the top and working down. It will be a moment that tells Kelly and his staff, "We aren't doing a good enough job." It will be a moment that makes them realize changes are needed in how they go about their business, how they prepare their players each day, how they teach and how they handle developing their talent.
If Kelly and his staff are wiling to take a long, hard look in the mirror and be willing to make hard choices then we will look back at the loss to Michigan much like we do the 4-8 season from 2016. It was another turning point that allowed Notre Dame to reassess who it was and who it wanted to be, and the changes that were made allowed the program to get even closer to its ultimate goal as a program, which is to compete for - and win - a championship.
WHAT IS LEFT TO PLAY FOR
That leads me to point two in this week's Musings. There is still much to play for this season. No, there isn't a championship berth to play for, and I honestly don't care about who Notre Dame beats the rest of the way. It should beat the last five opponents on the schedule because the talent gap between Notre Dame and those five opponents is pretty dramatic.
What's left to play for goes beyond going 10-2 or 11-2, it's about determining what kind of team, and program, you want to be. What is the soul of your program going to be about. People might mock the whole "playing for pride" sentiment, but there is a lot of merit to that. How you respond to failure says as much about you as a competitor as how you respond to success.
What kind of accountability will there be within the coaching staff. What kind of accountability will there be with the roster, both from the staff and with each other. Will they look at the loss to Michigan as a "our season's over" moment, or will they look at it as a chance to grow. Will they use the humiliation to fuel a dominant finish to the season, or will they continue to squeak by inferior opponents?
What we see the next month, beyond just the outcome of the games, will tell us a lot about the soul of this program.
We should have a good idea if Notre Dame has taken the same stance it did after 2015, or if it's taking the stance it did after 2016. It's not about comparing records, it's about being willing to look deep into where you are as a program anytime you fall short of your goals. Sometimes that requires small changes, other times it requires bigger changes.
PRYOR TO SOLIDIFY SAFETY DEPTH CHART
Looking ahead to 2020, the safety depth chart is likely to be solidified in the very near future. Ohio State graduate transfer Isaiah Pryor will be back on campus this weekend for another visit, and if all goes as planned, before the weekend is over the Irish should have another talented safety to add to the mix.
Notre Dame's depth chart at safety next season is pretty thin. Kyle Hamilton returns for his sophomore season, and the move of Houston Griffith back to his more natural safety position was a wise move … albeit done a bit later than it should have. Behind those two is a lot of youth and very little experience.
Pryor gives Notre Dame a third veteran safety to add to the mix.
From talking to sources, Pryor has not been promised playing time or a starting role. All he wanted was a chance to compete, and he will certainly get that. I was also told the fact Notre Dame has used three safeties so much this season lets him know that even if he doesn't start he'll play a very important role on the defense, much like Hamilton has done as the No. 3 safety this season.
Pryor adds a physical skillset to the defense that current starter Alohi Gilman brings, but with better size. He's a downhill safety that can play the alleys effectively, that can deliver punishment in the run game and that can even be used as a blitzer or stunter in the run game.
Pryor has very good size and was listed by Ohio State at 6-2 and 200 pounds. That size should be an asset in the run game. He has good downhill speed and he's rangy. Pryor shows the ability to play tight ends and backs in coverage and he can jump crossers and drags, but you shouldn't ask him to play a lot of man coverage or play in the slot near the line when you are expecting pass. He's also not a guy that you would want playing centerfield.
During his Ohio State career he started seven games and played in a total of 27 contests. Pryor made 47 tackles during his career, including 31 last fall. He had two tackles for loss, an interception, a sack and seven pass break ups. The former Buckeye will have two seasons of eligibility remaining.
TWEET OF THE WEEK
I'd be curious to hear everyone's thoughts on this quote from Paul Finebaum, who I generally pay no attention to or have any respect for. Leave your thoughts in the comments below! I'd really love to hear everyone's opinion on this subject.
FILM TO WATCH
Here's a look at Pryor back when he was a senior at IMG Academy.
Follow me on Twitter: @CoachD178
Visit our Facebook page at: https://www.facebook.com/IrishMaven/