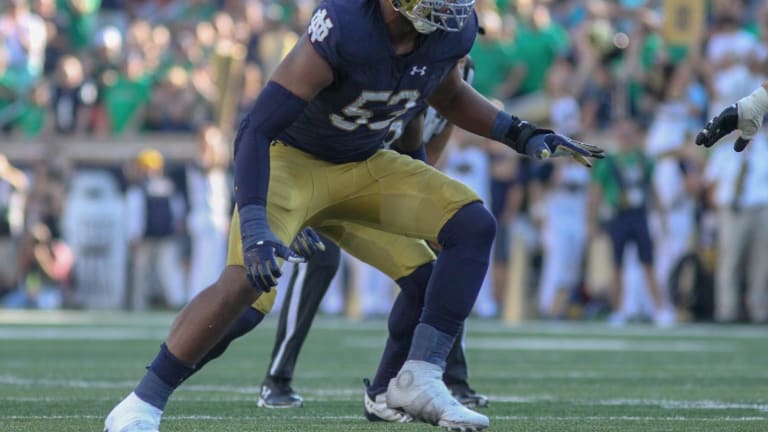 Inside The Numbers: Notre Dame Defense vs. Virginia Tech Offense
A look at how the Notre Dame defense stacks up on paper against the Virginia Tech offense
Notre Dame held the nation's longest streak of games holding opponents to 30 points or less, but that streak was broken Saturday night when the team lost to Michigan by a 45-14 score.
The Irish defense must rebound quickly, as a potent Virginia Tech comes to town. Virginia Tech will bring with it one of the more athletic offenses that Notre Dame has faced this season.
(Video breakdown will play following the ad)
In the video above and the breakdown below, I discuss how the Notre Dame defense stacks up on paper against the Virginia Tech offense.
Notre Dame Scoring Defense vs. Virginia Tech Scoring Offense
Advantage: Notre Dame
Notre Dame has been an outstanding scoring defense for much of the 2018 and 2019 seasons, but the last two games have been troubling.
Ranking in the Top 30 in scoring defense and turnovers gained are both positives for the defense, and its yards per play number and third-down defense success are both quality numbers.
The problem is that Notre Dame is trending in the wrong direction defensively, with Clark Lea's squad giving up an average for 36 points and 431.5 yards per game, and 6.1 yards per play in the last two games. In the first five games of the season, the Irish defense allowed opponents to get into the red zone just 10 times, but USC and Michigan reached the red zone a combined nine times.
All nine of those red zone trips turned into scores and six ended up as touchdowns. The inability to stop teams in the red zone has been a problem all season for Notre Dame. Virginia Tech has converted 28 of its 29 red zone trips into scores, and 21 ended in touchdowns. With sophomore quarterback Hendon Hooker in the lineup, the touchdown rate has also increased.
Virginia Tech's overall scoring offense numbers - outside of red zone offense and third-down offense - are rather pedestrian when looked at for the entire season. But when you dive into what the Hokies have done since Hooker has taken over at quarterback it paints a completely different picture.
In Hooker's three starts, the Hokie offense has averaged 39.7 points per game, 437.3 yards per game and 6.2 yards per play. In the four games prior to his arrival the Hokie offense never averaged 6.2 yards per play in a single game and topped 437 yards just once.
Notre Dame gets the edge due to the season-long numbers, but the recent trends are troubling.
Notre Dame Rush Defense vs. Virginia Tech Rush Offense
Advantage: Virginia Tech
A look at the overall numbers shows an even matchup. Virginia Tech holds the yards per game average while Notre Dame tops the Hokies in yards per attempt, touchdowns and tackles for loss against tackles for loss allowed.
But like the scoring offense/defense numbers, recent trends show a significant advantage in favor of Virginia Tech.
Notre Dame struggled to stop the run early in the season, but it played well in the loss to Georgia and in wins over Virginia and Bowling Green. It appeared that Notre Dame was getting back on track with its run defense, but that was blown up the last two games.
Notre Dame gave up 171 rushing yards to a USC offense that was averaging just 137.2 yards per game coming into that matchup. A week later, the Irish gave up 303 rushing yards to a Michigan offense that was averaging just 154 rushing yards per game. It was the first time in the Brian Kelly era that Notre Dame gave up over 300 rushing yards to a non-option offense.
For reasons for the struggles, read my recent feature on the play of the Irish run defense.
Virginia Tech averaged just 148.8 rushing yards per game and 3.6 yards per rush attempt in the first four games. In the three games with Hooker as the starter, Virginia Tech has averaged 210.3 rushing yards per game and 4.4 yards per attempt.
Getting the quarterback more involved in the run game has fueled the recent rushing success. Virginia Tech's quarterbacks combined for just 45 yards in the first four games. Not 45 yards per game, that's the total rushing yards from the quarterback position. Since Hooker's ascendence into the starting lineup, Hokie quarterbacks have rushed for 269 yards in three games.
Considering Notre Dame's recent play on run defense and its season long struggles against mobile quarterbacks, the current Hokie ground attack presents a significant matchup problem.
Notre Dame Pass Defense vs. Virginia Tech Pass Offense
Advantage: Notre Dame
The Irish pass defense has been solid throughout the season; at times it has been quite good, but at the very least the unit has been solid. The only exception was the first half against Virginia and the second half against USC, but the group has been good.
Notre Dame ranks in the Top 30 in passing defense, yards allowed per attempt, yards allowed per completion, touchdowns allowed and sacks. Five of Notre Dame's seven opponents have been held to 187 passing yards or less.
Notre Dame has given up just eight touchdown passes all season, which ranks the defense 18th in the country, but five of those touchdowns have come in the last two games, during which the Irish have given up 36 points per game.
One concerning area for the Irish has been its inability to make more plays on the football. In seven games, the Irish have just 21 pass break ups, which puts it on pace for 39 on the season. Last season the defense had 64 break ups. If you take out All-American cornerback Julian Love's production, the defense still had 48 break ups, which is more per game than the current defense.
Hooker isn't a dynamic thrower, but he can get the ball downfield, and his running ability forces defense to play him differently, which creates more big play opportunities. Of Hooker's 35 completions, 12 have traveled at least 10 yards past the line of scrimmage. That is 34.3 percent of his completions, which is almost ten percent higher than Notre Dame starting quarterback Ian Book.
Virginia Tech has a talented group of receivers that is just getting back to full health.
One area that certainly favors Notre Dame is its ability to pressure quarterbacks. Notre Dame ranks 30th nationally in sacks per game while the Hokie offense ranks 78th in sacks allowed.
Notre Dame gets the edge, but it's a small edge, and the Irish will need to be on top of their game if they want to keep Virginia Tech's pass offense from ripping them for big plays.
Follow me on Twitter: @CoachD178
Visit our Facebook page at: https://www.facebook.com/IrishMaven/