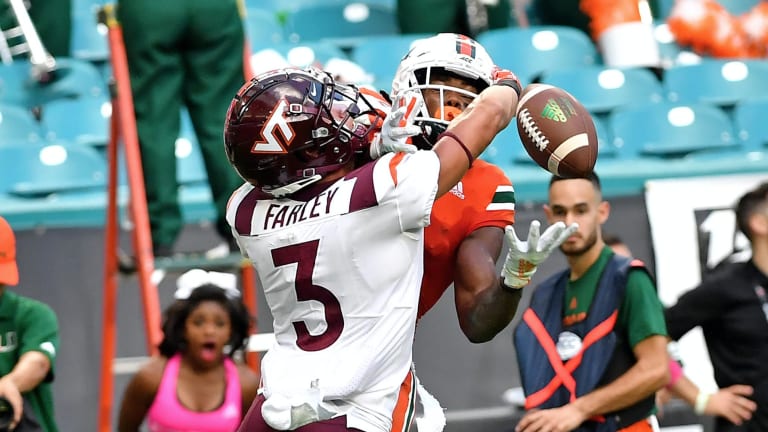 Opponent Insider: Virginia Tech's Top Defensive Players
Top players for the Virginia Tech defense
The last year of legendary defensive coordinator Bud Foster's career has not gone how it should. Someone that has been as loyal - and excellent - as Foster throughout his career should have gone out with a bang. That is not happening this season, and Virginia Tech's defense has had major problems.
The Hokies rank 86th in the nation in scoring defense, giving up 29.6 points per game. Even worse, the Power 5 opponents on the Virginia Tech schedule have averaged 39 points and 477 yards per game. Even if you just take North Carolina's numbers at the end of the regulation, Power 5 opponents are scoring 36.5 points per game against Virginia Tech.
In fact, those 31 points by North Carolina would have been the fewest Virginia Tech allowed against a Power 5 opponent this season. Once overtime allowed the Tar Heels to get to 41 points, the next lowest was 35 points by Boston College and Miami.
There are talented players on the Virginia Tech defense, and without a strong game plan and good execution they can create problems. After watching film, here is a breakdown of Virginia Tech's top defensive players.
#25 Rayshard Ashby, Linebacker
2019 Stats: 72 tackles, 10 TFL's, 3 sacks
There is no doubt who the best - and most productive - defender is for Virginia Tech. Ashby led the Hokies with 105 tackles and 9.5 tackles for loss last season, and he's on pace for even better numbers in 2019. Ashby is tied for eighth nationally in tackles per game (10.3) and 20th in tackles for loss per game (1.43).
Ashby is undersized (5-10, 230), but he is physical and explosive. He is an instinctive defender that can read and flow as well as he can attack downhill on a run stunt. If not for a struggling Hokie defensive line his numbers would be even more impressive.
The junior linebacker has almost twice as many run stops (39) as the next closest defender on his team (20), and among national linebackers with at least 150 run snaps, Ashby ranks ninth in run stop rate according to Pro Football Focus. If there was a weakness in his game it would be coverage.
#3 Caleb Farley and #28 Jermaine Waller, Cornerback
2019 Stats - Farley: 14 tackles, 10 pass break ups, 3 interceptions
2019 Stats - Waller: 28 tackles, 4 pass break ups, 3 interceptions, 2.5 TFL's
Virginia Tech has a pair of long and productive cornerbacks. Like the rest of the defense, the Hokie corners have given up a few big plays this season, but by and large they have been the bright spot of an otherwise poor pass defense for Virginia Tech.
Farley is listed at 6-2 and 207 pounds while Waller is listed at 6-1 and 180 pounds. Both have impressive length, and their combination of size, athleticism and instincts are why the duo makes so many plays on the football. The pair has combined for 14 pass break ups and six interceptions this season.
Farley currently ranks sixth nationally with 13 passes defensed, and his 1.86 passes defensed per game ranks him fourth. Only LSU, Pitt and San Diego State have a pair of corners with more combined passes defensed than the Hokie tandem.
According to PFF, opposing quarterbacks have combined to go just 24-62 against Farley and Waller, who have given up just three touchdowns against six interception this season.
#5 Jarrod Hewitt, Defensive Tackle
2019 Stats: 18 tackles, 4 TFL's, 3 sacks
Hewitt isn't the biggest (6-1, 288) or most athletic defender you'll see, but I love his motor. He shows good quickness off the ball and he uses his lack of size to his advantage by constantly getting under the pads of blockers.
Hewitt doesn't make many plays on the ball, which is a weakness of his game, but his ability to play with good leverage and quickness allows him to be disruptive. His 21 quarterback pressures leads the Virginia Tech defense, as does his combined seven hits/sacks on opposing signal callers.