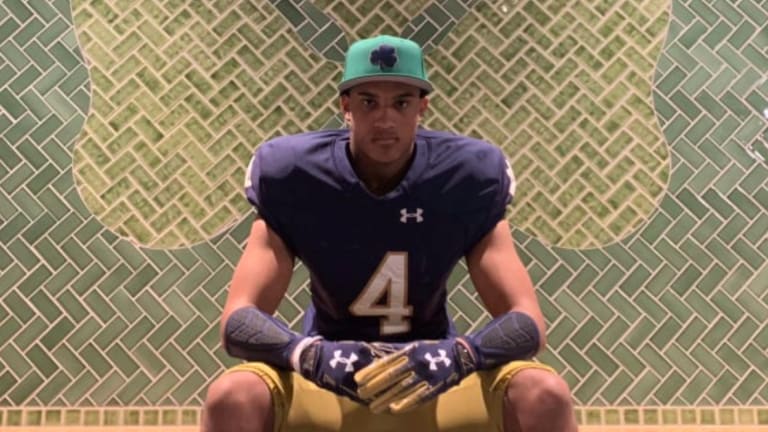 Recruit Predictions: Notre Dame vs. Michigan
A number of recruits make their prediction for Notre Dame vs. Michigan
Notre Dame vs Michigan is a season defining game for both teams involved. 
For Notre Dame, can it pull off a road win at Michigan for the first time since 2005? 
For Michigan, can head coach Jim Harbaugh win a rivalry game against a top ten opponent? 
It's fair to say, there will be a lot of spotlight on this game on Saturday night. Recruits are very excited to see what happens as well. 
Here are some predictions from notable recruits/commits:
NOTRE DAME COMMITS
2020
WR Jay Brunelle: Notre Dame 27-24
OL Michael Carmody: Notre Dame 27-14 
DL Aidan Keanaaina: Notre Dame 24-20
DL Rylie Mills: Notre Dame 21-7
DB Caleb Offord: Notre Dame 31-17
WR Xavier Watts: Notre Dame 34-21
2021
TE Cane Berrong: Notre Dame 31-23
WR Deion Colzie: Notre Dame 21-10
OT Blake Fisher: Notre Dame 32-21
DT Gabriel Rubio: Notre Dame 24-21 (notes two Kyle Hamilton INTs)
NOTRE DAME TARGETS (2021-22)
WR/RB Kaleb Brown: Notre Dame 35-21
RB Will Shipley: Notre Dame 27-13
DL Joe Strickland: Notre Dame 21-14
DB Justin Walters: Notre Dame 29-14
DB Terian Williams: Notre Dame 28-14