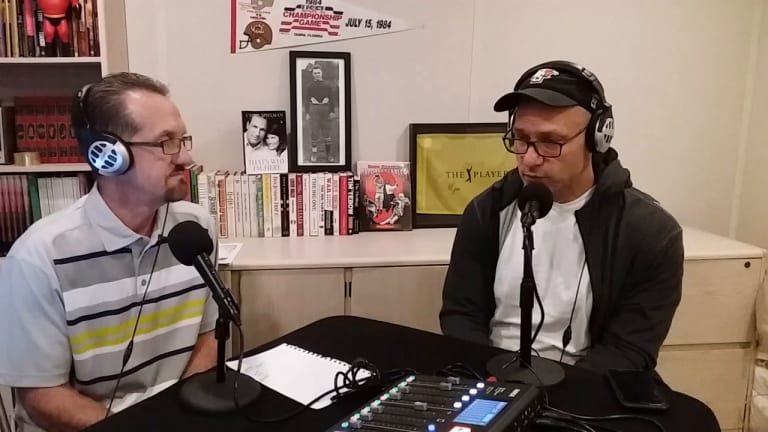 Dominant Buckeyes Battle Ghosts During Second Off Week
Ohio State inventing reasons to hold itself accountable amid 8-0 start
Amid Ohio State's second off week in the past four weeks and two upcoming games against Big Ten bottom-feeders on the horizon, there's not much of a looming threat to the third-ranked Buckeyes.
That requires them to do what every great team does...make something up to help maintain their edge.
Sure, the College Football Playoff Rankings debut next week and, yes, the glow of a 38-7 win over No. 13 Wisconsin is still top of mind, but those things can only detract from the daily focus head coach Ryan Day insists his team maintain.
"If you're No. 1 right now and you lose next week, you're not No. 1 any more," Day said. "It doesn't mean anything to us right now. You don't get anything for being 1, 2 or 3 at this point in the year. You get it for the end of the season."
Maybe that's why Day invented a scenario that certainly never happened when discussing how to keep his players locked in as they sit out the weekend and await a Nov. 9 home game against Maryland (3-5).
"If they're reading the hype, if they're reading all that stuff, then they're more foolish than I thought they would be," Day said. "I don't think our guys are going to do that. I think we're just going to work every day to get better. It's the same people that picked us -- I don't know if we were fourth, fifth, wherever we were in the Big Ten East, so that didn't matter at that point. It's not going to matter anymore. It doesn't matter to the game on Saturday. And so as long as we just focus on that, we'll be fine."
Even though Day had never been a head coach before, and even though quarterback Justin Fields had never started a college game before, no one picked Ohio State fourth or fifth in the Big Ten East.
They've been so dominant, winning every game by 24 or more points, it would now be an insult to rank them fourth or fifth in the country.
Yet, the players are all-in on Day's wary attitude toward internalizing compliments or accepting congratulations at this point.
"We're looking for redemption," cornerback Jeffrey Okudah said. "To get the chance to go against these teams week in and week out, it's really big."
Presumably, that means Maryland, which stressed OSU with a 52-51 overtime loss last season in College Park when a wide-open two-point pass for the win was poorly-thrown and incomplete.
Ohio State allowed seven touchdowns and 542 yards in that game.
Its defense has allowed four touchdowns and 37 points in five Big Ten games so far this season.
"Even after we went 13-1 (in 2018), everyone had a sour taste in our mouth," Okudah said. "It was a weird 13-1 because we had a lot of close games. There were teams we thought we were better than.
Maryland started this season like it might challenge OSU again, but after two wins in which it scored 79 points against Howard and 63 against Syracuse the Terps have hit the skids.
They've lost four of five games, failing to score more than 17 in any of those defeats.
Maryland plays host to Michigan (6-2) at noon Saturday.
That match-up compels OSU's interest both because it features an upcoming opponent and provides a look to see if its rival can sustain the running game success displayed last week in a win over Notre Dame.
For the latest on Ohio State follow Sports Illustrated Buckeye Maven on Facebook and @BuckeyeMaven on Twitter