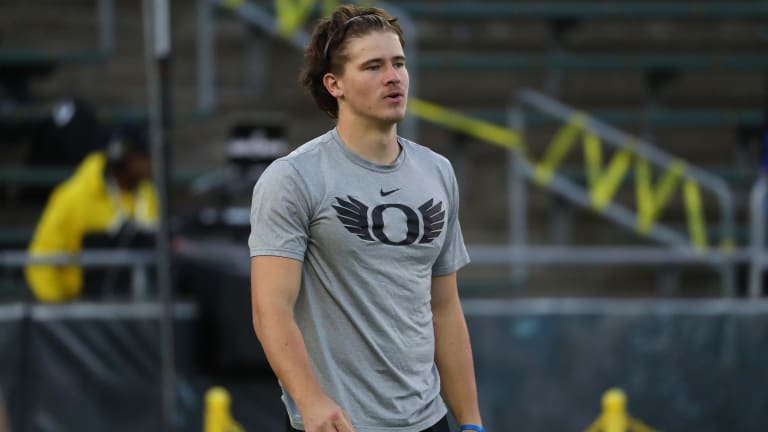 Justin Herbert Named a Finalist for Campbell Award for Academics
Herbert is among 12 finalists for the 'Academic Heisman' award, holding a 4.01 GPA in general science.
Not only has Oregon quarterback Justin Herbert been getting the job done on the field, but he's also been excelling off of the field as well. 
On Wednesday, the Ducks starting quarterback was named to the finalists' list for the Campbell Trophy, an academic award for college football players who have the best performance off of the field and in the classroom. Herbert is one of 12 other finalists for the award, all of whom will receive an $18,000 postgraduate scholarship as a member of the National Football Foundation's national scholar-athlete class. The winner of the award will see his postgraduate scholarship increased to $25,000. 
Candidates for the Campbell Trophy must either be a senior or graduate student in their final year of playing eligibility, have a GPA of at least 3.2, "outstanding football ability as a first-team player or significant contributor" and display strong leadership.
Herbert currently holds a 4.01 GPA in general science, which is the highest among all the finalists, including Eastern Washington's Spencer Blackburn, Georgia's Rodrigo Blankenship, Ohio State's Jordan Fuller, Minnesota State's Alex Goettl, Kansas State's Adam Holtorf, Carnegie Mellon's Michael Lohmeier, Virginia's Jordan Mack, Montana's Dante Olson, Cornell's Jelani Taylor, Stanford's Casey Toohill and Western Michigan's Jon Wassink.
While Herbert has been getting the job done in the classroom, he has also excelled on the field this season, where he has been named as ESPN's seventh-ranked player in the running for the Heisman Trophy. With a 7-1 record and a clear path to the Pac-12 Championship game, there is a chance that the Oregon QB will be collecting a decent amount of hardware this season.