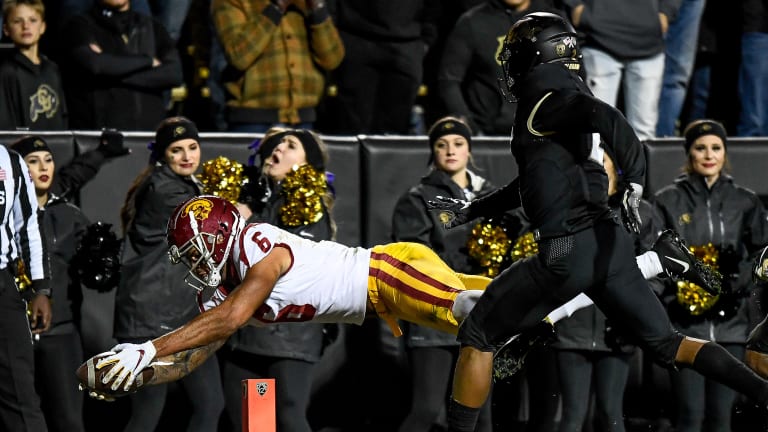 Oregon's Secondary Needs to Step Up in a Big Way Against USC
The Trojans have a trio of dynamic pass-catchers that the Ducks defense will need to make their main priority on Saturday afternoon.
The Oregon Ducks' defense has had a tough past couple of weeks. 
After starting the season as undoubtedly one of the best units in the league, they've faltered in their last two games, against Washington and Washington State, giving up 30+ points in each contest, and at times letting receivers run free through the secondary. 
Though they came out on top in both contests, it won't get any easier for them going forward, as they get set to embark on a trip down to Los Angeles where they will take on the USC Trojans. 
They may not have an elite record, but the Trojans have elite speed on offense, especially on the outside. The second-ranked passing offense in the Pac-12 has been spurred on by a three-headed monster of Michael Pittman, Tyler Vaughns, and Amon-Ra St. Brown. 
Those guys are all immediate first-round picks in the NFL Draft in this year or coming years depending upon age," Oregon coach Mario Cristobal said to the media on Monday. "They're explosive, they're very well-coached. They have opportunities to go up and make plays. They do an unbelievable job of getting the 50-50 balls. They highpoint balls. They're technically and fundamentally sound. They play hard
The three pass-catchers for USC all rank higher than any player for Oregon, with tight end Jacob Breeland still leading the way for the Ducks, even though he hasn't played in two weeks.  
Two weeks in a row now, the defense has almost been the cause of defeat for Oregon. If they plan to continue down their path towards the College Football Playoff, it will need to be on the backs of the defense this week in LA.