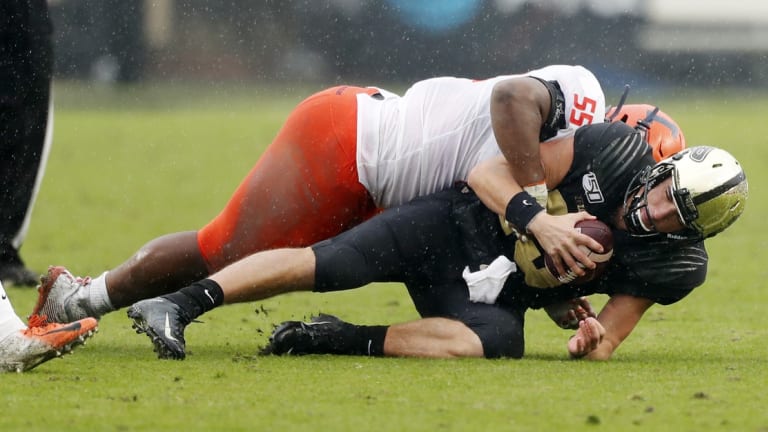 Rapid Reaction: Illinois, Weather topple Purdue
Purdue fell 24-6 to Illinois on Saturday in a sloppy game affected by rain all day.
WEST LAFAYETTE, Ind. — Purdue's biggest opponent on Saturday? The weather.
Purdue lost to Illinois 24-6 to fall to 2-6 on the season, and will now need to win out if the Boilermakers are to make a bowl game for the third consecutive season.
Illinois may have come out on top, but it was a sloppy affair from both teams. With the temperature below 50 degrees and heavy rain coming down all game long, it was difficult for either side to get things going on offense.
Purdue finished the game with just 271 yards of total offense. The running game struggled per usual, accumulating 135 yards on 44 attempts, and a passing game that normally has success had no answer for the weather conditions. 
The Boilermakers threw for just 136 yards and were clearly affected by the weather. The Purdue wide receivers dropped passes all day long, and starting quarterback Jack Plummer had many poor throws where the ball just slipped on him.
After an Illinois pick-six increased its lead to 10-0 early in the second quarter, Purdue coach Jeff Brohm replaced Plummer at quarterback with Aiden O'Connell.
O'Connell lasted two short drives, accumulating zero yards on five passes before Brohm gave the reigns back to Plummer.
Plummer remained in until another turnover — a fumble — in the third quarter. From then on, O'Connell was under center for the Boilermakers. For the most part he struggled like Plummer, except for a touchdown drive late in the fourth quarter.
O'Connell took Purdue 99 yards on 13 plays for their lone score of the game. The drive was capped off by an 11-yard pass from O'Connell to tight end Payne Durham.
At that point the game was all but over, with Illinois leading 24-6, which would go on to be the final score.