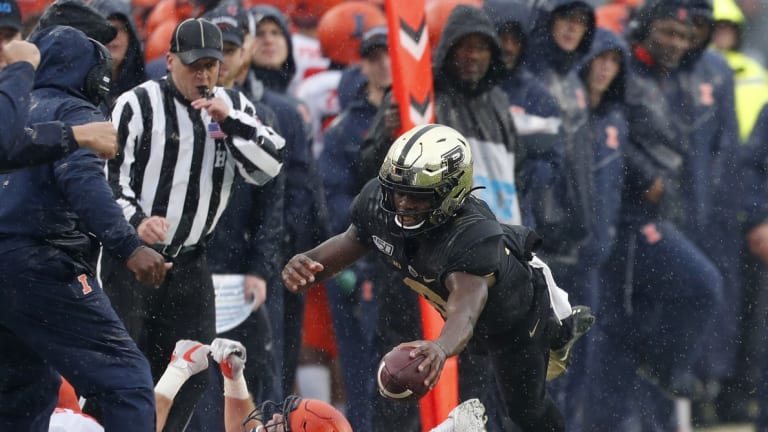 Report Card: Bad Grades for Purdue in a Disappointing Loss
Purdue graded out poorly after losing 24-6 to Illinois on Saturday.
WEST LAFAYETTE, Ind. — Purdue suffered what may have been its most disappointing loss of the season on Saturday when the Boilermakers fell to Illinois, 24-6.
With the loss, Purdue dropped to 2-6 on the season and 1-4 in the Big Ten. The Boilers will now have to win out — against Nebraska, Northwestern, Wisconsin and Indiana — if they want to make their third consecutive bowl game. They begin that challenge next Saturday when the Cornhuskers come to town. Kick off will be at Noon ET, and the game will be televised on FOX.
Here's how the Boilermakers graded out in Saturday's loss:
Rushing Offense: D
The final stats don't tell even close to the story for Purdue's run game on Saturday. On a day in which the weather forced both teams to run the ball, Purdue didn't respond. Although they ran for a season-high 135 yards, they were awful running it until late in the fourth quarter, when Zander Horvath finally got things going. On the day, it took Purdue 44 carries to reach that 135-yard mark, which was an average of just 3.1 yards per carry.
After the game, Purdue coach Jeff Brohm was visibly upset with the way his team ran the ball. With rain coming down hard throughout the game, everybody knew that running the ball would be key. Purdue couldn't step up to the challenge in an area where they have struggled the entire season.
Passing Offense: D-minus
The Purdue passing attack might not actually deserve this low rating because of the weather, but when you flip-flop quarterbacks and throw a momentum-swinging interception, you're going to get this type of rating. Purdue was so bad throwing the ball early that Brohm decided to pull Jack Plummer and replace him with Aiden O'Connell. O'Connell, who saw more action than he has all season, ended up outplaying the starter. Plummer finished the game 8-for-20 for 71 yards. He threw an interception for a touchdown, and then fumbled later in the game as well. O'Connell was a little more productive, going 7-for-13 for 65 yards and one touchdown.
The quarterbacks don't deserve all of the blame, though. Nearly all of Purdue's wideouts had trouble catching the football, and had some key drops early in the game. Overall, it was a disappointing effort from a group that has played particularly well this season. And it looks like Purdue now has a quarterback competition on its hands.
Rush Defense: F
As bad as the offense played on Saturday, a big part of the loss falls on Purdue's inability to defend against the run. Everyone knew the run was coming due to the weather conditions, but they still couldn't stop it. 
Illinois accumulated 242 of its 268 total yards on the ground and added two touchdowns as well. Their standout player was running back Dre Brown, who rushed for 131 yards,  nearly outrunning Purdue by himself. The defense had everything going in its favor to be able to stop the run, and they still couldn't do it.
Pass Defense: A
There's not much to say about the pass defense's performance on Saturday. The weather limited Illinois' play-calling and they stayed away from the pass for most of the game. 
They ended up only throwing the ball seven times for just 26 yards. The Purdue defense limited them in the few opportunities they were given.
Special Teams: B
Purdue did its job on special teams, but didn't particularly do anything special. The offense put them in difficult situations, forcing them to punt nine times on the day. They were able to pin four of those punts inside the 20-yard line on a day in which it was difficult for the punters to keep their footing.
Coaching: C
Overall, the Purdue coaching staff seemed a little overwhelmed in Saturday's game. According to Brohm, he had his team prepared for the weather, but that didn't seem to matter. 
He couldn't find any combination of play calls to allow his offense to move the ball. The one bright spot  was the decision to replace Plummer with O'Connell. With Plummer still not picking up on what Brohm wants him to do, getting a new face in the lineup may help the offense —and ultimately Plummer — improve.
Intangibles: D-minus
After showing progress the previous two weeks, the Boilermakers suffered its most disappointing loss. In a game that, on paper, they should have won, they got blown out. 
The weather clearly affected Purdue more and once they got down early, they didn't have the fight in them to bounce back.They'll have to figure it quickly because one more loss will eliminate them from bowl eligibility.