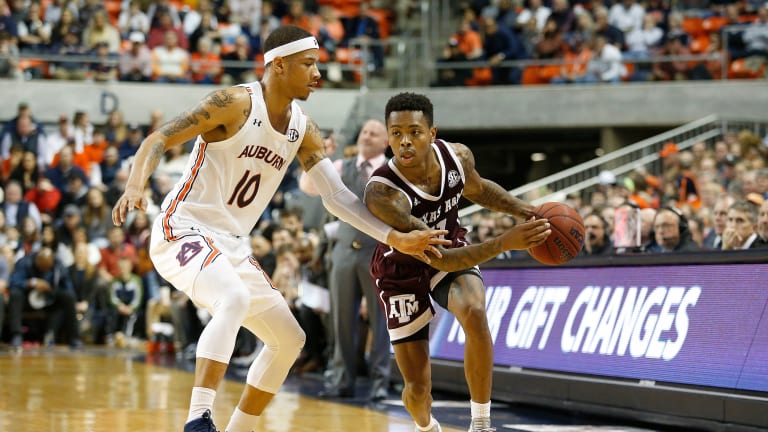 Publish date:
Aggies' Senior Night Could Mean More Than One Last Goodbye
Texas A&M is keeping the faith.
Texas A&M is keeping the faith.
COLLEGE STATION — For any athlete, the game will come to the end of the road eventually. Some can extend deep into their lives while others will hang it up after the final buzzer.
Texas A&M's Wendell Mitchell could one day see himself running a wildlife park as a game warden. On Saturday, he'll hopefully be running the wild Aggies into another victory against Arkansas in the regular-season finale.
As senior night will be the basis of the day, there's more to play for than a fond farewell to Reed Arena this time around.
"It's bittersweet," Mitchell said. "I'm just excited to be with these guys and share this moment. Some guys leave early. Some guys stay the entire four years. I just want to enjoy every moment of it. So this last home game, I want to finish on a good note with a dub (win)."
The Aggies (15-14, 9-8 SEC), will be riding off the pinnacle win of the Buzz Williams' era — a 78-75 victory over No.17 Auburn. Against the Razorbacks (19-11, 7-10 SEC), the team will have a chance to beat their SEC record (9-9) when they found themselves on a lopsided 99-72 loss to Michigan in the Sweet Sixteen.
Don't expect a 10-8 conference record to impress the committee enough to give the Aggies a date with the dance of March. A&M will need to be hoisting the SEC trophy in Nashville to receive a ticket to the coveted event. Still, a victory over the Razorbacks should all but guarantee a trip to New York City for the National Invitation Tournament.
"I haven't studied the numbers," Williams said of the chance to further the season. "My guess would be no. I would have to look at the numbers. I would say a lot of good things have to go our way, and we would have to do more than what we've done up to this point. That would be my guess.
"But do I think there's a chance? Yeah. I think there's a chance."
Williams, who's best known for his transformation of Marquette and Virginia Tech, could have been a win away from taking A&M back to the tournament for the first time since 2017. A four-game losing streak in November to Harvard, Temple, Fairfield and Texas likely played a factor.
But once considered lost among the schools of the SEC, A&M has been found. And finding their rhythm could have them rebound against the team who handed them a loss to begin conference play.
"I think we try a lot harder," Williams said of the team's progression." I think we're probably all on the same page. But most teams probably can say that. That seems like an eternity ago. What was it? The first Saturday in January?
"This will be the first Saturday in March. That's a long time relative to the journey we've been on. But if I could only say one thing. I think we try a lot harder than we did then."
Smarter shooting has improved the offense. The growth of young talent has excelled on defense. Veteran talent has taken the team to new heights behind the likes of Mitchell and Josh Nebo.
Mitchell's clutch 3-pointer in the plains would give A&M their first ranked road win in more than two years. And beyond the arc has been his consistent as he's averaged 28.8% deep. Meanwhile, Nebo leads the team across the board, averaging 12.2 points, 6.1 rebounds and 1.9 blocks.
"This is my last year and I want to play as many games as I can," Nebo said. "I don't want the season to end — what am I going to do when the season is over?"
When Reed Arena begins to fill, Nebo won't be thinking of his final college. He'll be looking to extend the season. Against first-year coach Eric Musselman, anything can happen when the 2:30 p.m. tip-off rolls around.
But Nebo is certain Saturday will not be his last game. It will just be his goodbye to Aggieland before representing the school in a tournament.
Any tournament.
"I just want to keep playing whether that's the NCAA Tournament or whatever tournament we get picked into," Nebo said.