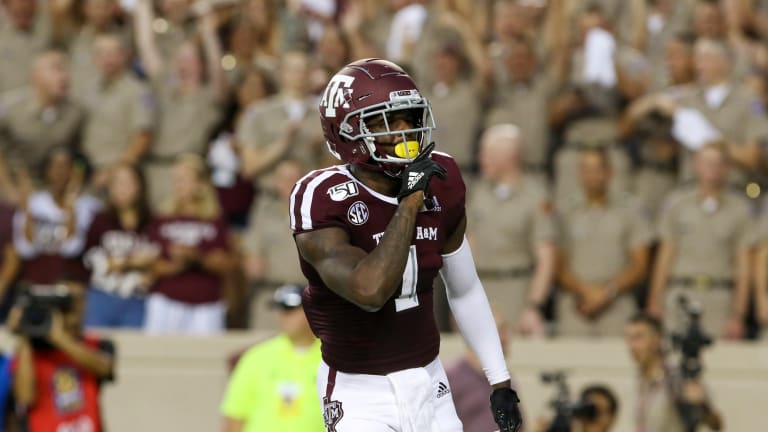 A&M wide receiver duo shine against Texas State's secondary
Kendrick Rogers missed a majority of fall camp with a leg injury. That's fine, the other two starters picked up his production.
COLLEGE STATION - Kendrick Rogers suited up for the season opener at Kyle Field. Despite suffering a leg injury that kept him out for a majority of fall camp, the Aggies' top target hoped to play. 
Rogers saw little action during the team's 41-7 victory over Texas State. Perhaps it was due to his fumble at the goal line. A better reason is he wasn't needed as much thanks to the success of Quartney Davis and Jhamon Aubson.
"Jhamon had an outstanding camp," A&M coach Jimbo Fisher said. "Quartney has, too, and he's been hurt and then he came back. He's played really well. Jhamon, I can't say enough good things."
Both receivers finished with six catches and combined for 160 of the 232 receiving yards. Davis finished with 85 yards and scored the first touchdown of the season on a 21-yard post route. Ausbon finished with 75 yards and scored on a 2-yard corner route late in the third quarter. 
But Ausbon will be remembered not for the touchdown, but rather his highlight-reel catch. In the first quarter, with pressure collapsing the pocket, Kellen Mond delivered a strike near the sideline for the junior to haul in a 40-yard pickup. The Aggies would score three plays later. 
"We had a great week of preparation," Davis said. "We were throwing a lot of passes, connecting on a lot of passes. We keep the stat line in practice on completions and everything like that, so we had a good completion rate during the week of practice. So I felt like we were going to have a good game."  
A&M lost their top target in Jace Sternberger over the offseason. With Mond hoping to find another receiver to connect with, both Davis and Ausbon made their cases. With one playing the reliable target and the other being a deep threat, the sky is the limit for A&M's offense. 
But before A&M truly can see what type of team they'll be, they must come face to face in a rematch against No.1 Clemson next Saturday at Memorial Stadium. 
Davis, however, isn't worried about his skills against the top-ranked team. 
"I feel very confident," Davis said. "I don't want to say confidence to a point where it seems kind of cocky, but I feel very confident that I can do a lot of major things, including the guys playing beside me."