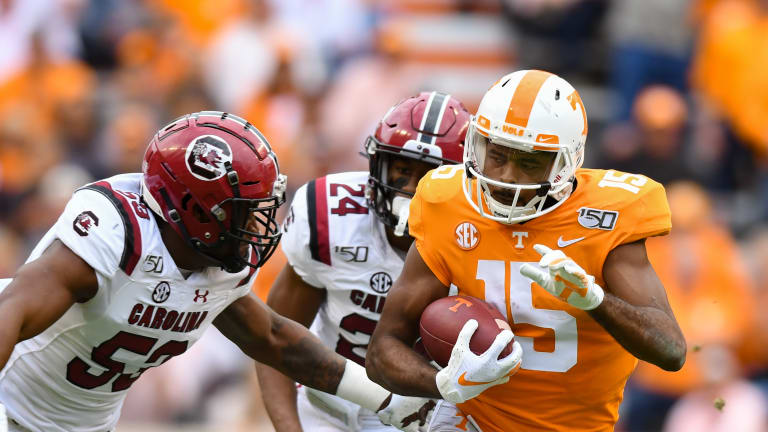 Jennings' career performance leads Tennessee past South Carolina
Jauan Jennings put together a highlight reel against South Carolina as the Vols rolled to a 41-21 win in Knoxville.
Jauan Jennings has never had a pass come his way that he deemed was uncatchable. In fact, if the ball is in his general vicinity, there's usually a chance he'll come down with it. 
With Tennessee's postseason chances hanging in the balance on Saturday, the Murfreesboro, Tennessee native put on a show. It didn't matter who was under center for the Vols, either.
Jennings tallied seven receptions for a career-high 174 yards and two touchdowns and Jarrett Guarantano completed 11-of-19 passes for 229 yards and two touchdowns as Tennessee throttled South Carolina at home, 41-21.
Marquez Callaway notched three receptions for 102 yards and a score and J.T. Shrout passed for 122 yards and one touchdown as UT recorded its first win over South Carolina since 2015. 
The win marks the Vol's second conference victory in their last three games, an experience that their head coach feels was a tremendous step forward.
"We just really dominated the second half in all phases," Jeremy Pruitt said. "(If) you look at our team, tonight was a chance for our program to really grow up...we found a way to win tonight."

After struggling to finish games to open the season, Tennessee came alive in the second half on Saturday as it executed on offense, defense and special teams alike and held the Gamecocks scoreless over the final 30 minutes of play.
All of that started with the effort of Jennings, who's intensity and grit was on full-display from the opening kickoff. 
His 48-yard touchdown catch early in the second quarter set the tone for the Vols as Jennings broke countless tackles on his way to the end zone. It's those type of efforts that have his head coach continuously singing his praise game after game. 
"Jauan has passion for the game, he has passion for his teammates and the University of Tennessee and he shows it every single day," Pruitt said. "What you see on Saturday's is what we see on Monday, Tuesday, Wednesday, Thursday and Friday."
What goes on during those times will remain unknown to those on the outside looking in, but one thing remains abundantly clear: it pays off on game day. 
"He's consistent in the way he prepares, the way he practices and it shows up on Saturday."
There was no scenario more indicative of that than when Tennessee found itself trailing 21-17 early in the third quarter.
With Guarantano facing heavy pressure on third down, he was forced to loft the ball into the back of the end zone in hopes of Jennings going up and making a play on it. 
To most, the pass appeared to be a prayer. To No. 15, it was another day at the office. 
Despite taking a vicious hit from sophomore safety R.J. Roderick, Jennings was able to routinely hang on to the ball as if it were second nature. 
Not only did his outburst send the fans in an uproar, Jennings' teammates were just as exhilarated for him on the sidelines. 
"He went crazy, that man had a day," Darrell Taylor said. "We were excited for him...he went crazy and I'm proud of him."
Entering Saturday, Jennings ranked seventh in the SEC in receptions with 35 and eighth in both touchdowns (five) and receiving yards (478). That was with Tennessee's 101st-ranked passing offense that wouldn't feature Brian Maurer.
UT passed for 351 yards, a season-high. Jennings accounted for nearly half of those on the receiving end.
A team that produced just 22 points on the year nearly doubled that. Its defense played possessed once again. After mistake-riddled second halves, Tennessee learned how to punch back.
It all began with Jennings, who's energy and effort once again rescued the Vols just when they needed it the most.   
"I think sometimes that can be contagious," Pruitt said. "You want guys like that and Jauan has that way about him."