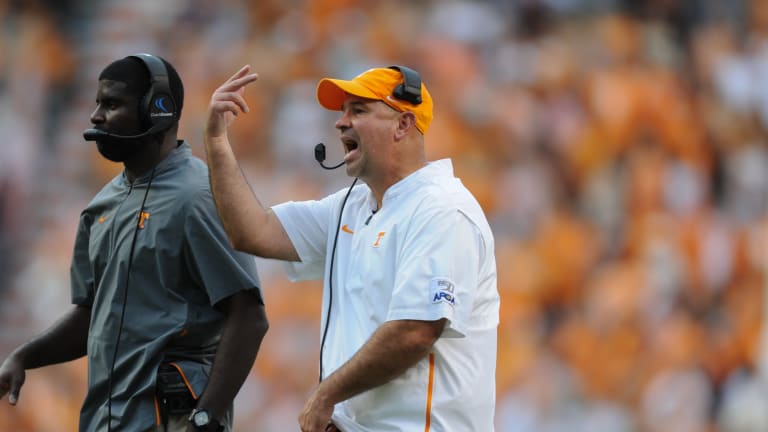 Takeaways from Jeremy Pruitt's Monday press conference
Tennessee coach Jeremy Pruitt met with the media on Monday as the Vols begin their preparation for UAB.
Coming off of its most dominant win of the season, Tennessee will be looking to carry that momentum forward as the final stretch of the regular season begins.
Hosting 7-1 UAB at Neyland Stadium on Saturday, the Vols have just one more home game against Vanderbilt to close out the regular season. They need to win three of their final four games to become eligible for a bowl game. 
Addressing reporters at the Ray and Lucy Hand Digital Studio on Monday, Tennessee coach Jeremy Pruitt was finally able to fully dissect his team's win. His focus is now set on getting it prepared for what could be another tough matchup/  
Here are some takeaways from Pruitt's Monday press conference
Maurer's status uncertain
Freshman quarterback Brian Maurer suffered consecutive concussions against Mississippi State and Alabama and was forced to miss last week's action because of it.
Despite his absence, Tennessee passed for a season-high 351 yards under J.T. Shrout and Jarrett Guarantano's guidance. 
While Pruitt would not comment on his availability for Saturday's matchup with UAB, he did say that the Ocala, Florida native will return to practice to practice this week.
"Brian is going to go out there and start practicing this week," Pruitt said. "So, we'll see where he's at, at the end of the week. He's ready to go."
Jennings leaving an imprint
Jauan Jennings wasn't exactly on good terms with the Tennessee Athletic Department in Oct. 2017. 
Following an Instagram live rant that later went viral over social media, Jennings uttered some choice words regarding the UT coaching staff at the time, a group that included Butch Jones and Brady Hoke. 
But from the moment he met the then-junior wide receiver, Pruitt knew there was something special about him. 
"When I got the job, there were some details about what all happened here, and I asked a lot of people in the building what they thought," Pruitt said. "And most of them that said they wouldn't let him come back, they don't work here anymore." 
As Jennings continues his climb among the all-time receiving charts, he's certainly left a mark on UT's latest group of signal-callers. 
All three quarterbacks may see action
Pruitt did not confirm Maurer's status, but he definitively gave hint when discussing Tennessee's handling of the quarterback situation moving forward.
While Guarantano will not be practicing today, Pruitt feels that all three will see a heavy dose of reps by the middle of the week. They could all also see action on Saturday as well.
"We'll have to see as we move through the week here and get a good idea of what we want to do," Pruitt said. "We might play all three, and we might just run them in and out, just run the plays."
Taylor, Wright are "day-to-day"
When freshman offensive lineman Darnell Wright came up hobbling against South Carolina, it was quite apparent that his ankle was bothering him. 
The same could be said of Darrell Taylor, who also had a noticeable limp following a collision in the second half.
Pruitt said that both are listed as "day-to-day," with Wright suffering what he coined an "ankle injury" and Taylor suffering a knee contusion. Both will be evaluated later in the week.
"He'll be day to day – we'll see where he's at," Pruitt said."Darrell had a contusion there on his knee, he's another guy that'll be day to day."