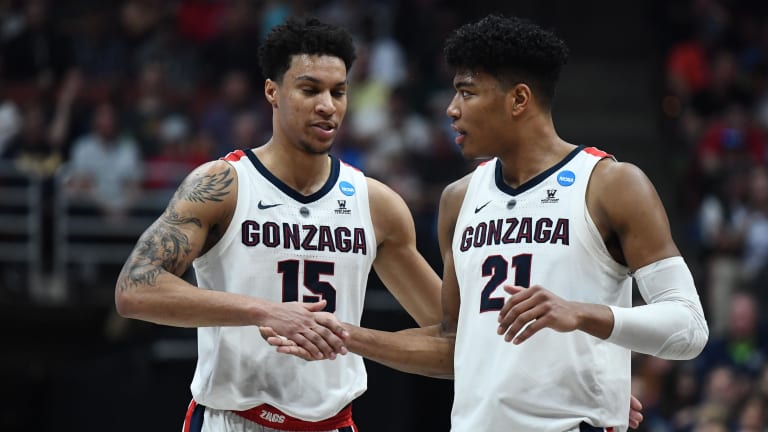 Gonzaga Has Look Of NCAA Champion in West Regional Win over Florida State
Zags avenge last year's regional loss to FSU and now face Texas Tech for trip to Final Four
ANAHEIM, Ca. —Same teams, same region, same state, same stakes.
It was Gonzaga and Florida State, same time this year, all over again.
Only 26.1 miles and two naming rights separated last year's West regional semifinal at Staples Center and this year's semifinal at the Honda Center.
A lot of the players who played in last year's game, on March 22, played in this year's game on March 28.
Except, you know, nothing ever stays the same, something Einstein or Newton, or Kim Kardashian, could teach you.
The chemistry between one moment to the next can be completely different. The ions, particles and static electricity can impact a locker room or how a jump shot moves toward a basket.
And that's how a 15-point Florida State win, in March of 2018, can transform into a 14-point win, for Gonzaga, in March of 2019.
The Zags march on and the Seminoles go home, a reverse of last year's script.
Nothing stays the same…ever. Last year, the Tuesday before Thursday's game, Gonzaga big man Killian Tillie banged his hip in practice. The Zags kept it a secret up until tip-off, right up to the point where Tillie was not introduced at center court and, in fact, did not play.
Gonzaga seemed discombobulated in a 75-60 defeat.
"It's kind of your worst nightmare as a coach," Few said then about the loss of Tillie.
Tillie played this year and contributed 19:39 minutes, five rebounds, three points, one rebound and one assist.
It was Gonzaga's turn to smile, in a 72-58 win, and the Zags' turn to make plans for Saturday's West Regional final.
Gonzaga will face Texas Tech, a 63-44 winner over Michigan in the second West semifinal.
This year the nightmare turned on Florida State, in a much worse way, understood and indicated by the missing player in the Seminoles' pregame layup line.
Forward Phil Cofer did not make the trip west this year due to the death of his father, Mike Cofer, a 10-year NFL veteran with the Detroit Lions, who died too young of a horrible disease that cannot easily be explained or pronounced.
Phil Cofer, a senior forward, learned of his dad's death in the locker room after Florida State's NCAA win over Vermont.
It shook everyone…hard.
"Grief appears, raises its ugly head, sometimes in different forms," FSU Coach Leonard Hamilton said at Wednesday's practice session.
It might be a stretch to blame the death of a player's father for a loss, but Florida State had more than Zags to overcome.
It didn't help that the Seminoles lost another key player, guard PJ Savoy, to a shoulder injury during the game.
"Obviously, not to make any excuses…" Hamilton said.
The combination of FSU's funk and Gonzaga's memory were enough to flip a final score upside down.
"We had plenty of business to take care of," Zags forward Corey Kispert said.
There was also another huge X-factor: Brandon Clarke.
Gonzaga is now odds-on favorites to win the West because of his emergence.
He didn't play in last year's game as a transfer-in-waiting from San Jose State, a gift from the gods made available after Clarke's coach in San Jose got fired.
Clarke, who scored 36 last week against Baylor, is looking more like the player who can push Gonzaga to the finish line.
Zaga-U has had a lot of special teams in the Mark Few era, a collection of international stars and transfers that has included lend-leases from Canada (Kevin Pangos, Kelly Olynyk), Lithuania (Domanta Sabonis) and Poland (Przemek Karnowski).
Clarke, though, maybe the best missing piece that ever showed up on Gonzaga's doorstep.
The 6-8 forward has meshed beautifully with Rui Hachimura, Kispert, Josh Perkins, Tillie and Zach Norvell Jr.
Against FSU, Clarke had 15 points, 12 rebounds and five blocked shots—everything you're looking for in a difference maker.
"It's an incredible luxury to have such a talented, high energy, high-motor guy," Few said about Clarke.
Clarke glides from end to end, like he's got Flubber in his sneakers.
At one point in the second half, Clarke floated in from Cloud 9 to follow a miss from teammate Hachimura.
"Most guys assume Rui is going to make that shot and he went flying in there to finish it," Few said of Clarke.
Same teams, different year.
Last year, Florida State dominated Gonzaga with waves of tall, talented players. The Seminoles won by 15.
Florida State led this year's game…for 11 seconds.
Gonzaga's path to the Final Four is now artery-clogged by Texas Tech, a stifling defensive team that turned Michigan blue in Thursday night's second regional semifinal at Honda Center.
It wasn't a shock that third-seed Texas Tech defeated second-seed Michigan—but it was a shocking result.
The Red Raiders reduced Michigan's basket to the size of a bird's mouth.
Michigan was held to 16 points at the half and was sitting on 40, with 1:17 left, when Coach John Beilein cleared his bench.
Excuse me? Michigan was averaging 69.6 points entering the game. The Wolverines scored 84 points this year against North Carolina and 89 against South Carolina.
Michigan's previous low was 54 points in a Jan. 19 defeat at Wisconsin.
The Wolverines shot 5.3% from three-point land (1 for 19). That's not a basketball stat, that's a car loan.
Texas Tech, entering the game, had held 12 opponents to under 55 points this year.
Make it 13.
But golly, Michigan looked so good last year in winning the West regional in Los Angeles.
Same Michigan (Ok, minus a star German), same great coach, same great uniforms, only 26.1 miles away from Thursday night's 19-point loss.
Like we said, things change.
​